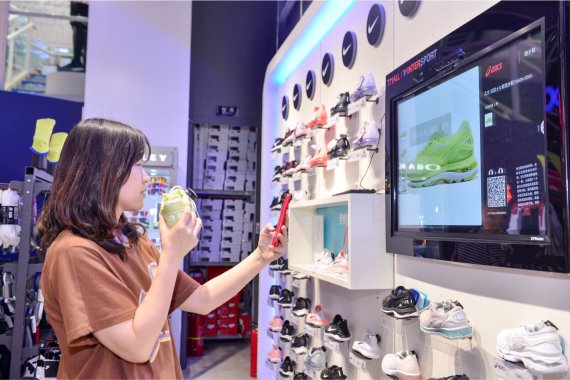 Recent figures show, however, that China's inhabitants are doing more and more sports, and that sales of sporting goods are skyrocketing. Sales of around 57 billion euros are forecast for the industry in the year 2022, compared to just 36 billion euros in 2016. The market is currently dominated by mono-brand stores, but the multi-brand concept is slowly catching up.
These are impressive figures – and reason enough for ISPO.com to talk with Robin Trebbe, Managing Director China and Asia Pacific for Intersport on the subject of multi-brand in China during ISPO Shanghai 2018.
ISPO.com: Mr. Trebbe, to begin our interview, could you briefly summarize the current situation for multi-brand retail stores in China and Asia?
Robin Trebbe: At the moment, Asia – and China in particular – are very mono-brand-dominated. More precisely, 95% of the market in China is mono-brand retail stores. Adidas alone has 11,281 stores in China. The only exception in Asia is Japan, which already has a mature market. Nevertheless, the multi-brand trend is constantly evolving.
What are the reasons for the positive development of this trend?
Especially in China, I would say that people are more involved with sports. Knowledge and experience are increasing, especially in the running and fitness sectors. In the beginning, sporting goods products served the company's own image. Now consumers really want the best possible running shoe to actively use for running. It's no longer about the most beautiful shoe from the XY brand, but about the best product for the respective customer. In short, function is more important than design. You only get the corresponding selection in a multi-brand retailer store, where you have the option to compare products against each other.
That sounds very senseful, but consumer habits are often very slow to change. What strategies do you want to use to accelerate this process?
Our goal has to be to make it clear to consumers that we're offering them a definite value-add. Ultimately, we sell all the sought-after brands and also offer the possibility of foot and running analyses, for example. In addition, we can set seasonal and event-related priorities: World Cups, the start of the NBA season, or swimming in the summer can be highlighted for a certain period in our stores. It's one-stop shopping for the whole family. Of course, there will always be people who favor a certain brand and will go shopping in the flagship store accordingly. But the numbers of people who place function and offerings above design and brand are constantly growing.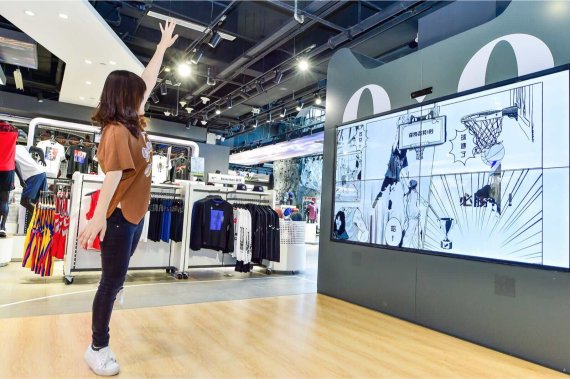 The plain figures speak for themselves, and yet the number of multi-brand stores isn't that big. Would you say that this is the perfect moment for retailers to join forces?
I think we can all learn from each other. The potential in China is huge, and an exchange of ideas and experiences is tremendously helpful. What does a multi-brand store need to look like? How does the marketing work? What are omni-channel services? All these questions have long been answered in Europe and North America, but the answers aren't transferable 1 to 1 to China, because in China there had been almost only mono-brand, and no multi-brand retail. The opposite trend is taking place in Europe and North America right now, where multi-brand has dominated the market and mono-brand stores are clearly on the rise.
How important are trade fairs like ISPO Shanghai for multi-brand business?
For me, as the person responsible for the entire Asian-Pacific region at Intersport, it's first and foremost a perfect opportunity to meet with a wide variety of brands. It saves an awful lot of time. In addition, there's the opportunity to network with my colleagues from the industry and discover new trends at the same time – trends that may subsequently come into question for our stores.
To what extent do you use the forums and panel discussions offered at the fair to get new impulses for your business?
I personally use these offers very extensively, because they present me with first-hand, best-practice solutions. The running forum, for example, is extremely interesting because it's one of our core areas.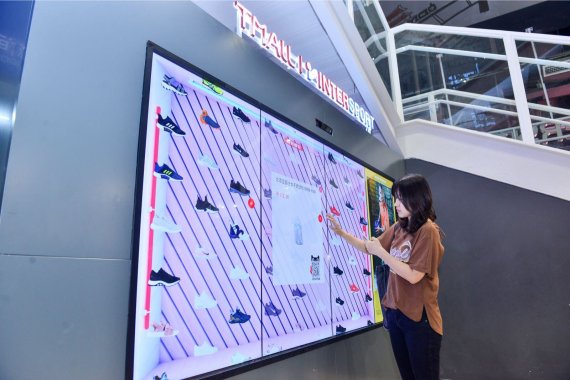 On the topic of e-commerce: how difficult is it to win out in China against big players like Tmall and JD?
First of all, it has to be said that the online landscape in China looks a bit different from what we know from our classic market in Europe. Alibaba and Tmall dominate the entire Asian-Pacific region, but in the end we're trying to implement our offline principle online as well. That is, one-stop shopping with comprehensive brand offerings plus extra benefits that a consumer won't get in a mono-brand store.
Offline and online are increasingly merging into one holistic approach, which Intersport is trying to depict with new stores. What's so special about these new stores?
The store we opened in late May 2018 is the first "Intelligent Retail Store for Sport and Fashion." We were selected for this by Alibaba as a cooperation partner, and I have to say that the store has some impressive tools. On the one hand, for example, there are interactive games in the shop windows to bring consumers into the store. Another feature are QR codes which, once scanned, provide a shopping voucher for the customer. The response from both customers and brands is already extremely positive, and we will continue to implement the concept to a certain extent in the future.
Is this the inevitable future of shopping?
I think so. Before the customer physically enters a store, he or she searches the Internet for store business hours, the quickest way to get to the store, and probably also checks the brands on offer. Around 80 percent of consumers follow this behavior. So if a store isn't listed on Google Maps or Baidu, it simply doesn't exist. Features like "Click and Collect" are already a thing of the past again, while Alibaba and founder Jack Ma's ideas belong to the future.
Naturally, there's a constant exchange between the Swiss headquarters and me. We also use the tool of the "Magic Mirror" in Europe, for example (here, customers can call personnel for advice in changing rooms). In addition, topics such as electronic payment models and direct deliveries to customers in China are much more advanced, for a variety of reasons. In these areas, Europe and North America can learn from China, and not the other way around.