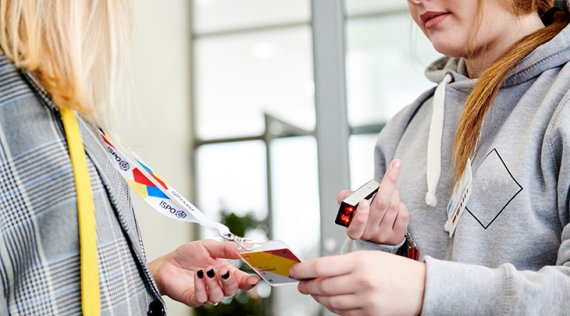 We offer all exhibitors at ISPO Munich a wide range of services. The services range from marketing and PR to technology, logistics and catering. Of course, we also provide you with conference rooms at the Trade Fair Center esse München exhibition center for meetings. You can also make use of interpreters and service personnel. Other services such as waste disposal and stand security are also included.
In the exhibitor shop, all services for ISPO Munich 2022 are available to you Services. These include not only your technical services but also additional services such as cleaning, plants, furniture, security, and exhibitor directory entries. In addition, you can book marketing and PR services to optimize your trade show appearance. 
Do you already have your team for your trade show appearance? Don't forget that every participant needs an exhibitor pass to enter the exhibition grounds. You can register them in the exhibitor shop. The User Guide shows you everything you need to know.
You will receive a certain number of free exhibitor passes for your stand for the duration of the fair. These must also be registered beforehand.
| | |
| --- | --- |
| In the Hall | Contingent |
| up to 20 m² stand size | 3 exhibitor passes |
| from 21 m² for each additional 10 m² or part thereof | 1 exhibitor pass (additional) |
| from 101 m² for each additional 20 m² or part thereof | 1 exhibitor pass (additional) |
Additional passes required can be purchased and registered for a fee in the Exhibitor Shop.
| | |
| --- | --- |
| Duration of Participation | Price |
| Exhibitor pass for 1 day | 20,00€ |
| Exhibitor pass for 3 days | 33,00€ |
A, B and C halls from November 25 to November 27, 2022.
(A more detailed time will follow shortly).
---
On the last set-up day, November 27, 2022, all delivery and set-up vehicles must be removed from the halls and outdoor area by 6:00 pm. Vehicles still in the halls or outdoor exhibition areas after the aforementioned times will be removed by Messe München GmbH at the risk and expense of the company concerned. Decorative set-up is possible on the exhibitor's own stand area until 20:00 hrs.
An extension of the set-up time is only permitted in exceptional cases with the prior
written consent of Messe München GmbH, Technical Exhibition Services Division.
A, B and C halls November 30, 2022 after the close of the fair
until December 2, 2022, 6:00 p.m.
---
An extension of the dismantling period is only permissible in exceptional cases with prior
written consent of Messe München GmbH, Technical Exhibition Services Division.
For further information, please refer to Item B6 of the Special Conditions of Participation.
Messe München's traffic guide gets you to the trade show center quickly and safely.In our traffic guide you will find, among other things, all the important information about where you can park during set-up and dismantling and also during the runtime.
To increase efficiency and organization in set-up and dismantling, ISPO Munich, together with Messe München, is now relying on an IT-supported system for logistics handling: FairLog! More information about FairLog and registration will follow shortly. 
The perfect trade fair organization is complex and time-consuming. To make sure you don't miss any deadlines, we recommend you to download our schedule including a checklist, it will be available for download here soon.
If you have merchandise shipments, letters or other items to be delivered to the exhibition booth, the following information must be included:
ISPO Munich 2022
Name of the exhibitor
Hall + booth number
Exhibition grounds / Willy-Brandt-Allee
81829 Munich, Germany
Messe München GmbH is unfortunately unable to accept shipments of goods, letters or other items intended for exhibitors or third parties.
We recommend that you do not leave any deliveries of goods or other items unsecured in the hall or outdoor area during the construction and dismantling periods.
Approved forwarding agents
If you want to have something sent to the exhibition grounds, you must use one of the approved forwarding agents. You can find the list here.
According to recent surveys, the trade show invitation is the most effective way of addressing visitors. It offers you an excellent opportunity to set yourself apart from the competition at an early stage and actively draw attention to your ISPO Munich presence.
The majority of trade show visitors plan their visit in advance. Take advantage of this to ensure binding appointments with targeted trade show invitations.
With the online tool Connect by ISPO, you can invite all your business customers and interested parties to ISPO Munich free of charge. Not only can you send free tickets, but you can also arrange appointments and meetings with sports retailers and buyers directly. Connect by ISPO is included in all participation packages of ISPO Munich 2022 and therefore available to all exhibitors at no additional cost. To support you in the best possible way, the tool (user interface & ready-made, modifiable invitation text templates) is available in 8 languages.
Here you will find an overview of all important documents:
What does it cost to participate as an exhibitor at ISPO Munich? In the overview below, we have put together a rough calculation basis for your trade show appearance. You will receive a detailed breakdown of the prices for the technical services on the exhibition grounds in the Technical Order Form.
All exhibitors will receive the technical order form together with the placement offer.
| | |
| --- | --- |
| Status | Net Floor Space Price |
| Row Stand (one side open) | 152 EUR/sqm |
| Corner Stand (two sides open) | 177 EUR/sqm |
| Head Stand (three sides open) | 189 EUR/sqm |
| Block Stand (four sides open) | 202 EUR/sqm |
The minimum stand size is 16 sqm.
In the case of two-story construction, 50% of the floor space price will be charged additionally for the second floor. The square footage of the second floor is not included in the calculation of the number of free exhibitor passes.
Please note that additional charges may apply for on-site services to be ordered (such as electrical connection, water connection, waste disposal, telephone connection, telephone units, etc.).
The flat rate disposal fee for runtime waste is 5.65 Euro/sqm stand area plus VAT.
As part of our admission invoice, we charge an advance payment of 15 EUR per square meter for technical orders. This will be offset against the services actually used as part of the final invoice.
The Association of the German Trade Fair Industry (AUMA) charges all exhibitors a contribution of 0.60 EUR net per sqm of rented exhibition space. This contribution will be calculated by MMG and paid directly to AUMA.
A compulsory communication fee of EUR 628 is charged for each exhibitor and co-exhibitor.
For a stand size up to 20 m² you will receive 3 free exhibitor passes. For each additional 10 m² or part thereof, an additional exhibitor pass will be provided, and for stands of 101 m² or more, for each additional 20 m². The number of exhibitor passes is not increased by the inclusion of co-exhibitors.
Any additional exhibitor passes required for stand personnel can be ordered online.
The prices quoted are net prices. They are increased in each case by the statutory value-added tax (currently 19%).
Please order and personalize required Print@home tickets for exhibitors (formerly exhibitor passes) online (whether free or paid). Please note that free passes will only be credited with the final invoice.
Exhibitor tickets ordered but not used will not be charged. Print@home tickets are only valid for stand personnel.
Please note that your ticket for ISPO Munich does not include free use of public transportation.
Please note that for data protection reasons only one ticket for ISPO Munich can be ordered per created orderer. This should be your personal ticket.
Co-orders of tickets for third parties as well as associated, personalized consents for colleagues and other persons are no longer permitted for data protection reasons. Therefore, please delegate the ordering and personalization of an additional ticket directly to the respective person.
The basic data of your colleagues from the last event is available to you as a selection for simplified processing and delegation.
As before, you will of course have access to an overview of all the tickets you have ordered as well as the option of printing out all Print@home tickets.