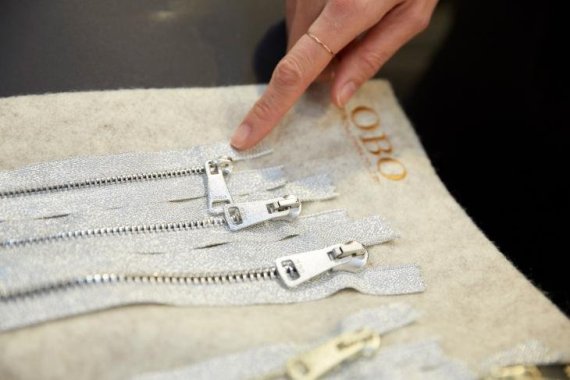 Louise Leuchtenberger is kind of a digital sourcing expert. As a founding member of Foursource, she works at the digital matching platform that brings together textile producers and buyers of sports brands & fashion labels in a digital marketplace.
Does digitization have the potential to change the topic of sourcing completely?
At the moment, my view is that sourcing is not yet a digital issue for both textile retailers and manufacturers. Sourcing usually works via direct contact. Many textile clusters in manufacturing have taken up the cause of digitization, and want to get ahead. The digital future is the only way to remain profitable, almost everyone knows that. However, most of the sourcing processes I've learned so far have yet to be digitalized to that extent. By contrast, the part of the value chain that leads from the brands to the end consumer is already very digitized.
Why is it so important to digitize the sourcing process?
Many competitors have shortened their production cycles enormously. The market can no longer afford a collection cycle of 180-250 days. For example, the Inditex group (including Zara) and Fast Retailing (including Uniqlo) manage lead times of one to two weeks. And that is crucial, because the sports fashion industry is also competing with Zara, H&M, and others
Besides speed, what are other classic problems on the brand manufacturers' side?
The price, first and foremost. By now there's no longer a country where the industry can relocate its production to make production even cheaper. Therefore, they're now attempting to make the processes more cost-efficient. For example, digitizing sourcing means I can save on certain sourcing trips.
It's also important that the knowledge not only lies with one employee. Once I've digitally bundled a company's internal sourcing knowledge about textile manufacturers, all employees involved in the processes can access it. And I don't have to build up that knowledge again if the employee responsible leaves the company. This makes the processes more efficient and brings financial benefits.
In the sports and outdoor industries especially, many end customers want to know where the textiles really come from and what the production conditions are like. Due to the complexity of the manufacturing processes and the many suppliers, it isn't all that easy for many brands to achieve this transparency. Can digitized sourcing processes also be of help here?
I would say that transparency is a problem for both sides. It usually takes time for suppliers / textile manufacturers to get all their information about the buyer, i.e. the brand manufacturer, together. With information on a platform like Foursource, I immediately know what I can offer to whom, or what I can expect from a potential partner. The quality offered becomes transparent, as do the existing service areas. If necessary I can also place a larger order, because I can see, for example, that the manufacturer also does embroidery, or can cover the design part.
Another point on transparency, which leads to the issue of trust: We validate reference customers. Textile manufacturers can indicate which brands they've worked for on the Foursource platform. In turn, we then write to these brands and ask for validation. In addition, certificates can be uploaded, checked and verified online.
Briefly summarize the benefits of a sourcing platform like Fourcourse for buyers!
The targeted search for new manufacturers is much easier thanks to the matching function and filter options. For example, it is possible to source for a specific country.

The (sports) fashion brands can use the marketplace to see where there's free capacity, in stock material for example.

Buyers can better manage their suppliers: Purchasers can see at a glance on the platform who's already working for me and with whom I may want to work in the future. Accordingly, they can also send RFQs (requests for quotations) to new or existing manufacturers.

Brand purchasers get a much better overview of the other services offered by their existing manufacturers, right down to the list of machines. Under certain circumstances, this could create further cooperation and leeway for price negotiations and better logistics and transport options for purchasers.
Let's look at the other side: What are the advantages for the producers / textile suppliers?
There's the option to match with buyers. Textile producers can personalize their sales and marketing (to the customer) and target them. They can gain an understanding of the brand manufacturers: They can find out what the buyers' requirements are, in the certificates sector for example.
At Foursource, we also offer the possibility to contact buyers directly via a direct messaging tool
Of course that applies to both sides, right?
That's right. In general, the common platform gives both sides more insight into the sourcing market. All parties can make better decisions thanks to the bundled knowledge and high transparency. For example, the classic sending of samples back and forth has become obsolete, from our point of view. Manufacturers in particular can save a lot of time and money with a 'digital showroom.'
Designers can also provide moodboards, for example. Several manufacturers can then access it at the same time. The knowledge of the end consumer market can also be passed on to the manufacturers in a time-efficient manner.