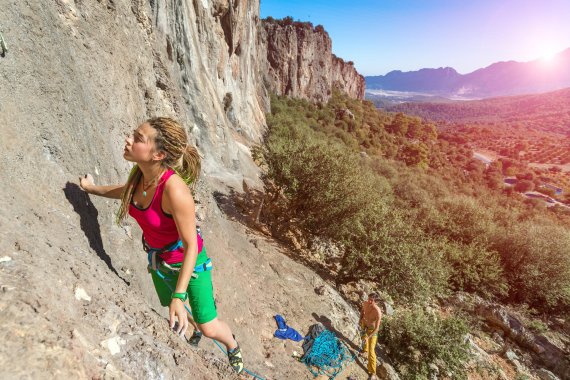 Weit über 4.000 Kilometer sind die Rockies lang, das ist selbst im Überflug eine Tagesreise. Bei der gigantischen Ausdehnung verwundert es nicht, dass die Region im Westen der USA und Kanadas das Who's Who der Nationalparks zu versammeln scheint: Banff, Jasper und Yellowstone, Glacier, Royal George, Pikes Peak, der Rocky Mountain National Park und viele andere mehr. Klettern kann man hier fast überall. Aber wo genau? Wir kennen einige der schönsten Plätze.

Rocky Mountain National Park
Vier ausgewiesene Klettergebiete gibt es allein im Rocky Mountain National Park. Das bekannteste ist Lumpy Ridge nördlich von Estes Park. In dem Felsenareal wartet eine Vielzahl an Kurzrouten in verschiedenen Schwierigkeitsgraden. Der Zustieg erfolgt über die Wanderwege Twin Old Trailhead und Devils Gulch Road. Deutlich länger zu erlaufen, dafür aber auch sportlicher und landschaftlich sehr beeindruckend gelegen, sind die Routen oberhalb des Bear Lake zum Hallett Peak. 
Hallett Peak, Hesse Ferguson
Schwierigkeit: 5,9
Höhe Hallet Peak: 3.865 m
Länge: 300 m 
Charakteristik 
Hesse Furgeson gilt als einer der Kletter-Klassiker, wobei die Route am Fels individuell gewählt werden kann. Geklettert werden circa acht Seillängen in ähnlicher Schwierigkeit mit leichten Steigerungen im oberen Bereich. Die gesamte Tour am fast senkrechten Fels nimmt inklusive Abstieg einen ganzen Tag (12 h) in Anspruch. Eine detaillierte Beschreibung finden Sie hier. 
Hinweis: 
Aufgrund der Tourlängen – inklusive Erreichen des Klettergebietes – und wegen der plötzlich auftretenden Gewitter im Sommer wird bei allen alpinen Klettertouren in den Rocky Mountains geraten, sehr früh am Morgen aufzubrechen und sich grundsätzlich auf eine Übernachtung im Biwak einzurichten. 
Für zweitägige Touren (mit oder ohne Guide) im Rocky Mountain Nationalpark benötigt man eine Registrierung. Permits für einen Platz in einem der Basislager oder auf den Campgrounds sind je nach Saison limitiert. 
Longs Peak

Der Longs Peak (4.345 m) gilt als "König der Rockies" und zählt zu den sogenannten "Fourteeners", also Bergen mit einer Höhe von mehr als 14.000 Fuß Höhe. Allein in Colorade gibt es von diesen Riesen 54. 

An seiner steilen, mehr als 1.000 m hohen Ostwand befindet sich die schwierigsten Kletterrouten, allen voran die Diamond Wall. 

Longs Peak, The Diamond

Schwierigkeit: 5,10
Höhe: 4.200 m
Länge: 350 m plus 26 km Zustieg
Höhenmeter mit Zustieg: 1.500
Charakteristik

festes Gestein
größtenteils ungesichert
Vertikale Höhe circa 270 m 
An der linken Seite der Wand ist der als einfacher geltende Aufstieg über die Lower East-Route möglich.

Park "Garden of the Gods"

Die westlichen Ausläufer der Rocky Mountains bei Colorado Spings bilden den "Garden of the Gods". Wie rote Nadeln ragen dort bizarre Sandsteinfelsen zwischen Zypressen in den Himmel, ein Paradies für Kletterer. Ob, Platten oder Überhänge – insgesamt 270 Routen in der Schwierigkeit von 5,2 bis 5,13 verlaufen dort, die meisten hervorragend mit Haken gesichert. 

Der Eintritt in den "Garden of Gods" am Fuße des Pikes Peak ist kostenfrei. Für die Besteigung der skurril anmutenden Formationen muss man jedoch vorab im Besucherzentrum am Parkeingang eine Genehmigung einholen. 

Garden of the Gods, Montezuma´s Tower

Schwierigkeit:5,7
Höhe: 1.993 m
Länge: 25 Meter plus Zustieg ca. eine Meile ab Parkeingang
Charakteristik 

Granitkletterei, durchgehend mit Haken gesichert, mit zahllosen Gesteinsnadeln, die sich nach oben hin verjüngen.
durchweg gute Tritte und Griffe, jedoch sehr steil
psychisch sehr fordernd, da bis zu 40 m freischwebend über dem Boden
gigantische Aussicht auf den Pikes Peak mit 4.301 Metern. 
Rifle Mountain Park

Der Rifle Mountain Park und der benachbarte Canyon zählen mittlerweile zu den begehrtesten Wander- und Kletterzielen Nordamerikas. Hier, in Colorado, in den südlichen Rockies, teilt man sich das Land noch mit Pumas und Kojoten – ein Abenteuer von außer-europäischer Dimension. Übernachtet werden kann in den günstigen Hotels von Rifle oder auf einem der Campgrounds. An den Wochenenden ist Reservieren Pflicht. 

Gefragt ist aber nicht nur die innere Gelassenheit in der Natur, sondern auch Kletterkönnen auf höchsten Niveau. An die Wand geht's in den Schwierigkeitsgrad 5.11, 5.12. und 5.13, gewaltige Überhänge inklusive. Mehr als 400 Routen sind ausgewiesen. 

Zu den beliebtesten Routen zählen "Rumor Has it" und "80 Feet of Meet" (beide Schwierigkeit 5.11b). 

Und hier noch ein Tipp für alle, die zwar in den USA klettern wollen, aber aus Zeitmangel in Küstennähe bleiben wollen. (Schließlich ist die Reise zu den Rockies tief im Landesinneren von San Francisco aus relativ weit, während die Sierra Nevada vor der Haustür liegt.) All jenen sei "rock-climbing" im Yosemite National Park mit dem weltberühmten Granit des Half Dome ans Herz gelegt.
Sind Profi-Alternativen in Europa gefragt? Dann empfehlen wir das Klettern in den österreichischen Alpen, im Allgäu oder auch in den deutschen Mittelgebirgen.