Carl, Lisa and Janik's bright orange Mercedes 407D, was once a fire engine and has been used all over Europe since it was converted into a camper. Water tanks, outdoor shower and solar panels allow for a completely self-sufficient vanlife. And when you take a look at the super cosy interior with wood-burning and baking oven, the question of homesickness becomes superfluous!
Frye has lived in the forests of the most beautiful national parks in the USA for seven years: Grand Etang, Yellowstone and Glacier. His VW bus, a T3 from the 1980s, is as rustic as his living space: With a lot of wood, Frye has carpentered a fortified high roof and adapted the interior - including a holder for his axe.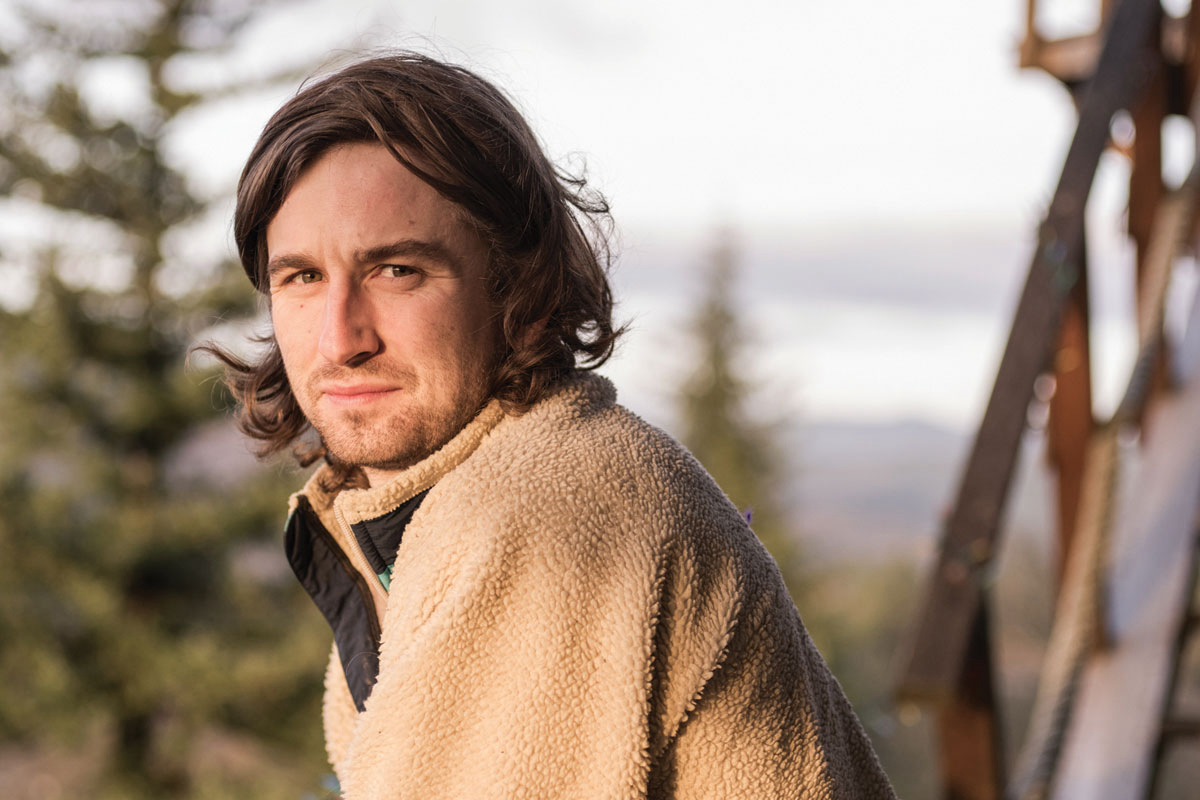 Foster Huntington: The inventor of #vanlife at ISPO Munich 2023
In 2011, he gave up his well-paid job, gave in to his longing for freedom, and set off in his Volkswagen Bus to discover the world. And for Foster Huntington it was and is clear: Respect for and humility before nature is an inseparable part of living in nature! Today, in addition to his involvement in the vanlife movement, he is best known for his work in outdoor and adventure photography. 
On November 28, 2023, you can experience Foster Huntington LIVE at ISPO Munich 2023!
There, he will speak about the evolution of his personal life journey and inspire to value authenticity over material possessions in a world often dominated by polished images on social media. He also brings a unique video that he produced exclusively for this event.
It's hard to see that Van Elsa is a good deal older than driver Anni. The Mercedes bus has a proud 44 years under its belt. Anni has given it a proper makeover with the extension: Light wooden cabinets with rattan panelling, a comfortable loft bed, the small, fine kitchen and even a board toilet offer everything that the vanlife heart desires.
Together they enjoy the outdoor life: Miri and Michi have been living in their self-built van since 2020. The outdoor nomads take their vans on their journey around the world every week in vlogs and show in detail how they built out their van, how much they paid and which unique places you can discover with it.
Home is where you park it - in the case of kite surfers Daan and Merel from Holland, on the most beautiful beaches in Holland to pursue their sporting hobby. To ensure that there is enough room for all the equipment in the Mercedes Sprinter, the couple created plenty of storage space when converting the vehicle. And thanks to the light wood look and beautiful details, the interior is also super cosy.
Welcome to Vanlife Paradise: The "Cankuna Campers" Julian and Lara exchanged their VW buses for a spacious school bus from 1989. The conversion in cosy shabby style is simply phenomenal - not only because of the old wing door that leads to a small terrace at the rear.
This cool off-road van has been home to Philip and Lydia for six years. The surfer couple converted the old ambulance themselves and added plenty of features to live on America's most beautiful beaches. The interior is small but nice - and even offers space for surfboards under the roof.
The VW T5 is available ex works with camper conversion. But that would be boring. Architect Steffi and her boyfriend Nico from Switzerland prove with Bus Fred why it's worth taking the project into your own hands. Their self-constructed and self-built interior is super practical and at the same time so stylish that it actually deserves a design award!
This Dodge camper got a complete make-over from owner Candice from Oregon: New paint, pop-up roof, and a gorgeous interior with countless handmade details. The conversion is a masterstroke and can be seen in the Insta-Stories step by step.
After the original conversion from 1982 had become obsolete, Kendall and Glenn designed an improved version for their white van "Vance". Despite the smallest area, the interior now offers everything you need for van life in Australia. The absolute highlight is the pull-out kitchen, which disappears under a bench seat as soon as everyone is full.