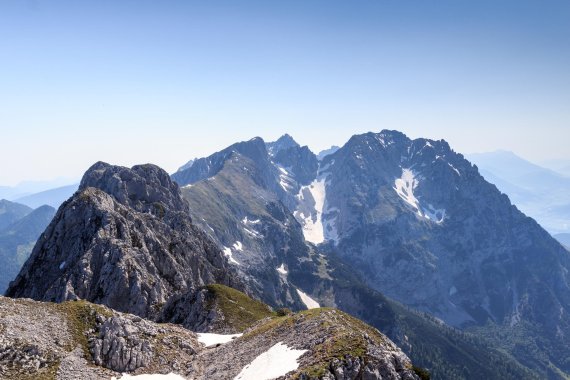 "Österreich ist ein Kletterland", kommentierte ÖOC-General Peter Mennel im August 2016 die Entscheidung, dass Sportklettern 2020 erstmals olympische Disziplin wird. Die Aufnahme der Sportart sei "eine Riesenchance für unsere Weltklasse-Athletinnen und Athleten", so Mennel.

Freuen dürften sich aber auch tausende Hobby-Kletterer, die in Österreich wohnen oder das "Kletterland Österreich" besuchen, um in den Alpen ihrer Leidenschaft zu frönen. Einige der schönsten aber auch schwierigsten Kletterrouten finden Sie hier.

Riss-Kletterei im Kaisergebirge
Gilt Österreich als Kletterland, so gebührt Tirol wohl die Ehre des Kletter-Bundeslandes. 15 Kletter-Regionen sind hier ausgewiesen, mehr als 3.000 Routen allein im Gebiet Imst im Tiroler Oberland.

Die sportlich anspruchsvollsten Kletterrouten bieten das Karwendelgebirge, das Ötztal und das Kaisergebirge (Wilder Kaiser). Dort befinden sich etliche Routen in den höchsten Schwierigkeitsgraden: Zwei- und Dreitausender mit senkrechten Felswänden, steilen Überhängen, schmalen Felsvorsprüngen, Platten, Dächern und Rissen.

Routenempfehlung: Pumprisse – Wilder Kaiser
Mit der Riss-Kletterroute "Pumprisse" am Fleischbankpfeiler (1.749m) im Wilden Kaiser wurde alpine Klettergeschichte geschrieben. An dem südöstlich vorgelagerten Felsen des Fleischbank-Gipfels schafften Reinhard Karl und Helmut Kiene 1977 die erste Kletterei der Alpen im VII. Schwierigkeitsgrad. Die beiden deutschen Kletterer erreichten damit die Erweiterung der UIAA-Skala, die bis zu diesem Zeitpunkt bei sechs endete.

Der Name "Pumprisse" weist auf die enorme Kraftanstrengung hin, die für diese Risskletterei nötig ist. Mit Hilfe von Schulter und Faust klemmen sich Kletterer hier in fünf Seillängen auf den Nordgrat hoch, etliche Rissüberhänge sind nur mit akrobatischem Ausspreizen zu überwinden. Wem das noch nicht genügt, der riskiert am vorletzten Standplatz einen Blick nach rechts in eine Schlüsselstelle der heute schwersten Route der Fleischbank: "Des Kaisers neue Kleider" (X+).

Schwierigkeit: VII (Quergang VIII+)
Länge: 300m
Höhenmeter: 225
Höhe: 1.749 m
Dauer: 9 h (inklusive Rebitsch-Pfeiler)
Zustieg: Vom Parkplatz der Griesner-Alm kommend den Stripsenjochweg einschlagen. Nach circa einer Stunde, 100 Meter unterhalb des ÖAV-Alpenvereinshütte "Stripsenjochhaus" (1.580m), erfolgt der Einstieg zu den "Pumprissen" in der Schlucht links vom Fleischbankpfeiler (1.749m).

Über die Steinerne Rinne (60 m, II-III) geht es zunächst über den Rebitsch-Pfeiler (VI). In vier Seillängen erreicht man den Ausgangspunkt der Route zu den Rebitsch-Rissen, die ebenfalls auf den Nordgrat führen.

Rechts davon eröffnet sich unter einem großen Bauch der Quergang zu den "Pumprissen" auf der klassischen "Rebitsch-Route" (VI/(A0) oder als Freikletterei im UIAA-Grad VIII+.

Abstieg: 800 Hm über Nordgrat-Route (II-III) bis Griesner Alm (nach 200 Hm Stripsenjochhaus) abklettern oder abseilen bei Eggersteig.

Dauer-Kletterei in Steinberge

Auf rekordverdächtige 45 Seillängen bringt es die wahrscheinlich längste Kletterroute Österreichs, der "Pinzgawurm" in der Region Steinberge an der Grenze Tirols zum Salzburger Land. Sie befindet sich am prominenten Birnhorn (2.634 m), dem höchsten Berg der Leoganger Steinberge.

Unterhalb des markanten Birnhorn-Gipfels ragt die 1.400 Meter hohe Südwand auf. Es handelt sich um eine der höchsten Felswände der Alpen, die gerne mit der Watzmann-Ostwand verglichen wird.

Kletterempfehlung: Pinzgawurm – Steinberge

Beim Pinzgawurm ist vor allem Ausdauer gefragt. Für die mehr als zwei Kilometer lange Route, die vorbildlich mit Bohrhaken abgesichert ist, sollten Seilschaften mit etwa neun Stunden rechnen.

Schwierigkeit: VI und VI+
Länge: 2.150 m
Höhenmeter: 1.300
Dauer: 11 h einschließlich Zu- und Abstieg
Zustieg: In Leogang an der Kirche Richtung Ullach abbiegen, bis Parkplatz Passauer Hütte fahren. Parken. Birnbach-Lochsteig bis zur letzten Kehre folgen, dort Pfad bis zur Wand (circa 1 h).

Abstieg: über Hofer-Steig an Südwand zurück zur Passauer Hütte (1 h)

Extrem-Kletterei am Schleierfall
Nirgends gibt es mehr Kletter-Routen im obersten Schwierigkeitsgrad als im Gebiet des Wilden Kaisers. Die meisten schwierigen Klettereien, von denen einige sogar zu den aktuell schwersten der Welt zählen, befinden sich am Schleierfall im Bezirk Kitzbühel.

Der Wasserfall an der Südseite des Gamskögerl (1.586 m) gilt als Naturschauspiel, da er wie ein Schleier aus 60 Metern in die Tiefe stürzt. Die stark überhängenden Wände neben dem Wasserfall beherbergen 66 Kletter-Routen, davon mehr als die Hälfte in Graden von 9+ bis 11.

Kletterempfehlung: Schleierfall – World of Wonder

Eine extrem anspruchsvolle Verschneidungs-Kletterei bietet die Route "World of Wonder" am Schleierfall direkt neben dem Wasserfall. Nach einem athletischen Einstieg in den Kalk ist vor allem Technik gefragt.

Schwierigkeit: 11
Länge: 30 m
Wandhöhe: 60 m
Höhe: 1.200 m (Talort: 772 m)
Zustieg: in Going am Hotel Stanglwirt ausgeschilderter Wanderweg über Graspoint Niederalm zum Wasserfall (0,45 h)
Ob Tirol oder Steiermark, Wandern, Klettersteig oder Sportklettern: Österreich ist auf Outdoor-Sportler eingestellt. Unterkünfte gibt es in jedem Preissegment und die Anreise kann fast überall auch mit Bus oder Bahn erfolgen.

Wer alternative Kletterrouten im hohen Schwierigkeitsgrad sucht, hat viele weitere Alternativen. Fündig werden geschulte Bergsportler zum Beispiel im Allgäu oder auch in den deutschen Mittelgebirgen. Und dann ist da auch noch das Sehnsuchts-Fernziel vieler Kletterer: die Rocky Mountains.