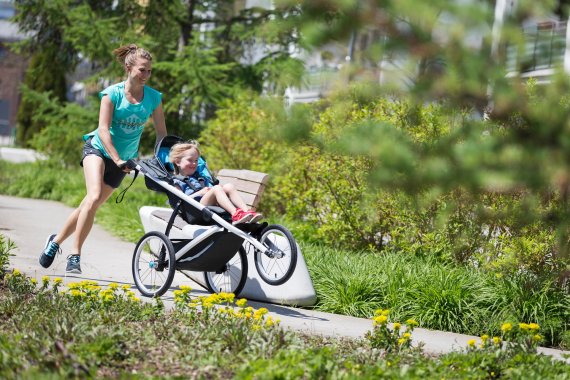 ISPO.COM: In 2015 you also won the Munich City Run over five kilometers. A year later, your ambitions must be considerably smaller, Ingalena Heuck?
Ingalena Schömburg-Heuck: That depends on the way you look at it. In terms of sport, certainly. In March, I became a mom for the first time. This is another phase of life, as I am now the last priority ‒ a new experience for me. But I think it's important that you do not stop exercising as a mother. And you should let yourself be completely restricted in your own life. I want to show that it is not only possible but also right to do exercise, even if you have a small child.
And as a result you will be at the start line of the Munich City Run 2016 in a new category, which seems to have been created for you: with a stroller.
Yes, I am a jogging mom (laughs). Or to explain it better: The jogger with a baby. SportScheck and Thule, who I am a brand ambassador for, thought up this idea, and I pretty much jumped on it. Because I consider it a great thing: to also do sport with your family. And to show that, although everything functions differently when you have children, there are no restrictions.
My running series for joggers with babies at the city runs
The organizers of the city runs have since even made a small series in five cities out of the idea. Your premiere was at a competition for joggers with babies in Augsburg. How was it?
So funny. Okay, and also a little bit chaotic: A few moms already started running at the normal starting signal, I then started later in a separate race. The funny thing was that there were a few steps on the track where us joggers with babies had to push the strollers up on a rail. But then a few men came and carried the stroller high in the air, saying to me: "Take a quick break." This already shows, what great fun it can be to run with babies. You don't need to have ambitions. It's about the experience. I now do more relaxed endurance running rather than high-tempo runs. 
So for you, an ambitious former competitive athlete, it's more about running itself - and not about the times?
It is important that I move, because it helps me feel better. Mentally and physically. But the subject of performance is still far off. Of course I don't run slowly with a stroller. For a ten kilometer run with my Baby Jogger stroller, I will still remain under 60 minutes, but that's not the point. Not when I'm running with a little one. 
Jogging for young mothers: The stroller is a piece of sports equipment
Describe jogging with the stroller.
Of course it is a completely different type of running. You have to really focus on the stroller, which means you have a different running style. You also often only have one arm free. It is important that you take care to make sure you still run in a relaxed way. And check, that the stroller is able to function as a piece of sports equipment. So, for example, that the handle height is adjusted so that you can push loosely with your arms. And that the stroller has good brakes. And finally, that you always have enough space in front of your feet, so that they can touch down properly.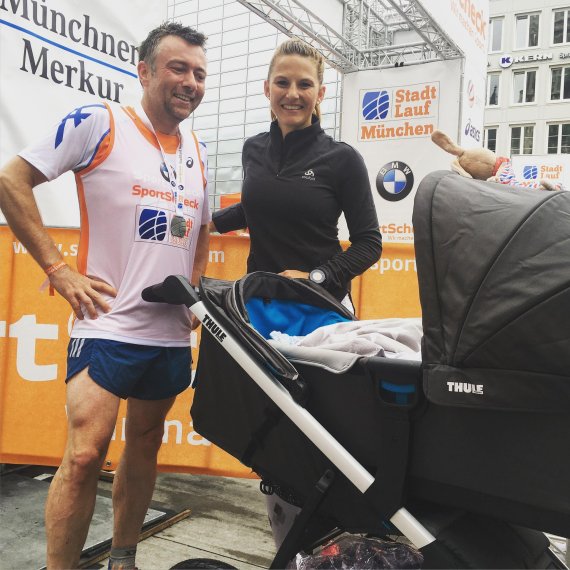 And your son?
He sits in the carrycot. Run carefully because of bumps. Very carefully. For young children, it is important that they can sit stably. I'm certainly very cautious while jogging, especially with regard to the ground and potential potholes. But I don't see this as an obstacle, as I also look out for these things whilst walking with the stroller. 
Only four months after the birth of your son, you have started running again. Is this not rather unusual?
After twelve weeks, with the doctor's consent, I started again. I pretty much went and got medical clearance. After I had already been back on the bike for four weeks, done spinning, been mountain biking and roller skating, I soon got that tingly sensation again, and thought: You have to run. But as I said: I got medical advice ‒ from a gynecologist specializing in postnatal care. You really have to be very careful. The topic of postnatal care is neglected by many women.

Postnatal care is neglected by many mothers.
What do you mean by that?
I've even seen it with myself. Previously, I also didn't deal with it properly. Its easy to think, now my child is here and you end up only looking after your child. At the same time, you are perhaps still doing these six hours mandatory postnatal care and think: "Everything's OK again." But it's not that easy.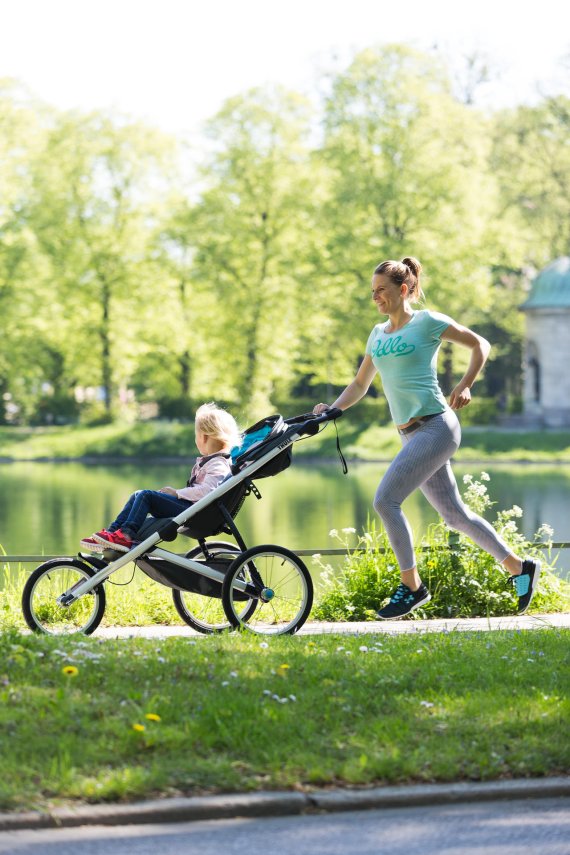 How was it for you?
I also neglected postnatal care a bit to start with until I started reading about the topic of rebuilding the pelvic floor. And then I became really interested in it, because I also wanted to make others aware of the topic. Should I?
Please, go ahead.
The pelvic floor consists of three structures to preserve continence. These structures are heavily burdened by the pregnancy because the child's weight presses down. This continues even during the birth, because the structures must be widened a crazy amount. That's why postnatal care and the pelvic floor are crucial, as otherwise pregnancy may eventually lead to incontinence that may only be noticeable later on. And this may be due to lack of postnatal care after the birth. That's why it is so important to pay attention to postnatal care.
Running training for mothers: Always seek expert advice

And perhaps also to go back to running?
But not immediately. If you want to start running again at an early stage, you should seek advice. From your midwife or a specialist. Running causes heavy strain on the muscles, joints, and ultimately also on the pelvic floor. If you want to start again early on, you should make sure you are monitored. Otherwise, it is recommended to wait at least six months, others even say twelve months. So my strong advice to all young mothers: Seek advice. But start doing sport again!

Ingalena Schömburg-Heuck is one of the most successful German long-distance runners. The former German half marathon champion from Starnberg is a qualified sports scientist and is also undertaking training on food science. Since retiring in 2013 she has worked as a trainer, consultant and author (including for ISPO.com – you can read more by the author here) in the area of running and nutrition. She is the brand ambassador for, among other things, Sport Scheck City Run, Odlo and Thule.
Find out more about Ingalena Schömburg-Heuck on her website and on her Facebook page.