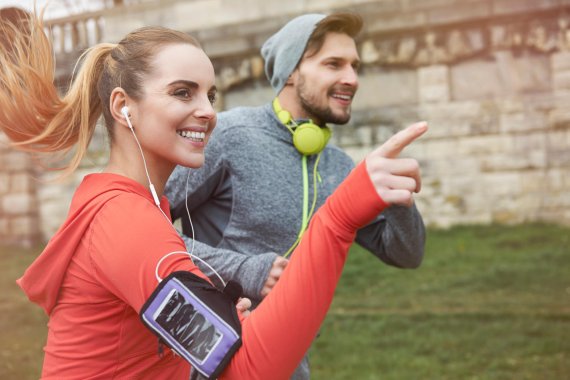 Kopfhörer in die Ohren und ab in den Park: Mit der richtigen Musik läuft es sich einfach besser. Rhythmus und Melodie wirken wie ein natürlicher Turbo, die Motivation stimmt, die Stimmung steigt und damit auch die Leistungsfähigkeit. Willkommen ihr Endorphine, so spürt man die Belastung beim Joggen schon weit weniger. Der innere Schweinehund liegt tief unter den Wohlklängen begraben, die aus den in-Ears ins Gehirn dringen. Weiterlaufen, denn Schlappmachen ist mit Musik keine Option.

Doch Vorsicht: Nicht jede Art von Musik ist zum Laufen geeignet. Bei der Auswahl der richtigen Songs gilt es ein paar Dinge zu beachten: Wer sich als leidenschaftlicher Balladen-Freund nämlich Lieder wie "My Heart will go on" von Celine Dion oder "Another Day in Paradise" von Phil Collins in die Workout-Playlist packt, wird wohl vergeblich auf den gewünschten Motivationsschub warten.

Die richtige Musik zum Joggen

Um so richtig in Fahrt zu kommen, sollten wir in erster Linie kraftvolle Songs auswählen, die uns mitreißen und motivieren. Heavy Metal, House, Rock oder Techno - das Musik-Genre spielt da erstmal keine große Rolle. Wichtig ist, dass wir die Lieder mögen. Wie der Sportwissenschaftler Matthew Biagini mit seinen Kollegen in einer 2012 im "Journal of Strength and Conditioning Research" veröffentlichten Studie belegen konnte, hat selbstgewählte Musik, die uns gefällt, einen wesentlich höheren Effekt auf unser Leistungsvermögen, als von außen vorgegebene. Ob man sich also lieber mit dem "Rocky"-Soundtrack auf Touren bringt oder die hämmernden Bässe eines David Guetta-Songs favorisiert, bleibt jedem selbst überlassen. Was zählt sind die Glückshormone, die beim Hören bekannter Melodien in uns freigesetzt werden und sich alsbald positiv auf unsere Gesundheit auswirken.

Von großem Vorteil können hier übrigens auch positive Erinnerungen sein, die wir mit bestimmten Liedern verknüpfen. Wer beispielsweise bei seinem letzten Fitness-Workout zu einem speziellen Song einen neuen persönlichen Rekord aufgestellt hat, wird die Motivation des Tracks auch beim nächsten Fitness-Training spüren. Beispiele gäbe es hier reichlich, aus allen Lebensbereichen.

Laufen im richtigen Takt – Musik zum Joggen

Der Anfang ist gemacht und wir befinden uns mitten im Fitness-Training - nun sind Ausdauer und Durchhaltevermögen gefragt. Auch hier kann uns die richtige Musik zusätzliche Kraft verleihen, besser gesagt der richtige Takt der Musik. Kam es zu Beginn vor allem auf gute Laune und eine gehörige Portion Motivation an, folgt nun ein weiterer Aspekt: Damit sich die Musik positiv auf unsere Leistungsfähigkeit auswirken kann, sollten die Lieder jetzt nämlich dem Lauftempo angepasst werden. Bei einem ruhigen Dauerlauf sind hämmernde Technobeats mit 150 und mehr Schlägen pro Minute völlig ungeeignet. Für Anfänger empfiehlt es sich, Lieder in einem Bereich von 110 bis maximal 130 BPM auszuwählen, um Schrittfolge und Takt möglichst synchron zu halten.

Songs wie "Wes" von Fritz Kalkbrenner oder "Superlove" von Avicii feat. Lenny Kravitz geben einen optimalen Takt vor - und bilden so den perfekten Jogging-Background. Bei kürzeren Läufen mit höherem Tempo oder Intervall-Methoden sind natürlich auch Lieder mit schnellerer Frequenz wie "The Rockafeller Skank" von Fatboy Slim oder "Pump it" von den Black Eyed Peas angesagt. Zum Ende des Laufs helfen langsamere Stücke, um Meter für Meter wieder runterzukommen.

Top-Playlist – Musik zum Joggen

Für alle, die Lust auf ein ordentliches Fitness-Workout bekommen haben, gibt es hier eine Top-Jogging-Playlists für Einsteiger – die beste Musik zum Joggen.

⦁ Survivor "The Eye of the Tiger"
⦁ The Subways "Shake! Shake!"
⦁ Fritz Kalkbrenner "Wes"
⦁ Alex Claire "Treading Water"
⦁ Ed Sheeran - "Sing"
⦁ One Republic "I lived"
⦁ Faithless "Insomnia"
⦁ David Guetta, Nicki Minaj & Afrojack "Hey Mama"
⦁ Cash Cash "Surrender"
⦁ Empire of the Sun "Half Mast"