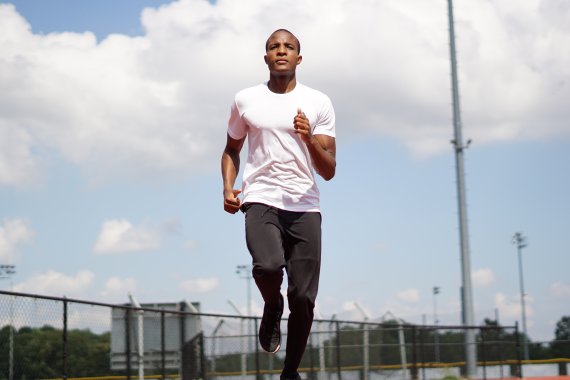 There is only one golden rule for the right equipment for the runner: He must feel comfortable in his clothes. This applies to the suspension of the shoes as well as to the pattern on the headband. Those who experience the right feeling of comfort will also set off with vigor the next time. And this is precisely the yardstick: Only continuity promises health success, it should be ensured.
In the following article we will give you a list of recommended equipment. If you only want to start jogging on a trial basis, you can do it without gadgets such as a heart rate monitor or headlamp for the time being.
The right shoes are considered the most important piece of equipment for the runner, but high investments are not necessary. As early as 2007, a study by Dundee University in Scotland revealed that the functionality of running shoes does not necessarily increase with the price. Some discount shoes were even superior to more expensive models in terms of cushioning.
Nevertheless, it can be worth spending a few euros more on suitable running shoes. On the one hand, the fit should be ideal and appropriate advice can only be obtained in a good specialty store. On the other hand, the appearance also plays a role, which can have its price. After all, we also pay for the brand image with all other goods, and in the rarest of cases it is a matter of pure quality gain.
The following brands are in particularly high demand:
Under Armour
Adidas
Asics
Brooks
Of course, the choice should also be made according to what budget is available or which shoe offers you the most comfort.
Functional materials combine several advantages: They are lightweight, breathable and transport sweat to the outside. Wind and rain stay outside. This simultaneously prevents overheating while running and freezing after running. A functional shirt in your closet has many opportunities to do good service, even if you stop running again. Therefore, the purchase is a clear recommendation. However, the Ssirt from the closet does it too.
It must not rub, chafe, pinch, scratch or slip - criteria that most sports pants meet. Tight pants, however, minimize the danger and in most cases still offer the desired freedom of movement. Whether long or short, black or signal red, it's all a matter of taste. Those who do not want to carry an additional bag should pay attention to a closable trouser pocket.
There are also sensible high-tech developments in the pants that definitely serve their purpose. Falke, for example, offers special "running clothing" that stimulates the fasciae - part of the connective tissue - with special nubs. Those who start jogging do not need this professional equipment at first.
The investment in special running socks is worthwhile because they last longer due to their special reinforcements. In addition, close attention is paid here to ensure that no rubbing seams interfere with the run or the waistband chafes. Running socks with polygiene technology also prevent unpleasant odors from forming.
If you want to run in low temperatures and rainy weather, a jacket and cap are useful. The jacket should above all guarantee that you are well seen despite the weather. Signal colors, signal stripes or reflectors are recommended. A cap prevents you from cooling down - after all, you lose more than a third of your body heat through your head.
Runners rarely get cold during training - but warm and dry clothes are important immediately after jogging to prevent colds.
Music while running motivates and spurs on, especially when the rhythm is right. For many runners, their favorite music is therefore a must. Sports headphones are necessary to balance the running movements and are available in different versions, from in-ear to large headphones with a bracket. Those who want to have their hands free also need a belt bag.
Despite the advantages, the first runs should be completed without music in order to better perceive the running sensation and the surroundings. On the other hand, people who are just starting to jog will benefit from a heart rate monitor. In this way, the body data can be evaluated and one learns more quickly to avoid over- or under-exertion.
The right clothing is the be-all and end-all for sports. Sometimes the washed-out shirt and sweatpants do the trick, but they hardly offer any comfort and this has a corresponding effect on performance. If you go jogging regularly, you don't have to go for Nike sportswear or other brands, but your pants, shoes and shirt should be suitable for sports.
Finally, we will address the most frequently asked questions related to clothing and equipment for jogging.
The footwear plays a superordinate role, but you should not do without socks. The friction inside the shoe can cause blisters.
Women should wear a sports bra when jogging because of the up-and-down movements to protect the tissues.
If you go jogging in the rain, you need to consider a few special features when choosing the right clothing. Waterproof running shoes offer additional comfort, but are not a must.
Certain suppliers sell entire sets online. This often has a price savings to the advantage and you cover yourself completely. The disadvantage, however, is that you can not individually compose your equipment when jogging. Having different brands to choose from also means that you have the best choice for each piece of clothing.