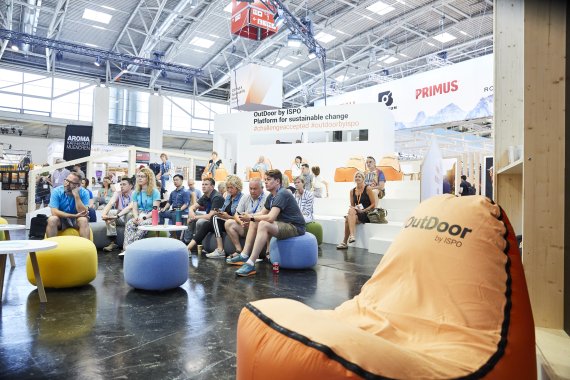 OutDoor by ISPO is starting into a new era with an innovative concept.What will "Outdoor" look like in the future? How can the industry continue to grow? What does this mean for the individual industry members? Answers to these questions are provided not only by the innovations of the exhibiting brands, but also by the comprehensive, topic-specific events at the trade fair.
At 10 am Klaus Dittrich, Chairman of the Board of Management of Messe München, together with Arne Strate (Secretary General of the European Outdoor Group), Antje von Dewitz (Managing Director of Vaude) and Ryan Gellert (General Manager EMEA at Patagonia Outdoor Clothing & Gear), will explain the most important data and facts about the most important industry topics at the main press conference.
The press conference will show how OutDoor by ISPO is implementing the new outdoor mindset in the exhibition halls and how it is entering a new era together with the European Outdoor Group and the entire industry.
An important lever here are the OutDays, which take place from 29 June to 6 July in the Munich metropolitan region and appeal to end consumers. Numerous events and outdoor activities invite you to participate and experience.
With predicted temperatures of up to 35 degrees on Sunday, the cool water is tempting at OutDoor by ISPO: water sports trends can be tested in the indoor pool at the River Lake Camp in Hall C6. Furthermore, the participants of the Istrian SUP Challenge (1 pm) as well as kayak instructor and veteran Holger Heuber (4:30 pm) will talk about their ambitious projects.
The researcher talks about Women in AdventureHetty Key (10:30 am to 12 noon Hall B5, Women in Outdoorbusiness Lounge). Alsothe reigning gliding world champion Sabrina Vogt (13 to 15 o'clock, hall A4, booth 408) is on site. Tim Leatherman, inventor of the Leatherman multi-tool, will be a guest in hall B6, booth 528 from 12 to 15 pm.
At the "Point of Sale Tracking" lecture of the European Outdoor Group (EOG) in the Retail Lounge, Hall A4.40, the focus will be on outdoor customers from 2 pm onwards: EOG will then present the latest results of its pilot project for the acquisition of sales data in the outdoor segment. New retailers and brands are invited to join the project.
Current information on the economic mood in the outdoor business will also be provided on the first day by press conferences from industry giants:
11:45-12:45: 

Sport2000 (

Pressezentrum Ost, Pressekonferenzraum 2

)

13:00-14:00: Intersport (Pressezentrum Ost, Pressekonferenzraum 1)
14:30-16:30: Deuter (Pressezentrum Ost, Pressekonferenzraum 1)