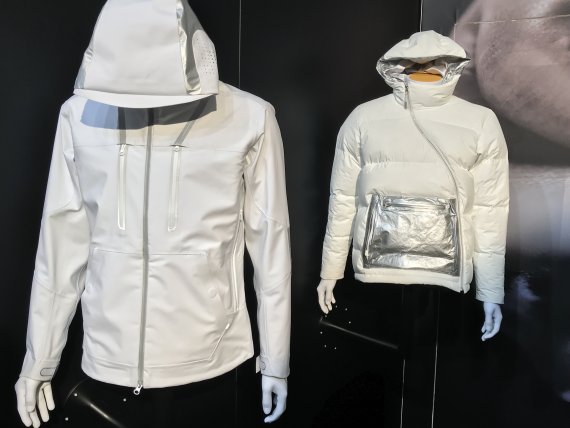 While the textile industry continues to adapt, so is the garment manufacturing sector with motorcycle apparel manufacturer Kido leading the way, transitioning established manufacturing expertise into new markets. Visiting Hall C3 at this year's ISPO Munich, walking through the immense offering of textiles and trims, the Kido stand stood out with its forward thinking concept garment collection geared towards the outdoors and winter sports markets and this is where we met Florian Weingärtner, Kido's International Director.
When asked about the development in apparel production bringing forward expertise from the motorcycle sector, how easy has it been and how beneficial is it to the new markets, Weingärtner explained the benefits.
"When you come from that more serious perspective over products and features then I think it also helps you in the segment of outdoors and winter sports and also performance sports. While, when you hop over to fashion this seriousness doesn't help you in fashion as you don't need it but the series of production techniques you have required now appeal and can be applied to a fashion market that is just way less formal than it used to be, way more sporty."
Established in 1986, Kido has built-up an international reputation as a leading motorcycle apparel manufacturer as well as establishing the Kido brand for motorcycle helmets. The opportunity for new market developments started in 2000, when the outdoor sector was booming and the motorcycle business steady.
Unlike the sports and outdoors sectors, the motorcycle business is less fast moving, it doesn't have peaks but then again, it doesn't have lows. Through the manufacturing process of motorcycling apparel, the specs and performance are incredibly high, as safety is crucial, this is apparel that can mean the difference between life and death. It isn't just the manufacturing of the garment, it is the extensive testing the Kido conducts on all of its products to make sure the it last longer.
With manufacturing bases in Vietnam and Indonesia, the company recently extended their capacity into Myanmar, that holds a duty free trade agreement with Europe. Kido is evident of the importance of cross-over technology, as they continues to develop the business in the outdoors and winter sports markets with the latest high performance manufacturing techniques.
One key aspect of Kido as an apparel manufacture is the R&D and the development of the seasonal concept collection, highlighting the latest production developments. What is different with Kido as a garment manufacturer is that they work with their customers in their development they don't just manufacture. With many of their customers visiting the headquarters in Korea to discuss their requests and also see the concept collection in gaining ideas of what is possible on the manufacturing front, for brand developers having the advanced knowledge of the latest developments at production aids a better product.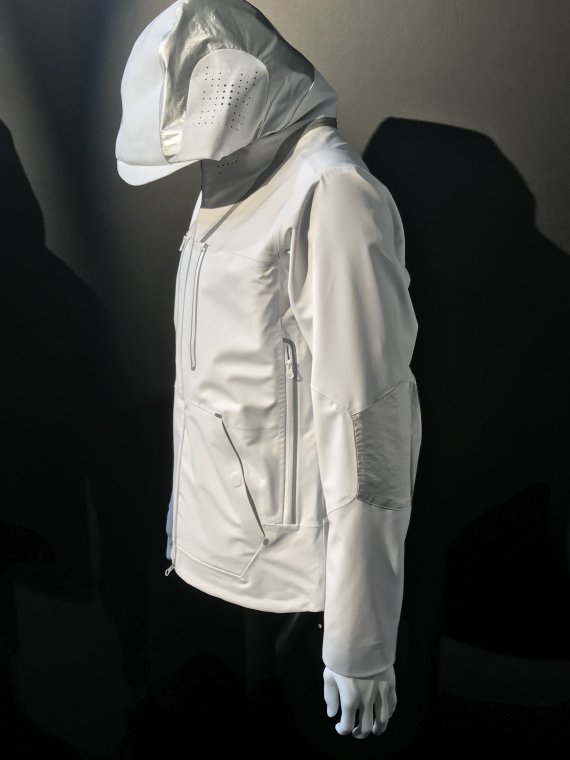 As we see a shift in cleaner technology, not just in textile processes but also garment manufacturing, the knowledge that Kido can bring is undisputed, with clients ranging from Jack Wolfskin through to Norona and Spyder. In the latest concept collection heat bonded seaming, reinforced zones and digital laser punching feature, with detail placed on pocket construction and what is achievable through manufacturing on the styling front. In addition, the benefit of the latest trims and fabrics incorporated into the collection at garment phase really highlight the feasibility of these new products and how they can be embedded.
"For a brand that is sourcing it is about realizing the possibilities and chances that are out there but at the same time minimizing the risk. So everyone that is sourcing product, no matter if it is fabrics or materials or manufacturing is looking for a partner, it's not like it used to be, you are a great brand and then you have some unknown service provider that you give them a production order. this in terms of how to work with each other, it's not just limited to sports and fashion, you can go to other industries, it's about partnerships as it is much more involved that just price and timing, which is still important. As a manufacturer you have to reach further over to the customer side and you have to provide more services, products development or even design," said Weingärtner.
Sourcing in general, like other industries has become much more transparent that it used to be and also much more competitive in two ways. Competitive between each other but also competitive either in finding new trends and directions or keeping up with new trends and directions. "Everyone in the whole upstream supply chain has to be much more on their toes and no matter what kind of business, my model has always been, go the extra mile! Who wants to be average. The world is not black and white, the set up in design product development and design product management is very different per brand and company," he said.
What is interesting to see is the change in the textile chain is how brand names no longer just refer to the apparel brands. Today we have ingredient fiber brands, dyes and finishes, textile brands and now with Kido a more sophisticated brand offering on the manufacturing front, that can offer the latest developments and protection to end products, sharing concept designs with their customers who can add into their collections.
"Everyone has a certain set up, a set up is based on the investment you make, in machinery, in R&D, in people, in everything, and you cannot invest infinitely, no one has that money. Somehow you have to focus, make a decision, go more left, go more right, because of that, you have to limit yourself to the best competitiveness that you can imagine versus what you see now how active all the textile mills have become, the in-between people they try to think of new ideas.I think for us, also with the seriousness we have in terms of R&D and innovation we tend to rely on the best synergy out there and the best partners," Weingärtner concluded.