And we also get right into it with a thank you to Sue Bird for her efforts on the basketball court and beyond, and snowboarder Kimmy Fasani for using her reach to raise awareness for breast cancer.
The European Women's Soccer Championship may have been over for a while, but it has left its mark and a lot of euphoria. The German women's soccer team starts the next Bundesliga season on Friday with a lot of momentum. The opening match between Eintracht Frankfurt's women and Bayern Munich could even bring a new record number of spectators. A "history-making" crowd is expected, host Frankfurt announced. So far, the record was 12,464 fans - whether the women can top it? Frankfurt coach Niko Arnautis also spoke of "huge euphoria" ahead of the new season. Go Girls!
We still have to wait a little until ISPO Munich 2022 (November 28-30). But in the meantime, our partner, the Outdoor Institute in Silkeborg (Denmark), is giving us a taste! The goal of the organization is to integrate nature more into people's everyday lives - for a better well-being of the individual and a stronger cohesion in society. We stand behind this 100 percent. From September 14-16, 2022, in the beautiful Lake District in Silkeborg, Outdoor Sports Euro'Meet 2022 will bring together people who are looking for new ways to bring outdoor sports into the lives of even more people. So get in your camper and head to Denmark!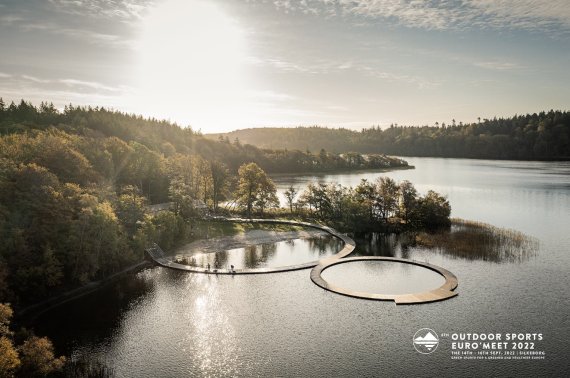 Maodo Lo is dominating German basketball right now: After a strong league season and a strong European Cup season, he's putting together a strong European Championship. What's next? Maybe the NBA. In any case, he has already attracted their attention in the past - but no contract was signed. Could his current performances be a new push? "Maodo will be the next German player in the NBA," predicts Dennis Schröder, who is successful in the USA, about his Berlin colleague from the national team. And Lo himself also still believes in the dream. We're keeping our fingers crossed!
Spain has a new tennis king after Carlos Alcaraz won the US Open. And at just 19 years old, he is already number one in the world rankings. Not only tennis fans from Spain were pleased - he even received congratulations directly from the royal family. "To reach the top of the world rankings at such a young age is no longer a dream, but a historic achievement," wrote the royal family of Felipe VI to the athlete dubbed "Carlos I" by the media. We, too, have nothing more to say than respect for "King Carlos I".
Kimmy Fasani is not "only" an extremely successful snowboarder who has become a role model for many women in recent years - she also uses her name and reach to raise awareness about breast cancer. And for women to pay attention to changes in their breast tissue - after all, she saved her own life by regularly palpating her breast. Since then, she has been very open about the issue and has even set up a foundation together with her husband. Thank you for your important commitment, Kimmy. Especially in light of the upcoming Breast Cancer Awareness Month in October.
There's also good news from a previously rather niche sport: ring tennis! Here, foam rubber rings are thrown in such a way that the opponent cannot catch them. Now 16-year-old Henrike Jansen has become German champion, although she has never competed in youth singles before. The German Gymnastics Federation as the umbrella organization of ring tennis cheered that she had "written ring tennis history". Congratulations, and it's great that more exotic sports are also getting attention - because sport also connects people outside of popular sports like basketball, soccer and the like.
At the end of Good News, we want to say thank you. Thank you, Sue Bird, for arguably the most impressive career in women's basketball. Thank you for a record five Olympic gold medals. Thank you for four World Championship titles, two WNBA titles and also a successful time in Russia with Spartak Moscow's women's basketball team. But most of all, thank you for your commitment off the court. In the fight for better pay for women, for more recognition for women in sports and beyond. And also in the fight for the LGBTQIA+ community - together with her partner Megan Rapinoe, Sue Bird has done unique things. And we will certainly continue to hear a lot from her after her career ends.