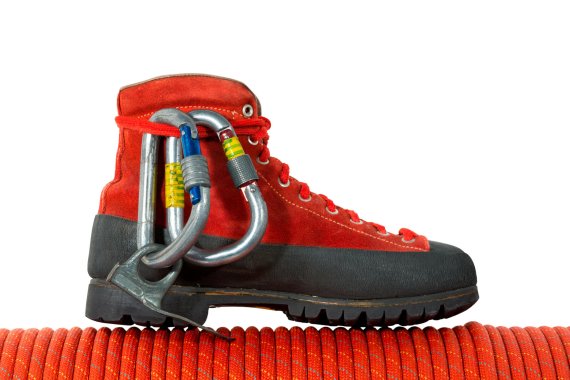 Climbing the walls and letting yourself hang: sport climbing stands for an attitude to life that has a lot to do with freedom and testing your own limits. It's not just about proving your own strength and dexterity. Coordination and fitness are just as much in demand as creativity, which is already evident in the choice of route to a particular goal.

For all its fascination, sport climbing only works with the right equipment, which is crucial for your own safety and that of your climbing partners. Only those who can rely 100 percent on the necessary equipment will conquer the mountain massifs of this world with full commitment and fun.

What should a beginner climber buy?

Climbing shoes

Suitable climbing shoes ensure that the foot finds a foothold on the smallest of ledges, - whether outdoors or indoors. It is important to have a relatively tight yet comfortable fit. Take enough time to try different models in a specialty store. Which closure shape you choose is ultimately a matter of taste. Likewise, the decision for a softer - it reacts more sensitively, but requires more strength in the feet - or stiffer - it gives more stability - model depends on your own preferences.

Climbing harness

The climbing harness is used for secured ascent with a rope and is necessary for the climber as well as for the belayer. Here, too, it is advisable to try it on, because the torso harness must not cut into the body, even in hanging positions. There should be enough room between the leg loops and the leg to slide the hand through, otherwise they may fit too tightly.

Belay device

There are wide differences in belay methods and devices. The important thing is that they make rappelling and belaying single and double ropes possible. For example, there are semi-automatic models that come with a blocking function, or simpler and more variable devices that do not block. In order to make an informed decision for or against individual versions, one should seek advice from a specialized dealer.

Ropes

A dedicated climbing rope - or "dynamic single rope" - becomes important if you like to be the first to climb. The rope is easily stretched and can absorb possible falls.

Depending on climbing preferences, there are ropes in different lengths, thicknesses and with different types of coating. For the climbing hall, about 40 meters are usually enough, outdoor excursions require significantly more. On long routes, it is well worth carrying a rope with 80 or 100 meters. The choice of rope diameter and coating is also derived from the planned climbing trips. If you climb exclusively indoors, you can do without a coating. For tours in nature, on the other hand, the protection of the rope from dirt and moisture is important. Thin ropes are much lighter, but usually have a shorter service life. Thicker variants are more pleasant to handle, but also bring correspondingly more weight. An average rope thickness is about ten millimeters in diameter.

Exes or expresses

These are the connections between the climbing hooks, i.e. the belay points in the wall, and the climbing rope. They are shorter or longer webbing slings connected with a carabiner. Again, the choice of slings depends on climbing habits and varies from case to case. Sports stores will be happy to advise you.

Climbing helmet

The purchase of a helmet is advisable especially in outdoor climbing as protection against falling rocks. In addition, in the event of unintentional slipping and falling, the impact is mitigated. Climbing helmets are available in different models and construction methods, try! In addition to the lowest possible weight, the fit and padding are particularly important so that the helmet does not interfere with the climbing tour. In addition, sufficient "air holes" should be provided.

Chalkbag

The usually cylindrical and filled with magnesia bag helps during strenuous climbing adventures to dry the sweaty hands and thus to be able to safely grasp again. It is often worn on the back of the harness when needed. The opening should be large enough for one hand to easily reach inside.

And the quality?

If you buy climbing equipment in Germany, you can be sure that the equipment is safe. All products have passed special tests and are certified accordingly, regardless of price range. The certification is clearly noted. However, it is not enough to go to the start with the perfect equipment to feel completely safe. Standardized hooks and ropes only work reliably if they are used properly. Practice makes perfect, and caution is a recommended climbing partner. Too much routine, on the other hand, should never arise.