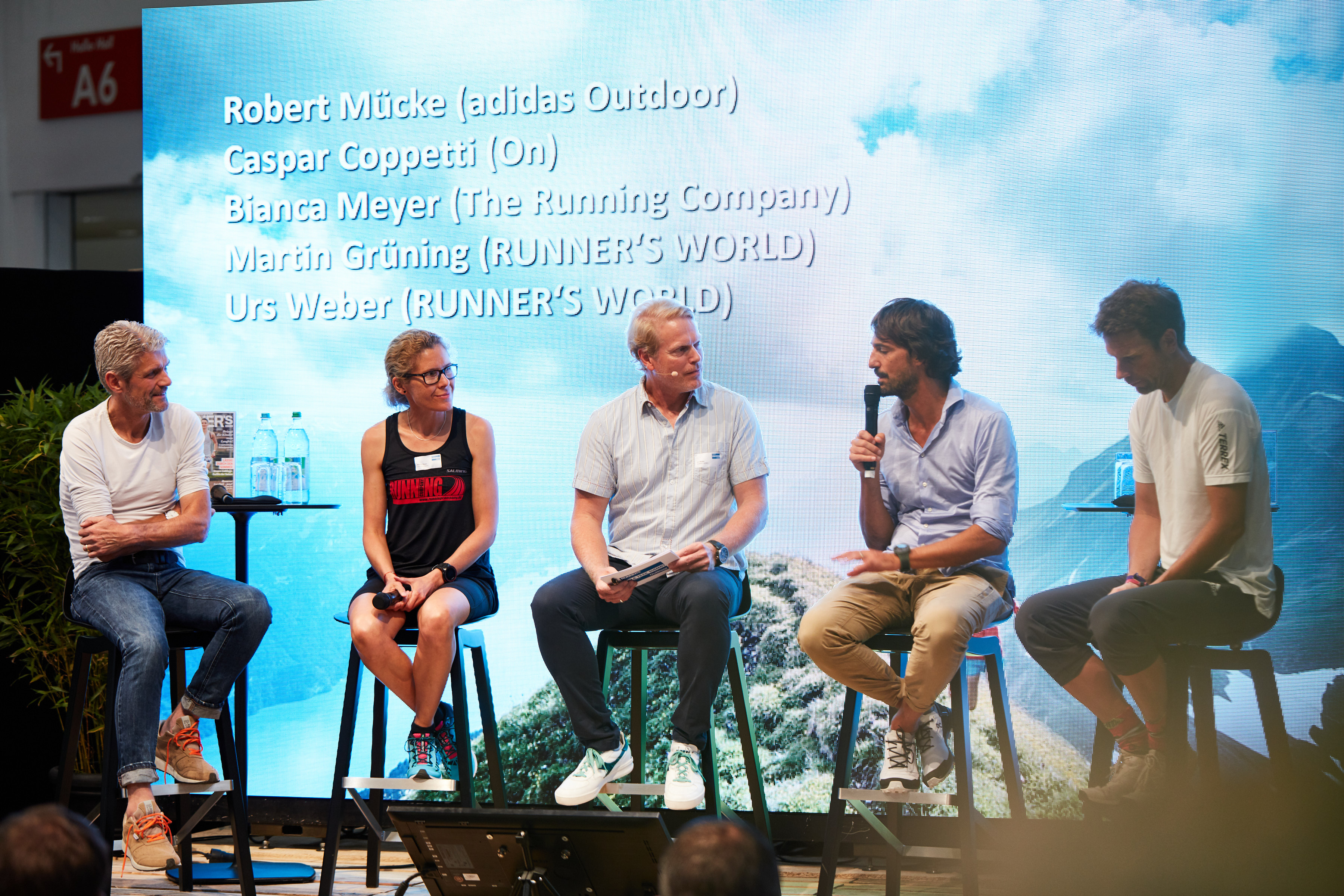 All participants quickly agreed on one thing: "Trail running is running on unpaved roads." This sentence sounds plausible, the name says nothing else. But this sentence is still essential for the sports industry. After all, it was not always true in the perception of the sport.
The panel discussion "What makes trail running so sexy?" as part of the second Runner's World Run and Trail Summit at OutDoor by ISPO 2019 shed light on the sport. As the title might suggest, there was not only praise, but also critical voices for the market, which has been growing for years.
"At trail running we recently saw the trend that everything should continue to grow and grow," said Bianca Meyer, owner of the Munich running school The Running Company. "I'm a little worried about that." Similar remarks were made by fellow discussants Robert Mücke, Senior Sports Marketing Manager at Adidas Outdoor, Casper Coppetti, founder of On Running and Martin Grüning, Editor-in-Chief of Runner's World magazine.
Shortly before the discussion Meyer was on the Alpe di Siusi with 30 runners, where the main focus was on having fun outdoors. Coppetti, who recently developed the first trail running shoe with his company, also demands the focus on this group. On Running is one of many brands that have recently discovered the market.
"Trail running is a very small market," says Coppetti, "but the territory around it is very large. A lot of people do trail walking. Their big wish is to have light shoes - and we can make a contribution there." After all, the stay in the trails requires different equipment than running on the road.
In addition, like running fashion, trail running fashion is gradually becoming suitable for everyday use. "In the meantime, people wear sports shoes just because they're comfortable. And outdoor has this fashion moment now, too, because outdoor is trendy." Sport far away from the metropolises in nature is a longing of the people, which they realize more and more often.
Years ago, Adidas recognized the market and armed itself to establish Adidas Terrex as a strong brand. At the end of June 2019, the company also held the "Adidas Infinite Trails - Trail Running World Championships", a relay world championship in trail running in the Gastein Valley in Austria.
The company was also concerned about sustainability. On the one hand, from a sports perspective: "It was important to us that we address everyone and bring them to sport. We didn't just want to sponsor an event, we wanted to pick everyone up," says Robert Mücke to the more than 800 participants. "I'm far from putting focus on the ever more extreme." Nevertheless, the Adidas athlete and ultra runner Timothy Olsen was also there.
On the other hand, Adidas also considered sustainability in the natural sense to be one of them. "We'll take exactly what's there. Nothing will be added for the event."
For this reason, alpine huts served as catering stations. Interest in sustainable running gear is growing anyway. "It is now up to industry to provide consumers with the products they want," says Mücke.
The driving force behind trail running and participation in trail events is the love of nature anyway. Even though this love is widespread, currently only a small percentage of the 18 million runners in Germany do trail running. "Everyone knows the sport, but very few people have tried it," says Meyer. Nevertheless, she quickly notices in her running groups. "Trail running is very sexy. I can only recommend it to everyone - no matter if with many or a few meters of altitude."
As this discussion at OutDoor by ISPO in Munich showed, this is true not only for the runners, but also for the companies. The market is still open to new ideas. Also because the choice of equipment in trail running is increasing: headlamps, running backpacks, drinking systems, GPS watches or sticks are now included - this only applies in part to road running.