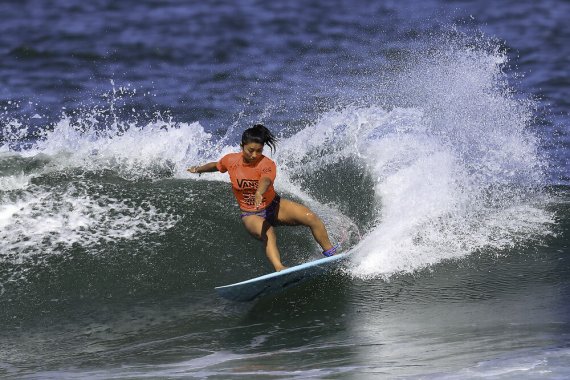 At the 2021 Olympics in Tokyo, for the first time surfers are competing for medals. ISPO.com presents the new Olympic disciplines in a series.
In total, two surfing competitions will be held at the 2021 Olympic Games in Tokyo.
Men's Shortboard

Women's Shortboard
Four athletes will be in the water at the same time and each will have 20 to 25 minutes to show their skills. The two highest scores indicate the overall score of an athlete. After each surfed wave a jury evaluates the results and awards a grade from one to ten with two decimal places. Decisive for the evaluation are among other things the degree of difficulty, the speed and the flow of the respective manoeuvre.
Only one athlete is allowed to surf a wave at a time. Whoever is closer to the wave's peak has the priority on the wave.
The original idea of surfing on artificial waves was discarded. Instead, the surfing competitions will take place at Tsurigasaki Surfing Beach in Ichinomiya, about 65 kilometers outside of Tokyo. There is room for a total of 6000 spectators.
When exactly the competition starts depends on the wind conditions. In order to ensure the most perfect conditions possible, a total of eight days during the Olympic Games from July 25 to August 1 are possible as a holding period. Once the competition has started, it should be held within four days.
A total of 20 men and 20 women will participate in the competitions. These are the participants:
Men:
Leandro Usuna (Argentina)

Julian Wilson (Australia)

Owen Wright (Australia)

Itali Ferreira (Brazil)

Gabriel Medina (Brazil)

Michel Bourez (France)

Jeremy Flores (France)

Kanoa Igarashi (Japan)

Jordy Smith (South Africa)

Kolohe Andino (USA)

John John Florence (USA)

Manuel Selman (Chile)

Leon Glatzer (Germany)

Hiroto Ohhara (Japan)

Lucca Messinas (Peru)

Miguel Tudela (Peru)

Ramzi Boukhiam (Morocco)

Rio Waida (Indonesia)

Frederico Morais (Portugal)

Billy Stairmand (New Zealand)
Among the favorites are Brazilians Italo Ferreira and Gabriel Medina, who have won the past two editions of the World Surf League. John John Florence of the United States also has a good chance of winning the title.
Women:
Mimi Barona (Ecuador)

Sally Fitzgibbons (Australia)

Stephane Gilmore (Australia)

Silvana Lima (Brazil)

Tatiana Weston-Webb (Brazil)

Brisa Hennessy (Costa Rica)

Johanne Defay (France)

Caroline Marks (USA)

Carissa Moore (USA)

Leilani McGonagle (Costa Rica)

Pauline Ado (France)

Mahina Maeda (Japan)

Amuro Tsuzuki (Japan)

Daniella Rosas (Peru)

Teresa Bonvalot (Portugal)

Yolanda Sequeira (Portugal)

Bianca Buitendag (South Africa)

Sofia Mulanovich (Peru)

Anat Lelior (Israel)

Ella Williams (New Zealand)
Carissa Moore and Stephanie Gilmore have dominated women's surfing for years. They are also the top favorites in Japan.