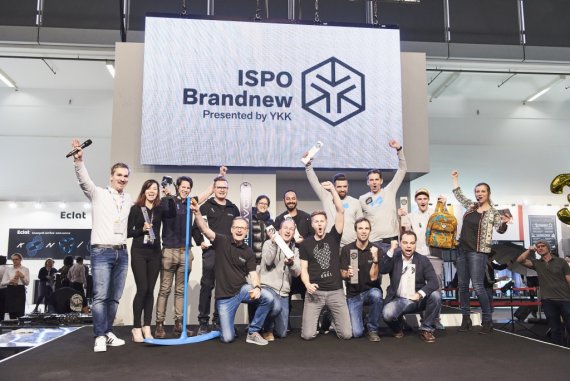 All beginnings are difficult, something the jury members of ISPO Brandnew 2019 are well aware of. They all won the prize once because they convinced the jury with their start-up years ago. Their products are now integral parts of the sports industry: the Flexi-Bar, Indigo snowboards and skis, Micro Scooters, Sweet Protection helmets, etc.
Today, they are successful businessmen and -women and know the ups and downs of building up a business from their own experience. What's important to know and what mistakes should people avoid?
"It's not enough to be just a bit better than the others," says Thorsten Schwabe, founder and owner of Indigo. "You have to stake everything on innovation and have your own, independent and innovative product." In 1988, he and a friend built the first snowboards from ash wood in a small workshop. In the following years, he developed an international luxury brand for ski and ski equipment.
The problem with new brands is: the sports market is satiated, neither retailers nor consumers are looking for new brands, new sports, or even more equipment. Unless the idea is really good and very appealing to others.
Another important factor: choosing the right brand name. If you're thinking internationally, you need to check whether there could be problems with the brand name in other countries. That's also important for the website domain. "Ideally, you invent a new word," Schwabe adds. There's bound to be fewer problems that way.
Table tennis played with your head? This is an idea you'd almost only come up with while at university and then you'd have to have the courage to develop a real business with it. René Wegner from Headis did just that. Fellow students and friends loved the "new" sport so much that he dared to take the step toward commercialization. The sport was on Stefan Raab's TV Total show eight times and "the media interest is still very large today," says Wegner. "We give our sponsors the opportunity to achieve a wide reach." The fun sport is very successful on social media and according to the company, it has had over 500 million clicks online.
The crazy idea and fun of head table tennis has made Headis an international success Today, there are official World Cup tournaments and soon Wegner will be bringing a new fun sport on the market: HesherBall – a kind of billiard played with your hands instead of queues.
The product alone isn't everything. This applies especially to sports equipment. "It has always been important to us to support retailers," says Barbara Klein, founder of Flex-Sports and inventor of training equipment like Flexi-Bar and XCO. "That's why we always went into the stores and demonstrated our products ourselves." As a result, the product became better known and it was easier to explain how to use it.
Her company now has a turnover of twelve million euros and is represented in 15 countries – not just with their sports equipment, but with nutritional supplements as well. Barbara Klein considers instructions vital. "I think it's a mistake not to develop instructions for use or to not offer them free of charge." Her next big project for 2019 will therefore be to develop her own YouTube channel.
If you don't have a big financial cushion or if you want to do without investors, you'll need money to grow. "Of course money is a big issue, especially if your business model does not include having an investor," says Wioletta Godek-Derejski. "You have to be prepared to work for a long time for little money."
She founded the company Lyofood, which develops perfectly balanced meals without preservatives or artificial additives for outdoor adventures. The benefit of slow growth according to Godek-Derejski: As long as you're lacking the money, you have to take care of all areas yourself. That's exhausting, but you also learn a whole lot.
Everyone sees financing a business as a challenge with a huge potential for mistakes. "Especially during the early starting phase, financing is the most difficult aspect – particularly for seasonal products whose production has to be pre-financed," says Thorsten Schwabe from Indigo. "Even if you already have orders from retailers, banks often won't give you a cent."
The first idea isn't always what later turns out to be the success or the core of your business. Benedikt Seitz and his team of five founded Evalu. The idea: a sensor in a shoe sole that measures the performance data of runners and transfers them to an app. The app gives the runner tips for an efficient running style, increased performance, and for preventing injury.
"The original idea was that the customer had to buy the sensor," Seitz explains, "But now we just lend it for a running analysis and sell individual running coaching instead." The Evalu team realized that the training concept was more important than the sensor. Seitz: "Despite the expensive development, we had to change our business model and the user experience almost entirely. Despite the high risk and expenses, it was the right decision."
And in retrospect, everyone said that participating in ISPO Brandnew had a positive effect: "For us, ISPO Brandnew was a milestone in the further development of Headis," says René Wegner from Headis. "We got a lot of feedback from the industry and that really helped us out."
Evalu also found their first big industrial partner and investor after the newcomer competition and the associated booth at ISPO. "ISPO Brandnew was the first step toward professionalism," Thorsten Schwabe from Indigo confirms. "It forces you to present yourself in a professional manner." After all, it can do a lot more than just open doors. Wioletta Godek-Derejski from Lyofood: "It wasn't just a physical prize, it was also a sign that what we're doing makes sense."