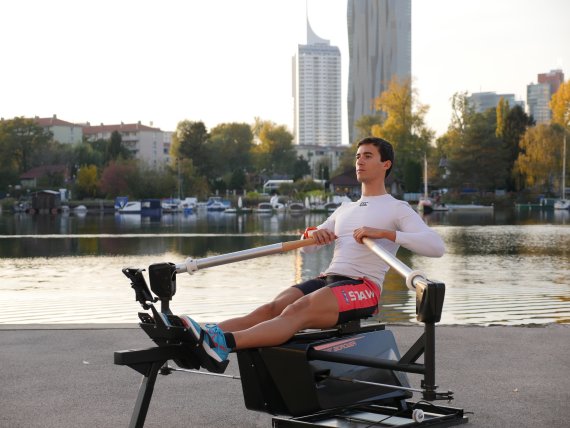 Biorower brings the authentic rowing feeling into your own home or gym. Based on the construction of real rowing boats, precise drives create the authentic resistance of a boat in the water. Force and angle sensors evaluate the biomechanical data of the user and enable precise training analysis and control via app.
With this ultra-realistic rowing experience, the Austrian start-up also convinced the jury of ISPO Brandnew 2018, which selected the Biorower as the winner in the Fitness category.
In an interview, company co-founder and CEO Aram Lemmerer talks about the difficult path to the perfect indoor rowing experience.
ISPO.com: How and when did you get the idea for Biorowerhrem product? Was there some kind of flash of inspiration at a certain moment?
Aram Lemmerer: We have seen that rowing on conventional rowing machines has hardly anything to do with the real rowing movement that is so familiar to us. Also those conventional machines can cause back problems. This is not the case in a real boat. So we decided to make the boat available ashore.
How difficult was the development of the product as a start-up? What was the biggest challenge?
There's a lot, a lot of private money in here. For many years I had three, sometimes four jobs to finance everything. My partner invested his entire pension. The rest was just work and persistence.
Was it difficult to find investors and partners?
We have primarily taken care of the product and the customer. The rest happened all by itself.
What are your three most important advice for other founders?
If you are 70 percent sure, do it. Period. Don't risk your head, but everything else. Forget feasibility studies and consultants. You're the only one with the idea. Expect setbacks, despair and hard times. But it pays off.
Looking back, would you do something differently?
At the beginning we advertised too much the product and less the emotion. You can have the best product in the world, people rarely buy rationally.
How difficult is it for young companies to establish themselves in the fitness segment?
Pretty simple. You just have to have a product that you think is better than anything else.
What happens now? Are new products or further developments already planned?
We are about to introduce the S1pro. It is designed for professional users and corresponds in almost all details to the real boat. It can tilt sideways (like the boat), can be coupled to crew boats and has a heavy-duty gearbox, which enables the rudder belt.