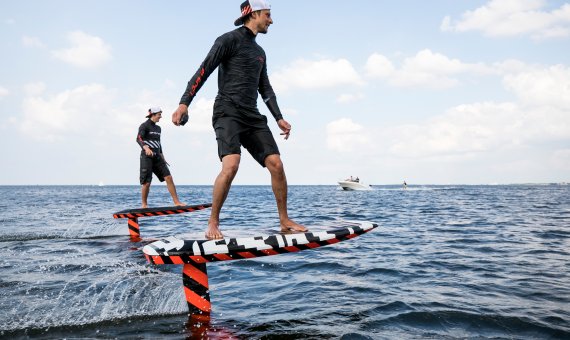 Foils have revolutionized water sports in recent years. From surfboards to entire boats like in the prestigious America's Cup, the relatively small propeller-driven foils hoist hundreds of kilos above the water surface. The advantage: The frictional forces on the board or boat are significantly lower in the air. Even without strong wind or waves, higher speeds are possible.
But for Franz Hofmann this was not enough. He wanted to take hydrofoiling to the next level with a fast, quiet and emission-free board. The Audi engineer first developed a foiling board on his own after work, then later as the founder of his own company Aerofoils, in cooperation with Audi. The result: the Aerofoils eFoil surfboard.
What makes the eFoil so special thanks to the close cross-industry cooperation with Audi is that the car manufacturer contributes several components, from connectors for the electronics to the jet drive housing from the 3D printer. Instead of an otherwise common propeller with the risk of injury, there is a jacketed impeller, which also prevents whirls behind the board.
The electric drive accelerates the board up to 45 kilometers per hour. The one-meter-long foil mast under the board with wing and tail unit lifts the board out of the water from a speed of about 17 km/h.
"E-foiling will fundamentally change the water sports scene and we want to shape the future with our patented jet propulsion," Hofmann writes on LinkedIn.
And the board is well received. At ISPO Brandnew 2020 Aerofoils is the representative in the Selection Offshore. Hofmann is convinced that his eFoil "will be on every yacht in a few years". However, the board with a targeted market price of 10,000 euros is unlikely to become a device for the masses for the time being.