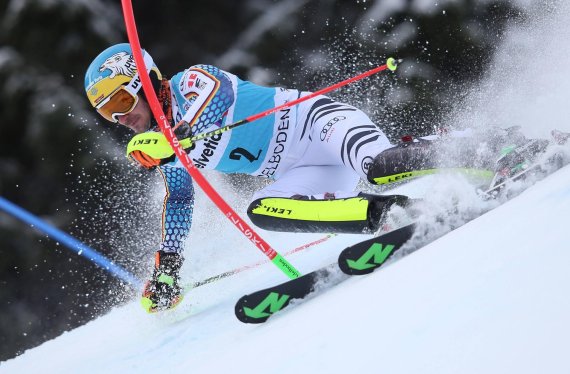 Insane speed, rapid shifts in direction, by no means perfect conditions. The pistes in the alpine skiing circus push racers and their equipment to their limits.
The greatest challenge for the material: It has to master the balancing act between top performance and maximum safety.
ISPO.com gives an overview of which outfitters and models Felix Neureuther, 2014 slalom champion in Kitzbühel on the Hahnenkamm and two-time FIS World Cup winner, trusts.
The helmet: Uvex

Slalom: Uvex HLMT 5 Race, €200
Giant slalom: Uvex Race 3 Carbon, €1000
The Race model that Neureuther wears in giant slalom weighs only 450 grams. Downhill specialists like Matthias Mayer and Dominik Paris also swear by this ultra-light carbon version that protects the head. 
In the slalom helmet, too, the robust hard-shell design guarantees maximum safety and simultaneous comfort. A sophisticated ventilation system sees to the necessary cooling. The helmet can also be equipped with a chin guard to protect the teeth – useful if a slalom pole lands in your face.
Uvex sports marketing head Lars Birnbaum is happy with the cooperation with Neureuther: "For several years already now, Felix has been a friendly and successful brand ambassador for Uvex – not just in Germany, but internationally as well."
Thanks to his mother Rosi Mittermaier, Neureuther has been "familiar with the brand since he was little. Beyond that, he is a true family man, and thereby fits in especially well with us and our own values as a family company."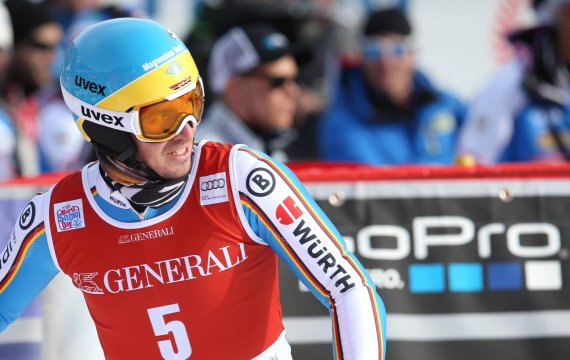 Read also: The Skis of the Stars – What the Best World Cup Skiers Use
The ski goggles: Uvex

Uvex Downhill 2000 Race Chrome, €190
Generations of skiers have already complained about foggy ski goggles, and those who can't see much aren't going to have much fun skiing – and even fewer chances at the winner's platform. Thanks to modern technology, this problem has by and large resolved itself.

"The decentralized, spherical double panes guarantee distortion-free sight at all times – with 100 percent UV protection and absolutely no fogging," promises Uvex. 
The racing suit: Bogner

Bogner, €999
The black-and-white striped racing suit with the legendary flame motif, which has long since become the trademark for the athletes of the Deutscher Skiverband, is only available in retail for teens – and squad members of the DSV.

To warm up in extreme, below-freezing temperatures, Neureuther also wears the Team ski jacket (€1399), or the Jules lightweight down jacket (€699) as feather-light protection on warmer days.
The gloves: Ziener

Ziener, Griss Glove Race, €200
Above all, alpine professionals' gloves need to provide grip and protection. The non-slip, leather palm ensures perfect tactility and direct transmission of force to the pole.

When it comes to dampening impacts with the snow and poles, the fingers and thumbs are reinforced with inserts made of cut-resistant, gliding SuperFabric. The close-fitting neoprene cuff simplifies inserting an underarm protector and improves wearing comfort in connection with the racing suit.

"Part of our company's successful overall concept is the close cooperation with top athletes like Felix Neureuther. Their continuous feedback facilitates, among other things, the development of innovative products of the highest level, and this also results in the extraordinary quality that sets Ziener apart," says the tradition-steeped company, which was founded in Oberammergau in 1946, about the cooperation.

"We are very happy to have gained in Felix Neureuther a skier who fits in perfectly with us and embodies our values. Both Ziener and Felix Neureuther stand for family, tradition, and untiring dedication."
Neureuther's ski poles: Leki

Leki Venom SL, €140
The classic pole insert has long since served its time, even with non-racers, but you only ever realize that it just doesn't work without the poles when you're missing them. Your balance isn't quite right anymore, and you're missing something to keep the swing rhythm. In any case, they're indispensable when it comes to pushing off.

Neureuther's poles consist of high-strength aluminum in the upper section and reinforced carbon in the lower section. There are so-called Trigger-S grips so they fit well in hand at all times.
The shin guards: Leki

Leki Shin Guard Carbon 4Race, €300
Those who take a close look at the slow-mos will recognize it: Neureuther and company clear the hinged poles out of their way with their shin guards – at least when they hit the optimal momentum.

The 42-centimeter-long guards are fixed with two Velcro fasteners.
The ski boots: Nordica

Nordica Dobermann WC EDT 150, €600
No other article of equipment is as important for racers and hobby skiers as the ski boots. The most catchy snow is of no use if your feet hurt because your shoes are too tight.

In the mornings our feet still have a certain tension, but the longer they're stuck in the vice clamp of the ski boots, the more miserable they'll feel. It's also bad if the boots are too big, because then the transfer of momentum to the skis is partially lost.

That is why Neureuther, who in real life wears a European size 44 (11 US), crams himself into boots a good two sizes too small – to ensure direct transfer from the boot to the ski. Victory knows no pain.
Neureuther's skis: Nordica

Slalom: Nordica Dobermann SL WC Plate 
Giant slalom: Nordica Dobermann GS WC Dept. Plate, €900 each
Like many of his colleagues from the world cup circus, Neureuther has already switched ski brands: from Atomic to Nordica.

Naturally the retail models are adapted specially to his needs, but if you want to feel like a slalom ace, you'll be well served by this kind of short-swing ski.

The manufacturer from northern Italy's Treviso, who also outfits Fritz Dopfer and Viktoria Rebensburg, is very satisfied with the cooperation with Neureuther: "Felix plays a special role in marketing the Nordica brand," says Nordica, "In addition to his personality and presence, even outside of skiing, he is hugely important to us. It's an absolute lucky find for the company to have such a likeable athlete in its ranks who represents the Nordica brand."