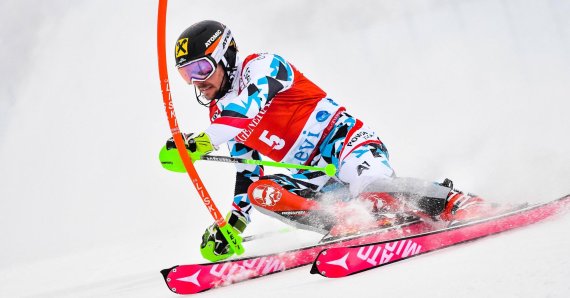 Philipp Schörghofer (34) has participated in the skiing world cup for eleven years and is a two-time world champion – on the same team as Marcel Hirscher, one of the top skiers of the past few years. But Schörghofer, a specialist in giant slalom, is not grateful to the top athlete. After all, Hirscher has stolen quite a few victories from him.
But even before and after the race, Hirscher caused his fellow athlete much vexation, as Schörghofer explained: "We now have to work really meticulously. I sometimes check the weather forecast while talking with my wife on the telephone."
Hirscher was responsible for the intense deliberation over right materials for skiing equipment: "I myself said it to Marcel: He was the one who started all this nonsense, and now we are all doing it."
And it's true: What Schörghofer calls nonsense, has for a while now become a necessary exercise: Spending insanely amounts of time testing different skis, before, after, even during the season.
In slalom and giant slalom, Hirscher even tests between rounds. For him, overall World Cup winner in 2012, 2013, 2014, 2015, 2016 and 2017, it is obvious: "The main thing is finding ways of saving time, things which sometimes lead to a small or even quite large difference in the race," says Hirscher.
"The two tenths of a second that I gain from the material I choose is time that I don't have to work for in the race itself – that's really easy to understand. But many place way too little value in this area. I can't work out why this is and I can't understand it."
Marcel Hirscher also gives some tips on choosing the right on choosing the right ski: "There is room to maneuver for the binding plate: Should I mount it a few millimeters or centimeters forward or backward? What material should we use? What kind of wood, steel, stainless steel, plastic or glass? What material should we use for the damping elements? It's just like Formula 1."
Just as the racing car used by Lewis Hamilton is nothing like the everyday Mercedes cars from the car dealership, the skis used by Hirscher, Svindal, Neureuther, Pinturault and other fellow professionals are nothing like the skis you can buy in the shops. All the world-class athletes have their own specially-made skis, tailored to their bodies, painstakingly designed, prepared at great expense and developed to incorporate the latest technology.
A change in ski manufacturer or shoe brand is therefore a big risk for a professional skier. And yet it is often the case that a skier suddenly enjoys great success after making such a change.
A prime example of this: For many years, Felix Neureuther used skis from Atomic's factory in Pongau, Switzerland – with reasonable success. After switching to Italien competitor Nordica (who produce skis in Treviso, Veneto), it seemed like the Bavarian-born skier had turned his skills up a notch: He was suddenly winning race after race. This is the reward for the long testing process, which demands a lot of energy and patience even after the world-cup season is over.
The victory ceremonies are not just good for the skiers themselves, but also for the ski industry. When the victors raise the tools of their trade above their heads, it is not only to celebrate – it also works as advertising.
This is also a painstakingly prepared moment: Before the racers who got podium positions take the victors' photo, the skis used in the race are swapped out for short or longer models, so as to fit exactly into the picture for the photographers and TV cameras. After all, the brand name must be clear to see.
For many years, the Atomic logo predominated on the podium – and this continues today, mainly because Hirscher still used their skis. However, the brand name with the most success was that of their Dutch competitor, Head: Aksel Svindal, Ted Ligety, Kjetil Jansrud – a veritable who's who of alpine skiers – are all on board with Head.
Slalom
| | | | |
| --- | --- | --- | --- |
| Skier | Brand | Model | Price |
| Marcel Hirscher | Atomic | Redster S9 | €899 |
| Felix Neureuther | Nordica | Dobermann SL WC | €899 |
| Alexis Pinturault | Head | Worldcup Rebel i.SL | €850 |
| Henrik Kristoffersen | Rossignol | Hero FIS SL R21 WC | €750 |
| Stefan Luitz | Rossignol | Hero FIS SL R21 WC | €750 |
Giant Slalom
| | | | |
| --- | --- | --- | --- |
| Skier | Brand | Model | Price |
| Marcel Hirscher | Atomic | Redster G9 | €899 |
| Felix Neureuther | Nordica | Dobermann GS WC | €950 |
| Alexis Pinturault | Head | Worldcup Rebel i.GS RD | €1050 |
| Henrik Kristoffersen | Rossignol | Hero FIS GS R21 WC | €750 |
| Stefan Luitz | Rossignol | Hero FIS GS R21 WC | €750 |
Super G
| | | | |
| --- | --- | --- | --- |
| Skier | Brand | Model | Price |
| Peter Fill | Atomic | Redster SG | €1130 |
| Aksel Lund Svindal | Head | Worldcup Rebels i.DH | €1120 |
| Dominik Paris | Nordica | Dobermann DH WC | €999 |
| Beat Feuz | Head | Worldcup Rebels i.DH | €1200 |
| Kjetil Jansrud | Head | Worldcup Rebels i.DH | €1200 |
Downhill
| | | | |
| --- | --- | --- | --- |
| Skier | Brand | Model | Price |
| Peter Fill | Atomic | Redster SG | 0 |
| Aksel Lund Svindal | Head | Worldcup Rebels i.SG | €1120 |
| Dominik Paris | Nordica | Dobermann SG WC | €999 |
| Beat Feuz | Head | Worldcup Rebels i.SG | €1200 |
| Kjetil Jansrud | Head | Worldcup Rebels i.SG | €1200 |