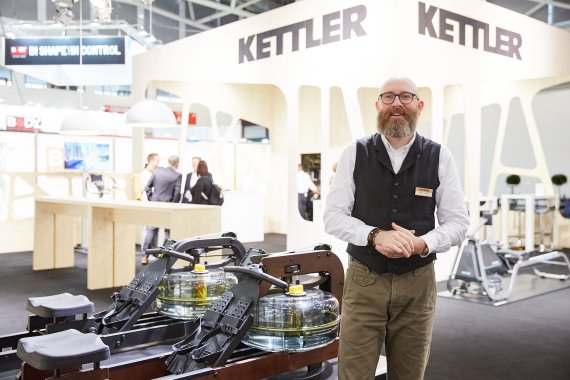 Yes, Kettler still exists - and is present at ISPO Munich 2020. With an open and inviting exhibition booth Trisport AG shows that the traditional brand is alive and well and has a lot planned for the coming years. Trisport took over the brand rights of the fitness equipment manufacturer Kettler for Europe at the beginning of January 2020.
Trisport had been the Swiss distributor of the brand for more than 30 years and now wants to breathe new life into it. Trisport managing director Stefan Christen talks in an interview with ISPO.com about the reasons for the purchase and his plans for the future of Kettler.
ISPO.com: Mr. Christen, your company acquired the trademark rights for the Kettler brand fitness equipment at the beginning of the year. Why did you take this step?
Stefan Christen: We have been associated with the Kettler company as a distributor for 40 years and have been able to develop a strong market position in Switzerland with a consistent and reliable sales policy.
And in such a long time, a company is no longer just a distributor, but also feels like a part of the Kettler company. That is why we have always been very committed to the Kettler brand. We decided to take over the trademark rights for the area Europe, for sport and fitness, exclusive table tennis.
However, the name Kettler has suffered in Germany after three insolvencies in four years. What makes you so sure you're heading in the right direction now?
In the years when we accompanied the company as a distributor, we noticed a lot and saw where problems lie and what can be done differently. Based on the experience we will now do some things really differently.
Such as?
First of all we want to present the (initial) goals to the trade and our partners - that is why we are also at ISPO Munich 2020. We want to restore reliability and trust in the Kettler brand - to retailers and to consumers. Thus, we want to gradually reposition the Kettler brand where it was in order to once again enter into a relevant partnership with retailers.
Is there already feedback from the trade or from the industry?
Yes, we were able to welcome many interested dealers, competitors and journalists at our stand. That was also our big goal: to be here and to maintain an open dialogue. This is why we have designed our stand so open and transparent.
A sentence is heard everywhere here, even from competitors: "I'm glad you're here and that Kettler is still around." The last few months have also shown if Kettler is not in the market, then the fitness market suffers as such. It needs a healthy mix of strong brands in the fitness sector.
Do customers still associate the name Kettler with quality after last year?
We are aware that we have to do some development work in this area as well. To give the consumer the certainty again that he is buying a product he can rely on.
Many people come to our stand with a smile, because they still associate the name Kettler with their childhood memories because of the Kettcar. For them, the brand as a whole stood and still stands for quality.
The production in Werl and Ense will be stopped, it was last said. Where do you produce then?
One thing I have to say first: The Kettler quality promise applies wherever the products come from. We produce at selected OEM manufacturers in the Far East. We choose them carefully. Therefore, we need some more time before we enter the market.
We want to do it right and also communicate rather cautiously and not appear too brash. But first of all deliver. The first year is all about laying the foundation for us.
What is your exact plan to enter the market?
The main goal we are working towards is the start of the 2020/21 fitness season, so we want to be on the field by September. It is also clear that we still have some things to sort out. We are also already talking to the dealers about this. We take this time to be on the market in the right quality at the right time.
What does your product lineup look like then?
In terms of distribution, we will be very selective in approaching this. So we will also be selective and cautious in our choice of dealers. This means that we make high-quality product ranges available primarily to specialist retailers. Ultimately, of course, our goal is to generate sales.
Therefore, we will also enter the mass market with a number of products that are clearly distinct from our selective core range, i.e. high-quality home fitness equipment. These will continue to be the core of the brand. The presentation of goods and the advisory competence are the two important elements of selective distribution.
So this was a point where things haven't been going so well lately?
This has been done to some extent, but not as an absolute consequence. So neither the selection of the products nor the selection of the dealers.
Plus: What our completely new approach is: we now wear the European glasses. We have the privilege to reset a brand that has a rich history and rebuild it. We can, and must, start without inherited burdens, otherwise this will not be successful.
What happens if customers come with complaints in between? Is that your job?
Like I said: We have to start free of old burdens. There are warranty claims, but unfortunately we cannot answer for them. Three authorized service partners of Kettler have joined forces.
There is also a website www.kettler-reparatur.de where both dealers and consumers can find information on how to repair a device or get a spare part. This is not a Trisport solution but the solution of the three service partners.
How much did ISPO Munich 2020 help you to make a new start?
We have had a lot of discussions with the relevant players, which we would otherwise not be able to meet in the near future so we were able to present ourselves excellently as a brand and as a company and thus leave behind a first fragrance brand.
And the most important thing is and for this the platform is perfect: Kettler is still present, with contacts and products.