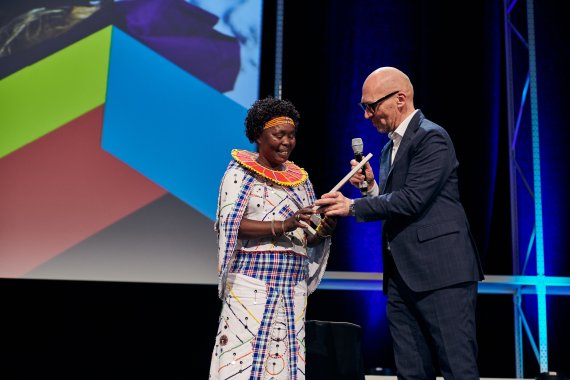 Dittrich opened the VIP Dinner with a call for change. Not only the sports industry had changed in the 50 years since ISPO was founded, but the world as well - climate change, social injustice and growing polarisation in our society are the challenges of our time. 
"We must find solutions to these problems before it is too late," said Dittrich. He believes that sports has an enormous power to overcome all these challenges.
The career of Tegla Loroupe, who received the ISPO Cup for outstanding personalities from the world of sport from the hands of Jochen Färber of the International Olympic Committee, shows just how strong this integrative power of sports can be.
Loroupe was born in a family with 24 siblings and had to walk 10 kilometers to school every single day. "Maybe this was the starting point for her endurance and fighting spirit," speculated Färber. 
Even as a child she wanted to run long distances, apart from her mother neither her family nor her environment supported this wish. Nevertheless she became a marathon legend. She was the first African woman to win the New York City Marathon – it was also her first marathon.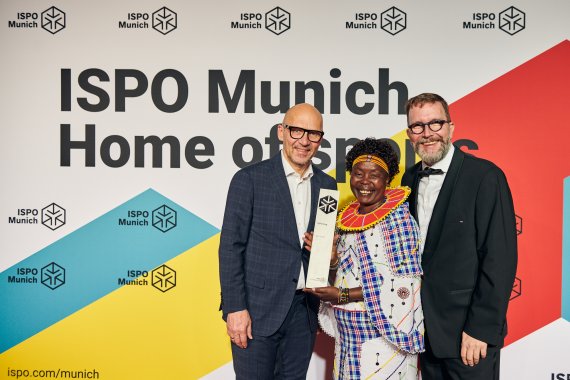 The 46-year-old Kenyan became the benchmark in long-distance running at the end of the 1990s. She participated in the Olympic Games three times, and held world records over 20, 25, 30 kilometers and the marathon distance.
Her own background and history prompted Loroupe to become involved in peace and development organisations. She is a UN ambassador for sports, as well as international ambassador for the International Association of Athletics Federations (IAAF) and the United Nations Children's Fund, UNICEF.
It will not have been the last time that Loroupe was in Munich. She is part of the ISPO family now, she said: "With this trophy I don't want to run away. But I will support ISPO to create a better world through sports." She made the commitment to come to the ISPO SDG Summit in summer.
Around 500 invited guests from trade and industry were given an outlook on the reorientation of ISPO and the first ISPO SDG Summit in June by Klaus Dittrich, Managing Director of Messe München. 
Dittrich stressed the relevance of sport and outdoor and its strength to overcome social challenges. "It often only takes one ball to connect people and create beautiful, carefree moments," said Dittrich.  
"We are convinced that sports plays a major role in overcoming the challenges of our time."