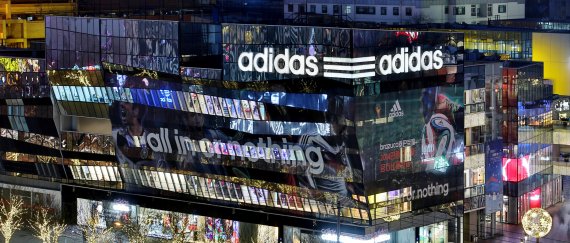 In China and America Adidas is doing well. Thanks to the strong figures in the Asian region and America, the profit of the sporting goods giant from Herzogenaurach is likely to increase even more than expected this year.
The second largest sports article company after Nike increased the forecast to up to 1.72 billion euros (i.e. by 0.04 billion euros), which would ultimately correspond to an increase this year to 16 to 20 percent.
After nine months Adidas has 1.62 billion profit, 19 percent more than a year ago. Currency-adjusted sales will probably increase by just under nine percent. That is less than expected. But Adidas is still worried about its home market. As in the second quarter, sales in Western Europe are weakening, and sales are currently down by one percent.
"We haven't been close enough to the consumer," said Adidas CEO Kasper Rorsted in a conference call with journalists. This included Adidas not reacting quickly enough to trends and following its own retro series "Originals" too closely.
Just like the domestic market, the Reebok brand continues to be a problematic sector for Adidas. Sales fell, resulting in a minus of 436 million euros. Rorsted announced that the brand's revenues had shrunk almost everywhere. Only in the USA they rose. Positive remains: Worldwide, Adidas recorded an increase in sales to 5.87 billion euros.
The Adidas' competitor in its home town Herzogenaurach also remains on the road to success. Puma also achieved an increase in sales in the third quarter: currency-adjusted by 13.9 percent to 1.242 billion euros. Operating profit even improved by 28 percent to 130 million euros.
The full-year forecast has therefore been adjusted slightly upwards. At the end of the year, the increase in sales is expected to be between 14 percent and 16 percent. Björn Gulden, CEO at Puma, says that "we have responded quickly enough to continue our growth. Puma should thus continue to hold its own as number three in the sporting goods business – behind Adidas and Nike, but ahead of its US competitor Under Armour, which recently posted a loss.
As with Adidas, Puma also stands out: In America and Asia, the company made the biggest gains, while in the EMEA region sales growth is only declared to be "in the high single-digit percentage range".