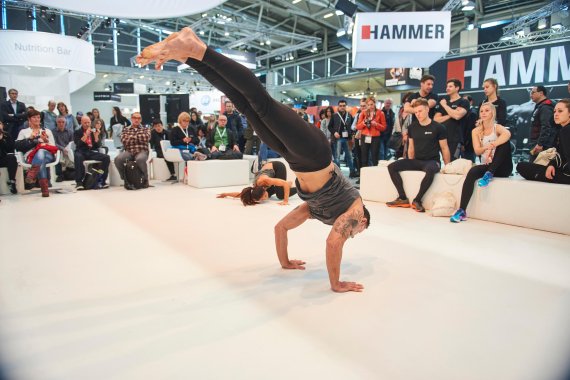 There was a time when men instinctively took flight as soon as they read the word yoga: Too soft, too effeminate, and anyway where are the barbells? However meanwhile, the fitness sector has changed. While bluntly pumping muscles in the weights room remains a profitable business for many fitness centers, from a scientific point of view it is no longer up-to-date.
Cameron Shayne makes yoga attractive for men
And by now, many athletic men know that stability and flexibility are not just for women's courses in fitness centers, but are key for true fitness. So when a fitness expert such as Cameron Shayne presents the topic of yoga in a total package like Budokon, there is no reason for men to not at least have a look.
Yoga is more in demand than ever before: Top yogi Young Ho Kim explains why movement is an essential component on the path to relaxation
"Men and women more or less balance each other out when it comes to Budokon," says Shayne, "and calisthenics is also attractive for boys." The challenging bodyweight training, based on gymnastics, looks pretty cool, as well – cooler than bench pressing with 100kg in any case. That's why calisthenics has risen to a worldwide fitness trend on social networks. And Shayne knows how to make use of this.
Flow with a focus on flexibility and strength
Cameron and his wife Melayne present their fitness concept in 30 minutes at ISPO MUNICH 2017: a flow of both powerful and elegant movements, with elements such as handstand push-ups, combined time and again with positions on all fours. "Budokon focuses on continual movements, on flexibility and strength, as well as on dynamic movement from lower positions."
Beer yoga? It actually exists! From sun to beer salutation!
To develop a harmonious fitness concept, a "form of art", as Cameron Shayne says, is one thing. To earn money from it is another. For one, the training concept needs to reach a wide target audience. Shayne can definitely confirm this with Budokon. "Our training includes elements that both men and women are good at – as well as elements they can still develop further. And we have created group training sessions wherein especially the men don't feel girly, as they might in many other fitness courses."
The community is the key
It is just as important to connect those whose attention you have attracted. This is where digital communities in particular come into play. Melayne and Cameron Shayne regularly use Instagram & co. to allow people an insight into their life, however first and foremost to provide YouTube athletes (for example) with a fresh supply of workouts as well as keep multi-lingual Facebook groups in their key markets up-to-date.
Throughout the year, Shayne organizes workshops all over the world. He already has a fitness center in Miami and one in London. Here are the next stages in his business plan: to set up home bases, as he calls them, all over the world for Budokon: "We have laid the foundations, now we need to reach out to even more people."