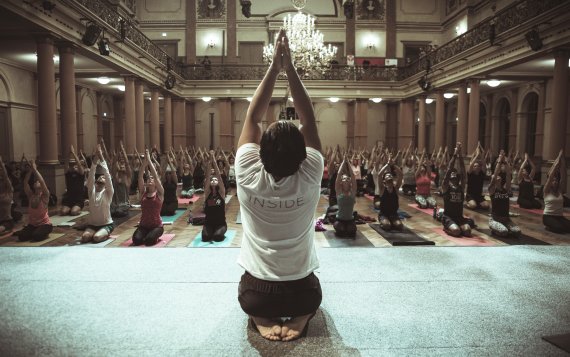 The Korean Young Ho Kim is considered an absolute specialist in all fields of relaxation techniques. That is why he spends a lot of time in between spreading his yoga style in so-called yoga conferences across the world, as a trainer, educator, and speaker. Inner balance through intensive bodywork – that is his conviction.
Here, Young Ho Kim explains his view of the several thousand year-old sport.

ISPO.com: Mr. Kim, you lead the largest yoga studio in Germany, and are a sought-after yoga teacher and lecturer in this field. You must be a very relaxed person. Is that true?
Young Ho Kim: I make an effort to be balanced.
What kind of people come to you, and what do they expect from you as a yoga teacher? 
It's very diverse. There are some who seek relaxation, others seek functional training, and others want to finally be freed of their back and shoulder pain. And there are also those who seek the lifestyle of yoga.
"Men have sneered at yoga for some time"
Yoga is still derided by many as a "women's sport," meaning some voice the opinion that yoga isn't strenuous enough and performance isn't measurable. How do you react to that?
I see it very calmly. We invite everyone to form their own opinion.
However, it is at least true that more women practice this sport than men. Why is that? And might that even be changing?
Men have sneered at yoga for some time, many had internalized the image of incense sticks, and that didn't fit with the male standard of sports. However, the men in our studio today experience the opposite, and we are witnessing the change. We are known for a dynamic yoga style with a very distinct physical, muscular practice, and ultimately that is appealing to more and more men.
"Yoga should accommodate the person"
Is there a difference between classic yoga and what you teach and practice today?
The core philosophy stays the same, but the execution is different since our lives have changed in comparison to approx. 3000 years ago. We need to adapt to the needs of people today.

For example, people today spend much of their time sitting, which is why we think it's important to conduct few meditations while sitting. Instead, we've developed a very modern yoga style that places movement much more heavily in the foreground. People need more activity in order to better be able to relax. 
You talk about how you honor the tradition of yoga, but also stand for an evolution. How is yoga continuing to develop right now?
Yoga should remain both physically and philosophically flexible, and yoga should accommodate the person, not the other way around. The latest trend, for example, is that yoga today is also practiced online with shorter units.
"Yoga isn't just a sport, but also a lifestyle"
Yoga has practically become like a lifestyle – it can be seen in studios and workshops that are becoming more and more chic, and in the special yoga collections. Is that something you want?
Yoga is not just a sport, but it is also more than a lifestyle. Yoga is an approach to life, and it isn't wrong that fashion and lifestyle are also finding their way into it.
Ultimately, yoga has even influenced fashion – the current athleisure boom is interpreted as a reaction to the yoga boom in the USA. How do you explain the success of this sport in the Western world?
In the Western world, people's basic needs are covered, now people are searching for fulfillment and happiness.
This is yoga star Young Ho Kim
Raised in South Korea, from childhood on he became acquainted with the martial art of taekwondo, Zen Buddhism, and other Asian training courses and philosophies. That is where his roots lie. His special performance, however, is in transferring them to the needs of the people of today.

Success agrees with him: His international community of fans continues to grow.  Even in his home country, he's not an unknown anymore: there, his success story has already been on television.