SIMONE BILES is probably the best gymnast in history. But the U.S. gymnast showed at the Tokyo Olympics how unhealthy the pressure of expectations and stress can be: Biles surprisingly canceled at short notice for five of her targeted six competitions. The reason: anxiety. On top of that, there was an unexpected death in the family. "I say mental health comes first. So sometimes it's OK to even sit out the big competitions to focus on yourself. It shows how strong you really are as a competitor and a person instead of just fighting through it," the 24-year-old said at a press conference. Months after the Olympics, when Biles had ended her professional sports career and was on the road with a show tour, she admitted to still being "scared of gymnastics." What helped her, she said, was professional help: "It was a big relief for me to get the psychotherapy I needed, especially when I'm on tour." Biles is now also chief impact officer at mental health app Cerebral.
MICHAEL PHELPS, at any rate, reacted deeply to Biles. Seeing her broke his heart, said the most successful Olympic starter of all time by far with 23 gold medals. The US swimmer is also in Tokyo, but for the first time not as a swimmer at the Olympics, but as a television pundit. Phelps struggled with depression early in his career. These only ever came out to the public indirectly - Phelps drove drunk, he was caught smoking pot. Phelps later admitted that he had suicidal thoughts. At 30, he said, he finally learned to talk. He told the Swiss newspaper Blick just before Biles went out, "I want to encourage more people to talk about what they're going through." I admit it: it saved my life."
NAOMI OSAKA has been a "game changer" in the cause of raising awareness of mental health issues in the eyes of Michael Phelps. Japan's tennis superstar has been open about her depression with her outreach on social media. Osaka has also made no secret of her nagging self-doubt in a documentary series on Netflix. In 2021, Osaka, ranked No. 2 in the world in women's tennis, had dropped out of the French Open, making her mental health issues public. According to the report, she has been suffering from depression since the US Open in 2018. The situation had escalated in Paris because Osaka did not want to talk to the press - she accused the media of having no regard for the mental health of athletes. In 2022, Osaka broke down in tears after an interjection from a spectator at Indian Wells. With the help of a psychotherapist, however, Osaka said she emerged from the incident stronger: "She taught me strategies for such incidents, and I realize how helpful they are. I'm glad that the people around me advised me to take this step."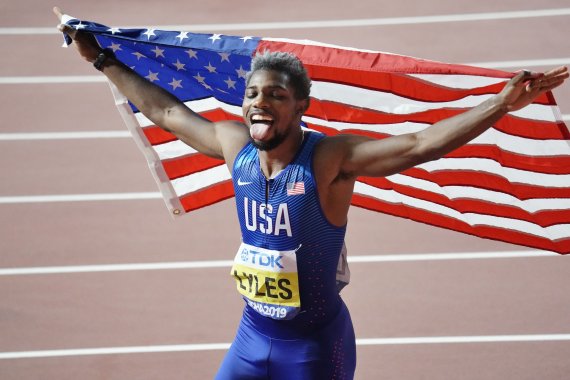 NOAH LYLES is one of the best sprinters in the world, became world champion in the 200 meters in 2022 and won bronze at the Tokyo Olympics. Almost more admirable than the US American's athletic success is his commitment to fighting the taboo of mental health problems. In 2020, Lyles wrote on Twitter, "Recently, I decided to be treated with antidepressants. It was one of the best decisions I've made in a long time. Since then I've been able to think without the dark undertone in my head that everything was meaningless anyway." Lyles later justified his tweet, saying he wanted to break the stigma that drug treatment is "only for people who are crazy." In 2020, Lyles was diagnosed with depression. "Then as it went into lockdown, and the Black Lives Matter movement picked up steam, and you saw another young person die in the street or a school rampage every day it felt more and more like I was powerless and helpless." Together with his younger brother, Lyles has since founded the Lyles Brothers Sports Foundation, which provides financial support to youth athletes as well as advice on mental health issues, and stress management and anti-bullying.
JACKIE BAUMANN might have competed for Germany in the 400-meter hurdles at the Tokyo Olympics. In 2015 and 2016, Baumann was the German champion in the discipline, and in 2020 she was considered the favorite at the national championships at the time. But at just 24 years old, the daughter of 5000-meter Olympic champion Dieter Baumann ended her career a few days before the championships. She gave mental reasons for her decision, saying that she had not been able to enjoy competitions, but rather that they had put a strain on her and had had a negative effect on her mental health. In the end, she was no longer ready to withstand the pressure, she said at the time about her surprising move on Deutschlandfunk radio. "At some point you can't get out of the spiral, you're trapped in your own head." Sleep disturbances, rapid irritability, retching to the point of throwing up were her symptoms before competitions, she said. The problems became massive around her participation in the Olympic Games in Rio 2016 - Baumann escaped a repeat of this pressure in Tokyo by resigning.
MARK CAVENDISH is an example of many professional cyclists who, under the pressure of having to win, reach or exceed the limits of their psychological resilience. The Briton is one of the biggest names in cycling. He won several stages in the Tour de France and the Giro d'Italia. He is one of the few names that means something to a wider public beyond cycling fans. In 2020, he revealed that he has mental problems as well as physical ones. "It wasn't just my physical health that took a hit in the last few years. I've been battling depression pretty hard during that time," the now 37-year-old told British newspaper The Times. Cavendish got back up, however, and this year at the Tour he even took his 34th stage win and is now on a par with the legend Eddy Merckx. But more tests await Cavendish - after the end of his career, a number of professional cyclists fell into psychological problems, conspicuous by drug or alcohol abuse. Former Tour winner Jan Ullrich, for example, who was responsible for one of the biggest doping scandals, fell into a burnout.
PER MERTESACKER is probably the most prominent German footballer who made public the psychological problems that followed the pressure to perform. Shortly after his career ended, the 2014 World Cup winner told "Der Spiegel" in 2018 about how the pressure to perform literally hit him in the stomach. He had reacted before every game with nausea and diarrhea - "as if what comes next, symbolically speaking, is simply to vomit". He had been aware of his privileges. But "at some point you realize that everything is a burden, physically and mentally. That it's zero fun anymore, but that you have to deliver, no ifs, ands or buts." He didn't see injuries that forced him to sit out as drama, but as relief. "Because it's the only way to get a legitimate timeout, to be out of the grind," said the former Werder Bremen and Arsenal London defender.