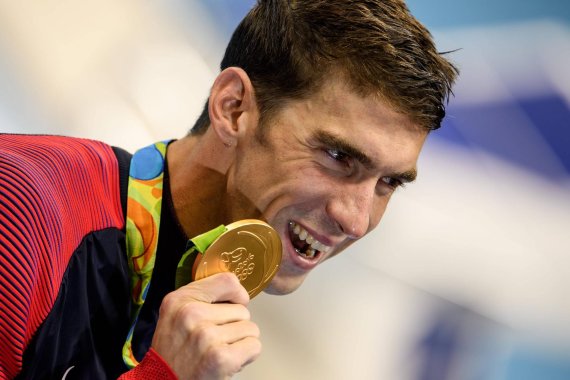 Michael Phelps is unstoppable. At the 2016 Olympics in Rio, the U.S. athlete secured his Olympic gold medals 19, 20 and 21 and 22: he triumphed in the 100- and 200-meter freestyle relay, in the 200-meter butterfly and also in the 200-meter medley.
There has never been a more successful athlete at the Olympics. With Phelps, his outfitter Under Armour (UA) can rejoice.
ISPO.com explains the deal between the successful swimmer and the ambitious outfitter.
Since when have Michael Phelps and Under Armour been partners?
Back in 2010, Under Armour secured the then already highly decorated swimmer as an advertiser for three years. Since then, Phelps has been wearing clothing and shoes from the number two in the U.S. sporting goods market. Aqua Sphere provides - after Speedo since 2015 - the swimwear in the pool.
It is unclear how much Phelps is earning from Under Armour. According to the experts at Baker Street Advertising, Phelps' initial income is said to have amounted to five million U.S. dollars.
The omens for the cooperation between the two sides were good from the start: like the sporting goods manufacturer, which was founded in 1996, Phelps is from Baltimore. "For me, just because I grew up in Baltimore, Under Armour is the sports brand. It's what I grew up with my whole life," the 30-year-old said at a UA press event ahead of the Rio Olympics.
How does Under Armour advertise with Michael Phelps?
Since Under Armour, unlike Nike, is not an official Olympic sponsor, its activities with Olympian Phelps are strictly regulated. According to Rule 40 of the IOC regulations, campaigns with participating athletes are only permitted for non-IOC partners if they make no reference whatsoever to the Olympic Games, medals, Rio and 2016.
So Under Armour had to advertise with an Olympic hero without being allowed to show his greatest moments. So, as part of the "Rule Yourself" campaign, the sporting goods manufacturer produced an emotional clip (see above) that portrays the tough everyday life of professional athlete Phelps. No big cheering images at all.
Under Armour makes Phelps' family cry
The video became a hit on the web. It has over six million views on YouTube. Not least because Under Armour made people want to watch the video: one day before the spot aired, UA played a video on social media in which Phelps bursts into tears while watching the commercial (see below).
Not only was he deeply moved, but so were his fiancée and his mother, as Phelps revealed, "The commercial brought tears to my eyes, it brought tears to Nicole's eyes, and my mom cried more than once during the commercial. I think it's a profound commercial and that's really incredible."
In Rio itself, Under Armour has little to gain from Phelps' medals: Because Nike is the supplier to the U.S. Olympic team, Phelps accepts his medals at the awards ceremonies wearing, of all things, the competitor's tracksuit.
How does Under Armour with Michael Phelps perform against Nike?
With expected revenues of $4.92 billion, Under Armour is far from playing on par with U.S. market leader Nike (33.91 billion). But the rise of the company founded in 1996 by CEO Kevin Plank has been meteoric. For six years in a row now, Under Armour has increased its sales in the U.S. by at least 20 percent. In the first quarter of 2016, they rose by 30 percent.
The biggest UA coup in recent years was the signing of NBA superstar Stephen Curry in 2013. The MVP of the past season left Nike to commit to Under Armour.
Michael Phelps also jabbed at Nike at a UA event before the Olympics, saying, "I don't know any other brand. To be honest, I haven't worn Nike shoes in my entire life."
How attractive is Michael Phelps to sponsors?
As far as successes go, Phelps can't be topped. 22 Olympic gold medals are unmatched. As a swimmer, he benefits from the multitude of Olympic decisions in his sport. In no other summer Olympic sport can a dominant athlete claim so many medals.
At the same time, swimming is only a fringe sport in the U.S. away from the Olympics. While the stars of the NBA or NFL remain the talk of the town for most of the year, Phelps is in the sporting spotlight only once every four years.
And even then, it's not always live: NBC, the broadcaster, recently drew the ire of viewers by broadcasting Olympic swimming decisions with an hour's time delay.
In addition, Phelps made things difficult for himself in early 2009: after the Beijing Olympics, pictures of the swimmer with marijuana surfaced. As a result, his biggest sponsor Kellogg's decided not to renew his contract, which expired in March 2009.
Other major sponsors, such as Omega, remained loyal to the swimming star.
What other athletes does Under Armour have under contract?
The UA catalog now reads like a Who's Who of US sports: NBA superstar Stephen Curry could become for Under Armour the superstar that Michael Jordan has been for decades for Nike and still is. In addition, two NFL superstars, Cam Newton and Tom Brady, are under contract. With ski alpine ace Lindsey Vonn, golfer Jordan Spieth and gymnast Misty Copeland, the brand also upgraded its portfolio in other sports.
Under Armour made the leap across the Atlantic with deals with tennis pro Andy Murray, Tottenham Hotspur and Manchester United soccer player Memphis Depay. In Germany, Under Armour was the outfitter of Hannover 96 from 2008 to 2011, and Jonathan Tah is the only German international to compete in UA shoes.
The company currently outfits second-division soccer club FC St. Pauli. Supermodel Gisele Bündchen is also sharpening the international lifestyle profile.
Welcome Hell.

The 🔥 is on! Die Spieler des FC St. Pauli haben den Sommer über so hart trainiert wie nie zuvor. Wer erfolgreich sein will, muss durch die Hölle gehen. Wie sieht dein Höllen-Training aus? Rüste dich jetzt für diese Saison und sicher dir alle 3 FCSP Trikots - poste dazu bis zum Anpfiff gegen den VfB Stuttgart am Montag Abend dein #HELLfie in die Kommentare: ein Bild von dir bei deiner härtesten Trainingseinheit. 🔥 #Welcomefcsp #IWILL

Posted by Under Armour on Friday, August 5, 2016
Who sponsors Michael Phelps besides Under Armour?
After years of cooperation with Speedo, Michael Phelps changed his supplier for swimming accessories in 2015 and entered into a cooperation with the company Aqua Sphere. Together, the two sides founded the "MP" swim fashion line. So Phelps is now a competitor of his former sponsor.
His main sponsors also include AT&T, Subway, Omega, Visa and PowerBar.
In total, US media estimate Phelps' annual income from partners and sponsors at twelve million US dollars.