Bear Grylls
The Face of Survival
Bear Grylls is not afraid of anything. The Irishman is one of the most famous faces of the survival and outdoor scene. And he is more than just an adventurer. He's a documentary filmmaker, TV host and author, survival instructor, scout leader and former soldier, and above all, he's one thing: pure inspiration.
He inspires us to overcome our fears, to push beyond our limits and for the fact that we can accomplish anything we set our minds to. Edward Michael "Bear" Grylls lives and loves the wilderness. He has survived the most extreme regions of the world and the most dangerous situations. He is equipped only with the most necessary tools.
Bear Grylls in Numbers
0
years, during his ascent of Mount Everest
Bear Grylls in Numbers
0
years, during his ascent of Mount Everest
Bear Grylls in Numbers
0
years, during his ascent of Mount Everest
Bear Grylls has unique skills and masters a wide variety of survival techniques, for example in extreme weather conditions. He also practices martial arts. He laid the foundation for his skills during his time with the British Special Forces. Today, he uses his skills to survive in some of the world's most challenging environments, including the Arctic, the Sahara, or the Amazon rainforest.
In addition, Bear Grylls doesn't just keep his skills to himself, but is known for sharing his knowledge and experiences with others through television shows, books and public lectures. He inspires others to go beyond their limits and face their fears. What he emphasizes most is the importance of determination, resilience, mental toughness and overcoming limitations in one's mind.
Bear Grylls is also special for his philanthropic work. He supports charities that focus on empowering young people and protecting the environment.
The combination of all these qualities makes Bear Grylls a unique personality and a real hero in the world of survival adventurers.
Worst-Case-Scenario (2010)
Get Out alive with Bear Grylls (2013)
Bear Grylls: Survining the Island (2014)
Bear Grylls: Mission Survive (2015)
The Island mit Bear Grylls (2014-2015)
Survivor Games with Bear Grylls (2016)
Celebrity Island with Bear Grylls (2016)
Everest Rescue (2017)
Shark Week (2018)
You against the Wildness (2019)
Hostile Planet (2019)
Bear Grylls: Start at the Limit (2019-2020)
World's Toughest Race: Eco-Challenge Fiji (2020)
Ypou Against the Wildness: The Movie (2021)
Into the Wild with Bear Grylls & Ajay Devgn (2021)
Ranveer vs. Wild with Bear Grylls (2022)
"If you can find a path with no obstacles, it probably doesn't lead anywhere."
Where did Bear Grylls get all his extraordinary skills? From an early age, he was passionate about martial arts and trained relentlessly. He later spent three years as a soldier with the elite British unit 21 SAS (Special Air Service). There he learned and perfected many of his survival techniques and today faces the worst situations Mother Nature has to offer.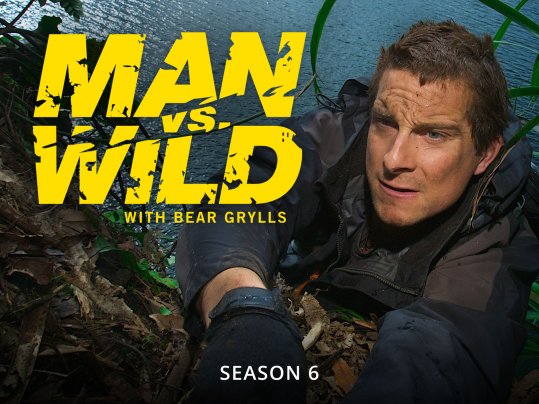 Bear Grylls is best known for his survival television series. These include "Man vs. Wild", "Running Wild with Bear Grylls", "The Island with Bear Grylls", the Emmy award-winning Netflix show "You Vs Wild" or the second most watched movie on Netflix US "Animals On The Loose".
He has also written more than 90 books about his survival adventures. These have sold over 20 million copies worldwide. These include "Mud, Sweat and Tears" or "A Survival Guide for Life".
The list of Grylls' extraordinary adventures and accomplishments seems endless. Here are some of his Biggest Moments at a glance:
Youngest Briton to climb Mount Everest at age 23.

First person to fly over Mount Everest in a powered parachute

Climbing icy Antarctic peaks

Crossing the Northwest Passage

Paramotor expedition in the Himalayas

"

World's most watched TV event" with 3.6 billion viewers: Adventure with Indian Prime Minister Modi

SPIEGEL bestseller

"

Mud, sweat and tears"

Two EMMYs for

"

You Vs Wild"

Two BAFTAS for

"

Show The Island with Bear Grylls"

Honorary Colonel of the Royal Marines Commandos

Youngest

Chief Scout of the United Kingdom and Overseas Territories

First Chief Ambassador of the World Scout Organization
In the program "Running Wild", Bear Grylls accompanies actors, entertainers and professional athletes to the most dangerous places. During these unique adventures, he gets them to leave their comfort zone. Tennis star Roger Federer, American football ace Terry Crews and racing driver Danica Patrick have all taken part. The stars and athletes fight their way through the wilderness using classic survival techniques and overcome the forces of nature.
| | |
| --- | --- |
| Name: | Edward Michael Grylls |
| Occupation: | Abenteurer, Ex SAS-Soldat, Dokumentarfilmer, TV-Moderator, Pfadfinderleiter, Autor |
| Height: | 1,82 m |
| Nationality: | English-Irish |
| Birthday: | June 7, 1974 |
| Born in: | Donaghadee, Northern Ireland |
| Estimated net worth: | $20 million |
| Followers on Instagram: | 5.8 million |
| Children | 3 (Marmaduke Mickey Percy, Huckleberry Edward Jocelyne, Jesse) |
| Partner: | Married to Shara Grylls (since 2000) |