Roger Federer will probably remain one of the greatest tennis players in history even after his career ends, which he announced in an emotional speech on Twitter on September 15, 2022. After three years of injuries and surgeries, during which he worked hard to return to competitive form, he said he received a clear message from his body - he had reached his limit. At 41 years old and having played more than 1,500 matches in 24 years, he said it was now time to end his professional career. The Laver Cup in London (Sept. 23-25, 2022), Federer said, will be his last ATP tournament, although he plans to continue playing tennis in the future.
He played his last match together with his long-time rival Rafael Nadal in doubles. In this emotional match, it was almost incidental that Federer and Nadal lost 6:4, 6:7, 9:11 to the US Americans Jack Sock and Frances Tiafoe. Federer had decided not to play singles in the team event due to knee problems.
Roger Federer led the tennis world rankings for 310 weeks in his career, 237 of them in a row. That remains a record to this day. Just one of many: He was the oldest player to top the list, Federer was the only player to win three Grand Slam titles in one season three times, he also has almost unbeatable records in many other areas of his sport, and he is and remains a serious opponent on the court - even for much younger opponents.
But Federer also shines off the court with his social commitment: since its establishment in 2003, the Roger Federer Foundation has supported educational projects in the region of southern Africa and in Switzerland. According to the foundation, by the end of 2020 it had already supported 1,750,000 children.
0
Weeks at number 1 in the world rankings
0
Weeks at number 1 in the world rankings
0
Weeks at number 1 in the world rankings
Roger Federer is not only a real hero on the tennis court. The top athlete also scores with genuine emotions and social commitment. Poignant moments such as his victory speech at the 2018 Australian Open or reports about the Roger Federer Foundation make the tennis pro so accessible and particularly popular with his fans.
Through the Roger Federer Foundation, which was established in 2003, the tennis pro supports the education of disadvantaged children in South Africa and Switzerland. In February 2020, Federer visited an education project in Namibia, where he was able to discuss early childhood education on site with the children, their parents and two ministers.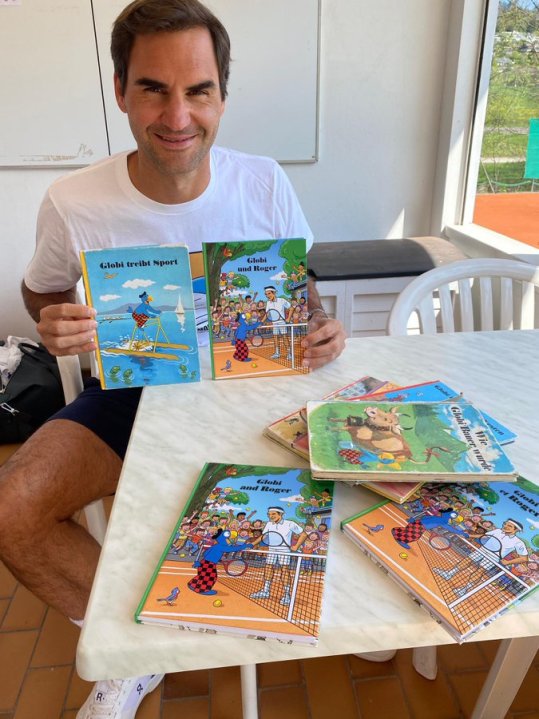 Together with the Swiss cult figure Globi, the tennis pro experiences a road trip adventure designed to inform, entertain and inspire children. The athlete grew up reading Globi's books and fondly remembers how Globi's adventures became his own. For Federer, a real dream comes true when he meets the hero of his childhood and gets to write a new inspiring adventure for children together with him.
Image credit: Roger Federer / Twitter
Roger Federer was born in Switzerland on August 8, 1981. Together with his Swiss father, his South African mother and his sister, he grew up near Basel. He held his first tennis racket at the tender age of three. After an initially unspectacular career, he attended the TC Old Boys tennis school at the age of eight. Roger Federer achieved his first national successes at the age of 12. A few years later, he finally turned his back on schooling, focused fully on tennis and moved to the national training camp. During this time, Federer won seven Swiss junior titles.
His breakthrough came at the age of 17 at the Junior Australian Open, where the tennis pro made it to the semifinals. In the same year, he then won the singles and doubles at Wimbledon. These successes were his springboard into professional sports, where Federer made his debut on the ATP Tour in Gstaad, Switzerland, in 1998. In the very first year of his professional debut, Roger Federer made it into the top 100 of the world rankings. At the turn of the millennium, he topped the junior world rankings. After that, the tennis pro's career continued steeply. The Swiss won the US Open and the Wimbledon tournament five times in a row. From 2005 to 2007, Federer was named "World Sportsman of the Year. Then, in 2004, he managed to break through to the top at number one tennis player in the world, where he remained for 310 weeks. Federer won the most Grand Slams (20) of all time and has 103 ATP victories to date.
Federer has also been convincing at the Olympics. He has qualified for every Olympic Games since 2000, has been the Swiss flag bearer twice, and took home the gold medal in doubles in 2008 and the silver medal in singles in 2012. And the Games are also of great importance to Federer in his private life, as he met his future wife Mirka at the 2000 Olympic Games in Sydney. In Rio 2016, Federer had to sit out due to knee problems, as he did his participation in the Tokyo Olympics.
Federer has been married to Swiss former tennis player Mirka Federer-Vavrinec since 2009. That same year, the couple became parents to twin daughters, and twin sons followed in 2014. But Federer not only has a heart for children in his private life. The Roger Federer Foundation, which supports the education of needy children in Switzerland and South Africa, has been in existence since 2003.
Roger Federer has won 103 singles and eight doubles titles during his career to date. He was supported by the different coaches: Adolf Kacovsky (1989-1994), Peter Carter (1991 to 2000 (with interruption)), Peter Lundgren (2000 to 2003), Tony Roche (2005 to 2007), Paul Annacone (2010 to 2013), Stefan Edberg (2014 and 2015) and Ivan Ljubicic (since 2016). Federer has been awarded countless times for his achievements: He has been named World Sportsman of the Year a total of five times (more than anyone else) and won a total of nearly $130 million in prize money.
The trio Nadal, Djoković and Federer dominate the tennis world rankings. Federer and Nadal have already won 20 Grand Slam titles. Whether they will remain at the top remains to be seen this season. As things stand, Novak Djoković has won a total of 19 Grand Slam titles. If the Serb remains on course for success, he could catch up with or even overtake the two legends Federer and Nadal this year and top the list as the sole leader.
Even if it is still completely open when Federer will retire from active tennis, the tennis great has in any case made excellent financial provisions. According to Forbes magazine, Roger Federer was not only the sportsman with the highest income in 2020, ahead of big soccer earners such as Cristiano Ronaldo and Lionel Messi, but he also seems to have set himself up for a comfortable retirement with a broad portfolio of investments and shareholdings.
Federer's entrepreneurial portfolio is diverse. Recently, for example, he invested in the Chilean food company NotCo, which specializes in alternative protein products, i.e. meat, milk and egg alternatives. He is in good company there as a backer: shortly after him, Amazon founder and richest man in the world Jeff Bezos and Formula 1 star Lewis Hamilton did the same and invested in the food company.
When he joined On Running, he not only got his own shoe collection with "The Roger," which also scores in terms of sustainability with vegan leather and reduced material consumption. The sports shoe manufacturer has recently been able to record rapid profits in the US market and is currently preparing for its IPO, from which Federer will also benefit with an investment of an estimated 50 million dollars.
Even though it is not yet certain when Federer will end his active time on the tennis court, it is already clear that he will not be replaced by all his sponsors at the end: The major Swiss bank Kredite Suisse (CS), for example, has already signaled that it will stick with Federer as its advertising face and testimonial. He represents the ideal client for the bank, who uses its services in combination for both business and pleasure.
| | |
| --- | --- |
| Date of birth | 08.08.1981 |
| Nationality | Switzerland |
| Height | 185cm |
| 1st professional season | 1998 |
| Playing hand | Right, one-handed backhand |
| Assets | 900 million USD |
| Wife | Mioslava Mirka Federer |
| Children | Myla Rose Federer, Lennart Federer, Leo Federer, Charlene Riva Federer |
| Social commitment | Roger Federer Foundation |
"When you do something best in life, you never want to give that up. For me, that's tennis."
Roger Federer
Around 10 months after Roger Federer joined the company as an investor, the focus is now on the On Cyclon, which is rented instead of bought on a subscription model. The Swiss running specialist On wants to set standards in sustainability with a subscription. Those who take out the shoe subscription receive a new pair of running shoes up to twice a year. These are made entirely from sustainably sourced polyamide, more than 50 percent of which is made from bio-based oils from the castor bean. At the end of their service life, the worn-out shoes are exchanged for new ones.
More about On Cyclon
Since 2003, the Roger Federer Foundation has been supporting youth sports and educational projects in Africa and other regions of the world. According to its own information, the Foundation has already been able to support 1,750,000 children.
The Roger Federer Foundation has set up support programs in Lesotho, Malawi, Namibia, South Africa, Zambia and Zimbabwe. The actions in Africa are primarily intended to give children access to education and a quality school career. All projects are carried out under the guiding principle "I am tomorrow's future".
But the tennis pro also supports disadvantaged children in Switzerland through the Roger Federer Foundation. In his home country, the Foundation supports extracurricular youth sports activities for children affected by poverty. Since its launch, more than $52 million has been spent on educational initiatives in over 7,000 elementary schools and preschools.