There is much to suggest that the Olympic Games will be the big stage for Noah Lyles. He is considered the most promising candidate for gold in the 200m and would thus be the successor to the legendary Usain Bolt. With a personal best of 19.50 seconds, Lyles is the fourth fastest man in history over the distance. In 2020, he won all the 200m heats in which he competed.
His collection of titles in recent years is also impressive:
2019 World Championship gold in the 200m

World Championship gold in 2019 with the 4x 100m relay team

Diamond League 200m wins: Brussels (2019, 2017), Zurich (2019, 2018).
Actually, Lyles also dreamed of competing in Tokyo over 100m. However, the 24-year-old missed out on qualifying over the distance at the US Trials. In the 4x 100m relay of the USA, however, he should have a place safe.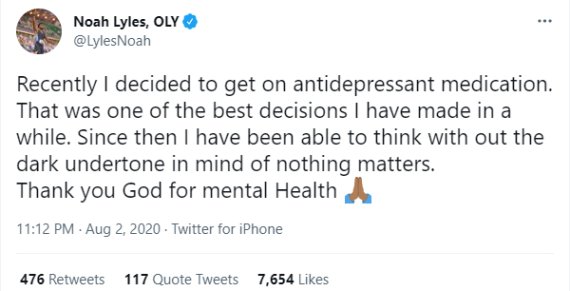 In 2020, Noah Lyles revealed in a tweet that he was suffering from mental health issues and was therefore taking antidepressants, which had been "one of the best decisions" for him. Even after that, Lyles publicly advocated for the destigmatization of mental illness and spoke openly about his treatment. "I've had a sports therapist since high school when I was 16. I also have a personal therapist who helps me with everyday concerns. Mental health is very important, and family and close friends can also be a big help in the worst of times."
In the aftermath of George Floyd's murder, Noah Lyles also made his mark in the spirit of the Black Lives Matter movement. Again and again, most recently at the US Championships in the run-up to the Olympic Games, he competes with a black glove in the tradition of the "Black Power" movement. Before the 100m final at the US trials, he raised his fist at the start line. "We're still dying in the streets. Just because we're not talking on the news anymore and the Olympics are coming up doesn't mean it's not happening," he said afterward.
Noah Lyles' second home next to the tartan tracks of the world is the music studio: He has already released a good dozen singles and EPs under the name "Nojo18". His style: rap in the style of Kanye West. Lyles ignores the current trap and mumble rap trend.
Lyles has suffered from asthma since childhood. In order to avoid contact in Corona times and still be able to train, he often used parking lots for his daily training. But Lyles was no stranger to abandonment: he grew up with his mother and brother in a one-room apartment, and in addition to asthma, he also suffered from ADHD and a reading and spelling disability. Lyles himself says that's the main reason he keeps surprising people with new hairstyles and extravagant outfits. "For me it's very important, it helps me get out of my head, which can happen quite easily as someone with ADHD and depression and anxiety," he says. "It helps me be myself, it helps me have fun, it helps me get out there and give the audience something to look forward to."
At the age of 14, Lyles realized what his goal in life would be: To compete as a track and field athlete in the Olympics. It was triggered by the opening ceremony of the 2012 London Olympics, conceived by star director Danny Boyle (Trainspotting, Slumdog Millionaire). "It was at that moment that it clicked," Lyles recalls, "My brother gave me the idea and so it became one of those moments where you think, 'I want to do that,' before you keep thinking, 'No, wait, I can do that!' Then it turned into, 'We're going to do this!'"
As the biggest gold hope in US athletics, Lyles has attracted gigantic brands as sponsors and partners:
Adidas

Omega

Coca-Cola

Visa

Xfinity

Intel