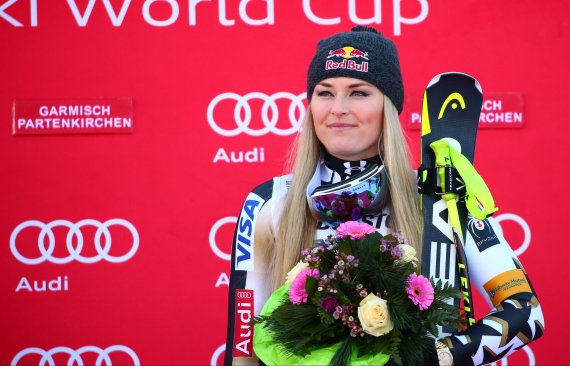 Lindsey Vonn was probably the most dazzling figure in the women's alpine circus during her active World Cup career from 2000 to 2019. For years, the US American combined sporting success with glamor. The downhill and super-G specialist won the overall World Cup four times, most recently in the 2011/12 season.
With 82 individual victories, Vonn is the most successful World Cup racer in history. Her 18 World Cup victories in one place (Lake Louise) are also unique.
After the 2018/19 winter sports season, Vonn ended her career at the then age of 34 - befittingly with a World Cup medal when she won bronze in Are, Sweden.
During her time as an active athlete, Lindsey Vonn had Head (skis), Oakley (goggles), Leki (poles), Briko, Reusch, Rolex and Under Armour as well-known companies as partners and sponsors. According to Forbes, Vonn's most successful sporting phase saw her earn around 2.5 million euros a year - of which prize money, at around 100,000 euros per season, accounted for a relatively small proportion compared to sponsorship income and advertising deals.
Today, Vonn is also active as a businesswoman: She is the face of ski equipment brand Yniq, in which she became an investor in 2019. 
She is also going on a reading tour in 2022 with her biography "Rise," in which she looks back on her 20-plus years in the ski circus.
Vonn has also launched her own skiwear collection together with Head, and has also collaborated with Dwayne "The Rock" Johnson and his Project Rock brand. In addition, the fashion world has discovered Vonn for itself, for example as the face at Gucci's "Love Parade" at the end of 2021 or in a virtual presentation by Thom Browne.
And Vonn also remains true to winter sports: At the 2022 Olympic Games in Beijing, she is working as an expert for the U.S. broadcaster NBC Sports.
Vonn was less fortunate with her entertainment show "The Pack": Amazon canceled the reality TV show about dogs after Peta protests.
Years after her career ended, Lindsey Vonn is still the clear number one on Instagram among alpine ski stars, with 2.1 million Instagram followers. The active alpine men and even the current U.S. ski queen Mikaela Shiffrin, with around one million followers, can only dream of her follower numbers.
The extroverted American has also been a headline-grabber for the tabloid media. Vonn is said to have once enlisted her male colleagues and friends Kjetil Jansrud and Aksel Lund Svindal to find her a new partner. 
With her relationships with golfer Tiger Woods from 2012 to 2015, an NFL assistant coach or professional ice hockey player P. K. Subban, to whom Vonn was engaged before the couple separated at the end of 2020, Vonn's private life is a constant topic of the Yellow Press.