Young, cool and incredibly successful, that's exceptional tennis talent Naomi Osaka. As the face of the Tokyo Olympics, she lit the Olympic fire in Japan. Just how important the young tennis player is became clear just in time for the start of the Olympic Games, on July 16, 2021: That's when the streaming provider Netflix released a documentary series showing two years in Naomi Osaka's life and providing insight into her family environment and her career. Only a few athletes before her have received this honor, but Osaka rightly joins the illustrious ranks.
At the age of 20, she became the first Japanese woman to win her first Grand Slam title, the US Open, and is also the first Asian woman to be ranked No. 1 in the world in tennis. Despite her youth, she was the highest-earning athlete in 2020, thanks mainly to advertising and sponsorship revenue. She campaigns against racism and discrimination and made her political activism clear via social media, but also on the tennis court, especially during tournaments in the US.
In early January 2023, it was announced that Osaka would not be playing in the Australian Open, leading to much speculation. A few days later, Osaka took to social media to announce the happy reason for her cancellation: the four-time Grand Slam champion is pregnant! "Can't wait to get back on the court, but here's a little life update for 2023," she wrote on Instagram on January 11, accompanied by an ultrasound scan.
0
US dollar earnings in 2022
0
different masks against police brutality
0
US dollar earnings in 2022
0
different masks against police brutality
0
US dollar earnings in 2022
0
different masks against police brutality
Naomi Osaka is not only becoming a heroine of her industry through her extraordinary sporting achievements. The tennis player also stands out for her social and political commitment. Time and again, she makes strong public statements and speaks out against racism and police violence.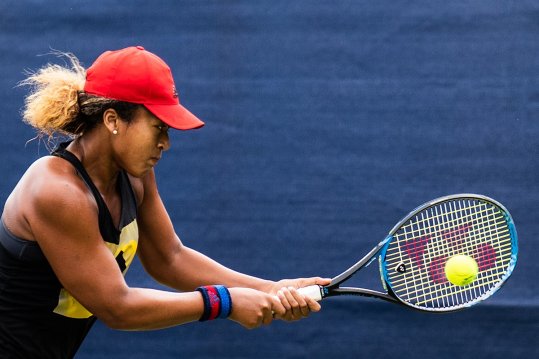 Naomi hasn't played a match since September 2022 and in January 2023 has even cancelled the Australian Open. The tennis world's guesswork about Osaka's strange break has now come to an end and the reason is wonderful: the 25-year-old is going to be a mum for the first time! On Twitter she wrote: "I know that I have so much to look forward to in the future, one thing I'm looking forward to is for my kid to watch one of my matches and tell someone, 'that's my mom'".
Osaka wants to be back on court in time for the Australian Open in 2024.
Those who follow the news about Naomi Osaka closely, might have guessed the baby news as early as December 2022. That's when her children's book "The Way Champs Play", illustrated by Kamala Nair, was launched. The beautifully designed and inclusive book aims to motivate children to play sports, teach them about fair play and teamwork, and show that working towards goals can be fun.
Although Osaka is considered rather quiet and shy, it is important to her to speak out politically and publicize injustice on the tennis court and elsewhere. "I sometimes feel like I hold myself back too much by thinking about what others think of me. But when you have a platform, I think it's very important to use it." Especially since 2020, Naomi Osaka has been doing this repeatedly. She repeatedly speaks out against discrimination on social media and, for example, drew attention to racially motivated police violence in the course of the US Open by wearing a different mask with the name of a victim in each of her matches.
Naomi Osaka first qualified for a WTA tournament in 2014, followed by her first Grand Slam tournament in 2016 when she qualified for the Australian Open. In 2017, she knocked out defending champion Angelique Kerber in the first round at the US Open and won her first WTA tournament in Indian Wells in 2018. In September 2019, she defeated her great idol Serena Williams in two sets in the US Open final. She thus became the first Japanese woman ever to win a Grand Slam title, i.e. one of the four most prestigious tournaments in tennis. She now has four, adding to the young star's first title win with further victories at the US Open in 2020 and Australian Open in 2019 and 2021. She is also the first Asian woman to reach the number 1 spot in the world tennis rankings.
In addition to Grand Slam titles and WTA tournament victories, Naomi Osaka has been honored several times as a sportswoman: in 2016 a she won WTA Newcomer of the Year, in 2019 the Breakthrough of the Year award from the Laureus World Sports Award, and in 2020 she was honored with the Associated Press' Athlete of the Year award and was Sports Illustrated's Athlete-of-the-Year. In 2021, she won another "Sports Oscar" with the Laureus award for Best Female Athlete. She is also the face of the Tokyo Olympics.
Netflix has also noticed that there is a lot to tell about Naomi Osaka. The streaming service is dedicating a documentary to Osaka 2021 in the run-up to the Olympics that offers sensitive insights into her background and emotional worlds. In three parts, it's about prejudice, depression and generally what it's like to suddenly be in the spotlight as a young athlete. Excitingly told and even then a tip if you follow tennis only on the sidelines.
In terms of income, Naomi Osaka was able to overtake her role model Serena Williams for the first time in 2020. She was also ahead of great Serena Williams with earnings of US$51.1 million in 2022 ($1.1 million prize money, $50 million advertising revenue; source: Forbes) with US$41.3 million ($0.3 million prize money, $41 million advertising revenue). This means that Osaka and Williams are still the only women in the top 50 highest-earning athletes and Naomi Osaka, despite her youth, is the highest-paid female athlete of the year for the third time in a row.
Naomi Osaka was born in 1997 in the Japanese city of Osaka and moved to the US with her family at the age of three. Her mother is Japanese and her father is from Haiti. While she initially held U.S. citizenship as a dual national, Naomi Osaka opted for Japanese citizenship at age 22 to represent Japan on the tennis court. Her older sister Mari also plays tennis professionally, although not as successfully as Naomi. Naomi is engaged to US rapper Cordae, whom she met in 2019 at a basketball game in her adopted city of Los Angeles.
"You just have to keep going and fighting for everything and one day you'll be where you want to be."
Naomi Osaka
| | |
| --- | --- |
| Sport: | Tennis |
| Playing hand: | Right hand, double handed backhand |
| Height: | 180cm |
| Nationality: | Japan |
| Birthday: | October 16, 1997 |
| Born in: | Osaka, Japan |
| Hometown: | Los Angeles, USA |
| Estimated net worth: | US$25 million |
| First professional season: | 2013 |
| Coach: | Wim Fissette |
| Followers on Instagram: | 2.2 million |
| Partner: | Cordae |