Felix Neureuther is one of the most successful and popular winter sportsmen in Germany. In addition to his sporting successes, the former skier scores points above all for his humorous, authentic and likeable personality.
Neureuther has been married to former biathlete Miriam Neureuther since December 2017. Together they have a daughter Matilda (2017) and a son Leo (2020). Even after his career ends in March 2019, the former ski racer will continue to be heard with his expertise in quite a few TV and radio formats. In addition, Neureuther shares his expertise and exciting as well as critical insights into the sports industry through his books.
But what makes Felix Neureuther a true role model beyond his sporting achievements is his commitment to children and young people, which he demonstrates time and again through initiatives such as his "Beweg dich schlau!" foundation and his book "Für die Helden von Morgen" (For the Heroes of Tomorrow).
Felix Neureuther in numbers
0
Total points in giant slalom
0
Podium finishes in individual races
Felix Neureuther in numbers
0
Total points in giant slalom
Felix Neureuther in numbers
0
Podium finishes in individual races
Felix Neureuther in numbers
0
Total points in giant slalom
Felix Neureuther in numbers
Felix Neureuther in numbers
0
Podium finishes in individual races
In addition to his sporting successes, Felix Neureuther is a real hero when it comes to social commitment. Through numerous initiatives, the former competitive athlete is committed to promoting children and young people. Together with his partners, he repeatedly implements exciting projects that deal with the promotion of young talent. In addition, Neureuther repeatedly draws attention to grievances in the sports industry and tries to bring about lasting change.
In the age of digitalization, urbanization and both parents working, children often miss out on exercise. With the Felix Neureuther Foundation "Beweg dich schlau", the former racer wants to counteract this phenomenon. The name says it all! The initiative is not only intended to improve physical health, but also mentally, significantly increasing the balance, receptiveness and performance of children.
"As a top athlete, I have learned to fight. I have learned through training and work to achieve goals, to educate myself and to develop. That's why I decided to pass on all my experience and knowledge to children, in order to have a lasting positive influence on their habits and lifestyle," says Neureuther.
Felix knows from experience: Only those who can concentrate 100% on their training will have the opportunity to realize a professional career. The former ski racer is grateful that he was able to devote himself fully to his passion at a young age and thus turn his dream into reality. This is precisely why it is important to Felix to support young talent. Together with his partner Allianz, the athlete promotes the strengths of young people through the "Movement Competitive Sports".
Felix Neureuther is a critic of his own industry and is worried about the next generation of skiers. In his book "For Tomorrow's Heroes," he takes a critical look at the development of competitive sports, among other things. Together with respected opinion leaders, he draws attention to grievances in the sports industry and gives concrete recommendations for action so that the sporting heroes of tomorrow do not die out. In addition, Neureuther criticizes the behavior of politicians and attributes an image problem to sport that urgently needs to be rectified.
| | |
| --- | --- |
| 9x | German champion |
| 7x | German youth champion |
| 13 | World Cup victories |
| WORLD CUP 2005 | Gold Team |
| WORLD CUP 2013 | Silver Slalom; Bronze Team |
| WORLD CUP 2015 | Bronze Slalom |
| WORLD CUP 2017 | Bronze slalom |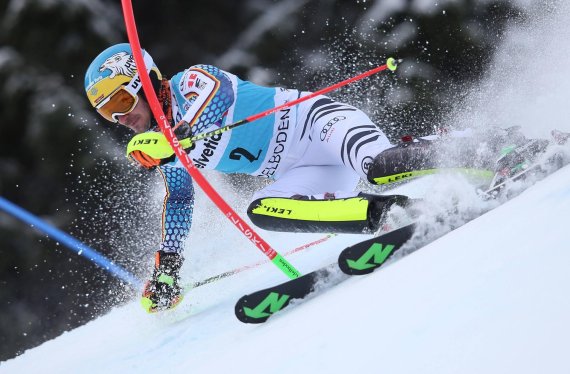 The former professional ski racer was born on March 26, 1984 in Pasing near Munich. He grew up in Garmisch-Partnekirchen with his parents Christian Neureuther and Rosi Mittermaier and his sister Ameli Neureuther.
Felix stood on skis for the first time when he was just two and a half years old and six months later he already won his first race at the children's ski club championships of SC Partenkirchen. In the course of his youth, he won the title of German Youth Champion seven times.
Neureuther competed in his first FIS races in 2000, the same year he was also a participant in the German Championships (Junior and Senior) for the first time. After finishing 15th and 35th in the slalom and giant slalom disciplines at the 2003 World Championships in St. Moritz, Felix Neureuther was awarded the Bavarian Sports Prize in the Most Outstanding Young Athlete category. He also claimed his first title at the German Championships in the same year.
The skier celebrated his World Cup debut in 2003 in the giant slalom of Kranjska Gora. The first World Cup points for eighth place then followed in the Madonna di Campiglio slalom at the end of the year.
After Neureuther graduated from high school in the spring, he had to take an enforced break in the summer of 2004 due to his pericarditis. However, he returned to skiing in December of the same year, finishing sixth in the World Cup slalom in Beaver Creek.
Together with the German team, Neureuther won a gold medal for the first time at the 2005 World Ski Championships in Bormio.
"You can't doubt, you have to trust."
Felix Neureuther
Felix Neureuther ended his career as a professional skier on March 17, 2019. In the following August, the ski star publicly announced that he would be taking up the position of sports expert at broadcasters BR and ARD. In addition, he became the successor of Maria Höfl-Riesch in the First for the Alpine Ski World Cup. Since then, Felix can be seen again and again in television appearances, but he also gives his expertise on the radio and on the Internet. Even away from skiing, for example as a co-commentator at Bundesliga games for Bayern 1, Neureuther can be found time and again.
"Now it's time to move on and write a new chapter."
Felix Neureuther
| | |
| --- | --- |
| Date of birth | 26.03.1984 |
| Nationality | German |
| Place of birth | Pasing, Munich |
| Discipline | slalom, giant slalom |
| Height | 184 cm |
| 1st professional season | 4.01.2003 |
| Career end | 17.03.2019 |
| Club | Partenkirchen Ski Club |
| Wife | Miriam Neureuther |
| Children | Matilda Neureuther, Leo Neureuther |
| Instagram followers | 453.000 |