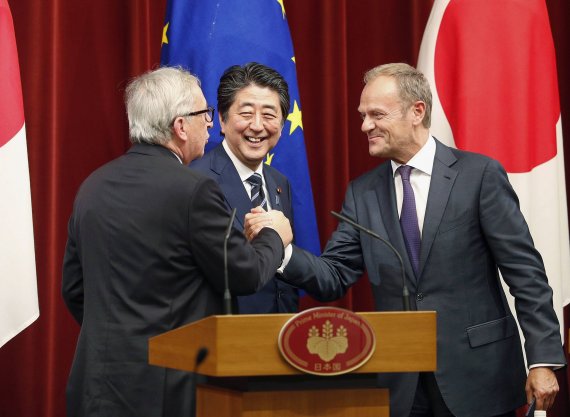 On Tuesday, Donald Tusk, President of the European Council, Jean-Claude Juncker, President of the European Commission, and Shinzo Abe, Prime Minister of Japan, met to officially sign the EU-Japan Economic Partnership Agreement in Japan.
Following the signature of the agreement, the European Parliament is expected to vote upon it in the autumn. Once procedures are finalized both at the EU level and in Japan, the agreement should enter into force in early 2019.
Now the Federation of the European Sporting Goods Industry (FESI) and the European ski boots and sports footwear companies strongly welcomed the signature of the Free Trade Agreement in a statement.
The sporting goods industry is confident that the agreement will foster sustainable economic growth, boost global trade and generate jobs. It is also supposed to ensure lower costs for imported as well as exported goods for producers and consumers.
"In times where protectionist measures are unfortunately on the rise worldwide, the Economic Partnership Agreement between the EU and Japan represents a positive message for free, fair and sustainable trade," said FESI President Frank Dassler. "The sporting goods industry is confident that this ambitious agreement will increase opportunities for our industry – especially in winter sports – to the benefits of jobs, economic growth and consumers. Let's hope that this will also pave the way for the swift ratification of upcoming bilateral partnerships such as the EU Vietnam Free Trade Agreement."
"European Ski Boots Companies altogether are paying almost 20 million Euros in import duty every year. This trade barrier has halted investment projects in a market struggling with many problems such as lack of snow, decreased participation rates and demand for products", added Rene Harrer from the HEAD company and FESI's ski committee chairman.
Especially ski boots manufacturers will profit from the free trade agreement. The current duties on ski boots are 27%. As from the first day when the agreement enters into force, this duties will be reduced to 24,50% and in 10 years they will be completely removed (with a gradual decrease of 2,40% or 2,50% per year).