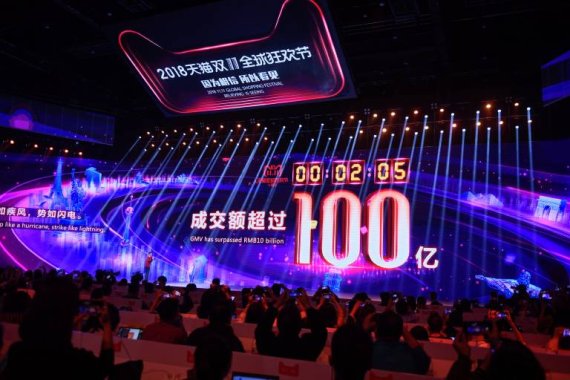 In China, Singles Day, 11/11, has determined shopping planning for years. This day, once actually created for the country's singles ("Double Eleven"), has set new records for years. In 2018, the Chinese market leader Alibaba alone turned over 27.3 billion euros on that day, in the strongest hour alone apparently about ten billion euros. More than ever before.
The record only lasted for one year: on 11 November 2019, Alibaba increased it to 38.4 billion dollars. The daily turnover of Alibaba thus exceeds the turnover of Amazon's Internet business in the entire last quarter. However, with growth of 26 percent, growth was weaker than in previous years. The competitor JD.com has been successful in making purchases worth the equivalent of around 26.5 billion euros since 1 November.
The range included 180,000 brands from China and the rest of the world, including Apple, Nike, Adidas and GAP. Singles Day thus offers the start to a strong November shopping season in e-commerce: Black Friday and Cyber Monday will follow at the end of the month and in December respectively.
The idea behind it is obvious: single people who do not have to care for a family have more money with which to treat themselves. In 1993 the day was founded by single students from Nanjing University. Meanwhile not only singles shop, but also couples and families on 11/11 - worldwide. Shopping giants such as Adidas, Nike, Amazon, Media Markt and Otto have also announced campaigns for the day in Germany.
The strategy consultancy Alix Partners reports that "Chinese consumers alone plan to spend 54% more than last year".
"Singles' Day has become a mainstream event. Chinese consumers are no longer looking for discount items, but expect new, relevant and high quality products at a low price - ideally with good service and high entertainment value," says Peter Heckmann, Managing Director and trade expert for AlixPartners. "The days when the day was a channel for old inventory are long gone."