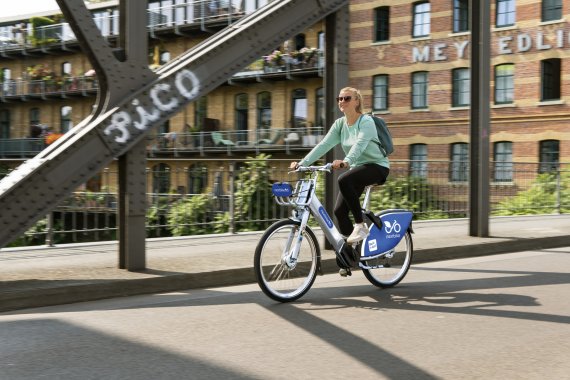 The dimensions are huge: The world's largest bike-sharing provider Mobike has just raised 600 million US dollars in its latest round of financing. By the end of 2018, the company, backed by Chinese internet giant Tencent, wants to offer its bike rental service in 200 cities around the globe.
Its big competitor Ofo, backed by e-commerce giant Alibaba, is even setting an investment volume of 866 million US dollars for global expansion. So there's a lot rolling out of China to major German cities - even though tens of thousands of rental bikes are already available there. And when they are parked on the sidewalk somewhere, they cause a lot of trouble. This is another reason why the bicycle industry is still divided on the future of bike sharing.
Despite the problems, some players in the bike industry are opening up to the future topic and are focusing in particular on e-bikes. "For such fleet deployments in the area of sharing, we provide the appropriate framework conditions in advance, e.g. in the area of service and maintenance, enable individual branding of the fleet vehicles ex works, and support our partners with our experience in an advisory capacity during the implementation and establishment of their offer," says Dr. Sandra Wolf, Managing Director of the e-bike specialist Riese & Müller, in an industry survey by ISPO.com.
"We told the industry years ago: 'This topic will be bigger than you can ever imagine.' Three years later, it's already there in major German cities, mainly due to the huge fleets of Asian companies. Large bikesharing systems could also be an important part of solving the traffic problems of big cities because of the greater range possible with e-bikes," says Burkhard Stork, national director of the Allgemeiner Deutscher Fahrrad-Club (ADFC). Mobike, for example, has over 100 million users who ensure up to 25 million transactions with the rental bikes per day - so far almost exclusively in China.
But the trend towards the shared economy in the bike sector has long since reached major German cities: at the beginning of the year, the largest provider Nextbike recorded around 18,000 rentals per month in Berlin alone. Founded in Leipzig, the company is active in 150 cities in 25 countries and relies on the cooperation (and financial support) of cities.
"Public rental bikes should be a fundamental part of public transport, just like buses and trains," Nextbike says. A second big player in the German bike-sharing market is Deutsche Bahn, which offers rental bikes through its "Call a Bike" app in cooperation with companies such as Lidl and Ford.
The goal is that the rental bike will be used in the future, at least as a matter of course, for the last stretch from public transport to home. And the procedure is simple for most companies: download the app, deposit the means of payment and then the bike can be rented with a scan of the attached QR code.
Equally spurred on by the e-bike and e-MTB boom, the number of people wanting to rent a bike on holiday is growing. 40 percent of day trippers are interested in rental bikes, according to the ADFC Cycling Travel Analysis 2018, of which 50 percent are interested in electric bikes. However, it takes a functioning overall package to make bike sharing a success in tourism.
"In order to make the most of the e-bike experience, you need the appropriate infrastructure on site, such as service or maintenance facilities, charging stations and guides - and above all rental options. The latter enable newcomers to get to know the fascination of e-bikes. Thanks to rental stations at the vacation destination, experienced e-bikers can do without transporting their own e-bike and at the same time test new products on site," Tamara Winograd, head of marketing and communications at Bosch E-Bike Systems, tells ISPO.com.
However, the offers are not yet perfect everywhere. Tourism expert Frank Hofmann: "In individual regions we see good approaches in the rental bike market, but throughout Germany much more could happen. In addition to good quality, the offers must be more reliable and easier to find, there must be more up-to-date bikes as well as a larger and better selection."
In many tourism strongholds and at sporting goods associations such as Intersport, the rental of e-bikes is booming. "This is a real trend, after all, environmental awareness is growing among many people. In the meantime, not only tourism regions are using the rental offers, but increasingly also universities or companies," reports Franziska Berger from Movelo.
Companies rent a fleet of e-bikes that employees can then reserve via an app, for example to cycle from one production site to another.
Bicycles are also becoming increasingly popular for commuting to and from work. 32 percent of employees now cycle to work, according to figures from the 2017 Bicycle Monitor published by the German Federal Ministry of Transport and Digital Infrastructure.
The leasing of company bicycles, which has been even more financially attractive for employees since 2019, is very much on the rise. This is because, following a decision by the Bundestag Finance Committee, employees will no longer have to pay tax on the non-cash benefit of company bike leasing.
Profiteers are bike leasing companies like JobRad. More than 6000 companies are already working with the pioneer and market leader in the scene, where full-service offers include, for example, maintenance. The share of e-bikes in leasing is over 50 percent.
Leasing for employees who can choose their own bike is financially lucrative for all parties involved. The leasing instalments are deducted from the gross salary via salary conversion, which reduces the taxable income and thus the tax burden.
After a term of usually three years, the employee can then buy the leased bike - and save money again compared to buying it in a specialist shop. Experts estimate that there are now over 200,000 company bikes on German roads.