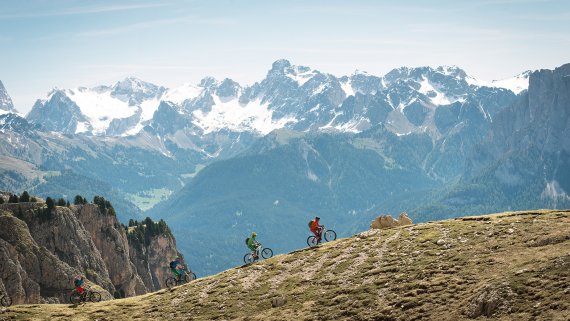 Die Zahl der Radurlauber in Deutschland hat sich auf jährlich über fünf Millionen erhöht. Viele Fahrrad-Firmen haben längst erkannt, dass die Zusammenarbeit mit dem Tourismus für alle Beteiligten ein großer Gewinn sein kann.
"Wir kooperieren bereits mit Hotels und Tourismusregionen. Hier haben wir unterschiedliche Modelle, bei denen in der Regel auch immer der Fachhändler vor Ort eingebunden ist. So kann gezielte Cross-Promotion betrieben werden und alle profitieren von dem Angebot: Der Gast kann komfortabel und ohne Transportherausforderungen Sport treiben, die Region bietet ein attraktives Freizeitangebot, das Hotel einen hohen Mehrwert gegenüber dem Wettbewerb und der Händler generiert Geschäft"  sagt Maud von Hoff, Brand Manager und Head of Sales & Marketing von Rotwild, gegenüber ISPO.com.
Besonders begehrt sind bei immer mehr Touristen E-Bikes. Das heizt den Boom in diesem Segment weiter an. "Der E-Bike-Boom wäre ohne den Tourismus nicht denkbar", bekräftigt auch der Allgemeine Deutsche Fahrrad-Club (ADFC). Dabei wollen viele ihr Elektrorad am liebsten im Urlaub vor Ort mieten. Auch hier stehen die Zeichen auf Zusammenarbeit zwischen Bike-Branche und Tourismus-Anbietern.
"Bestehende Partnerschaften im Bereich Tourismus decken sowohl das Thema Verleihangebot von E-Bikes in Hotels als auch die Zusammenarbeit mit Anbietern von geführten E-Bike-Touren ab. Unserer Erfahrung nach erkunden Touristen ihre Urlaubsregion sehr gern mit dem E-Bike, gerade in windigen oder bergigen Regionen und unabhängig davon, ob sie zuhause bereits eines fahren oder nicht. Das Potential erkennen auch Tourismusverbände und finden aufgrund unserer Erfahrung und Expertise im Bereich Flottenmanagement sowie unseres stetig wachsenden Händlernetzes einen starken Partner bei E-Bike-Angeboten für Urlauber", sagt Sandra Wolf, Geschäftsführerin des E-Bike-Spezialisten Riese & Müller.
Michael Wild kann sich als PR- und Marketingchef von Paul Lange & Co sogar noch mehr Synergien und Kooperationsmöglichkeiten vorstellen: "Von gemeinsamen Kommunikations-Kampagnen über konkrete Kooperationen zwischen beispielsweise Fahrradherstellern und Beherbergungsbetrieben, Bikepark-Betreibern oder Tourismusregionen bis hin zu gemeinsamen Interessenvertretungen reicht die Palette der möglichen Zusammenarbeit." Bosch eBike Systems hat bereits einige konkrete Kooperationen mit Urlaubsregionen geschlossen, da vor allem E-Mountainbikes dort eine immer wichtigere Rolle spielen.
"Seit 2016 besteht eine Kooperation mit dem Mobilitätszentrum in Münsingen. Einige der vor Ort angebotenen Touren werden von E-Mountainbike-Guides geführt. Dort finden auch Fahrtechnik-Trainings für Guides aus anderen Regionen statt, die mitunter von E-MTB-Profi und Bosch eBike Enthusiast Stefan Schlie geführt werden. Zudem unterstützt Bosch eBike Systems die "BikeHotels Südtirol". "Die Südtiroler Alpen werden bei aktiven Urlaubern immer beliebter", berichtet Tamara Winograd, Leiterin Marketing und Kommunikation bei Bosch eBike Systems. Die Hotels versuchten, besonders auf die Interessen der E-Biker einzugehen.
Dabei ist das optimale Gesamtpaket entscheidend. Daniel Gareus, Head of Marketing und Communications bei Cosmic Sports, empfiehlt die Ausstattung von Hotels mit Testprodukten und Werkstattequipment. Riese & Müller stellt eine breite Palette an Touren-E-Bikes bereit, die "mit doppelten Akkus für größtmögliche Reichweite bzw. Ladeflexibilität und mit Control Technology für größtmöglichen Komfort und Sicherheit auf unbekanntem Terrain" ausgestattet sind. Wenn der Urlauber dann mit tollen Erlebnissen mit dem Leih-Fahrrad zurückkehrt, kauft er zuhause mit größerer Wahrscheinlichkeit ein Zweirad der gleichen Marke. Das ist jedenfalls die Rechnung, die die Bike-Branche aufgemacht hat und durch Verleih und Verkauf kann sie doppelt profitieren.