Despite the many benefits of the circular economy in the sports industry, there are still many challenges to overcome. For example, it can be difficult to achieve the level of efficiency and innovation required to create truly closed loop systems, and there is often a lack of collaboration and coordination between the various players in the industry. In addition, it is important to use circular economy not only as a greenwashing method to make products more attractive. At its best, it is both a business model and a marketing tool. Companies like Bergzeit, Sneaker Rescue, Yonderland or SOEX live for Sustainability. It's no longer just about closing a loop, but changing the loop, expanding the loop, and extending the lifecycle of products.
It's also important to take consumers along for the ride. "On the one hand, we want to educate and sensitize customers to take care of their products and look after them. Furthermore, we want to manufacture products that can be repaired if they do break," says Melanie Grünwald, Head of Sustainability at Yonderland.
Will there be a point at which we can say that the Circularity project is complete? Walter Thomsen, CEO of SOEX has a clear opinion on this: "No, we're only at the beginning, there's no end to it, it will hopefully be the new normal." It is particularly important that large companies take up the topic and set an example for the future. Then Circularity could find a place in at least 30% of the textile industry by 2030. Currently, too little attention is paid to the topic: "We haven't even scratched the surface of circularity yet," says Melanie Grünwald.
In addition to the pure core business, companies will have to focus on other business models in the future and build these up alongside the core business. For example, a brand can move from being a pure reseller to a service provider in order to bring circular solutions to the market. But companies should think much further. There are numerous approaches and concepts that not only take the topic of circular economy and sustainability further and make it fit for the future. The common thread running through numerous concepts is modularity and adaptability.
The participants of the ISPO Academy Masterclass proved just how much creativity is possible here. Under the motto "Another tomorrow: Driving the evolution of sports apparel & equipment", design students presented innovative ideas and concepts that they had developed in a workshop.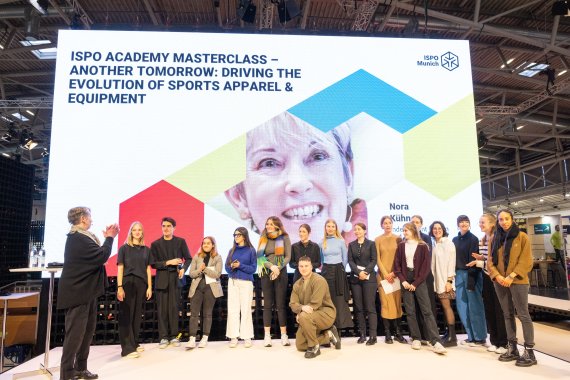 Connecting through clothes
Old to gold. That is the motto of this concept. A well-known hurdle of the activewear industry is excessive consumption and production. But this problem cannot be solved by only one person. This idea envisages joining forces and working together for this purpose. By means of a platform where clothes can be shared, a community is created and people and clothes are brought together.
Back to the future
Many clothes often remain in the closet almost unworn or are thrown away. This concept wants to revive the value of clothes and give them a 2nd life. This is made possible by convertible clothing that gives the garment more than just a use. What does that look like? A jacket that turns into a shopping bag or a coat that can also be used as a hammock show what the future could look like. Particular attention is also paid to a regenerative life cycle: Garments are collected, the design is created with additional functions, design and collected garments are combined and the new product is brought to life. At the end of its life, the material is to be reused.
Outdoor Living Room
A trip to the great outdoors can be beautiful, but too much gear can ruin that. With this concept, that's a thing of the past: this design features clothing so adaptable that it can even be turned into a sofa. Folded flat, an inflatable sofa can be found in the back of the jacket. Also here is a feature on top that is a joy to use. The USB Charger. The design is meant to bring back the value and appreciation for clothing.
The future of bespoke
This concept shows: The future is inclusive. A system for maximum inclusion and customization. Especially for Paralympic athletes, there is a high demand for customization due to the variety of disabilities. The basis of the process is an individual body scan. The product is then designed together with the customer to create a garment that meets the customer's needs. 3D knitting allows for waste-free, seamless, time- and cost-efficient production.