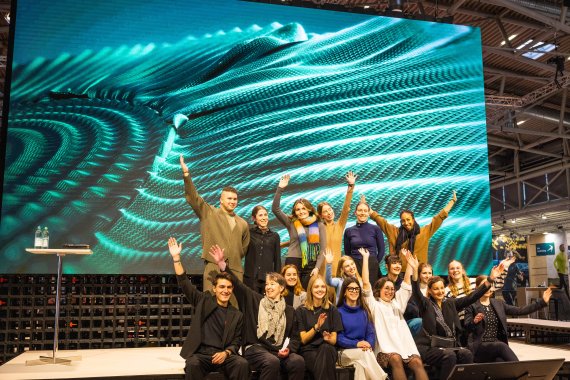 The ISPO Academy Masterclass is aimed at the "designers of tomorrow" in the sports sector and has set itself the goal of bringing a breath of fresh air to the sports industry. Very important: The Masterclass is not a competition. Instead, the focus is on, multidisciplinary thinking, open exchange and collaboration.
In a changing global environment with oversaturated markets and homogeneous product offerings, the Masterclass aims to break conformity with forward-looking approaches. It imparts sports-related knowledge and explores the creative and functional potential of performance wear in the 21st century.
Another tomorrow: Driving the evolution of sports apparel & equipment
Today's active lifestyle demands new products and versatile apparel. High time to take design for sports and its role as an interface between human needs and technology to a new level.
These were the challenges at ISPO Munich 2022:
Reduce, reuse, recycle - material, production, use, disposal - go new perspectives.
Close
Future scenarios for clothing at the intersection of functionality and beauty - between equipment and expression of personality.
Close
Radically rethinking sports and functionality! Urbanization, socio-cultural change and climate change are driving creativity and innovation.
Close
In accordance with this leitmotif, under the direction of renowned design expert Nora Kühner, 20 participants from 9 international design schools and universities, including some of the world's leading educational institutions, developed innovative concepts for the future.
What was the question for the workshop in 2022 and what was the basis for it?
From the first edition at ISPO Munich 2016 onward, the overarching topic of the Masterclass has been "Another Tomorrow – the Evolution of Sports Clothing and Equipment. Outdoors. Indoors. Virtual." Guided by this headline the main focus of each workshop differs – depending on current developments and trends. Living with the challenges of the last three years made very clear that we have to think different. We need to develop new perspectives for a sustainable and responsible future. The workshop in November 2022 focused on questions around the transformation of our sector and our way of life. How do we want to live, work and produce? What kind of products do we need? If we take a look at outdoor jackets for example – whether for mountaineering, hiking or skiing – they all look pretty much the same for more than a decade. Stirring up the question: Do we have achieved the perfect pattern and construction? Of course, this could be an option, however, why do we continue producing ever more of the same and increasing the piles of discarded clothing? Maybe we have a bit of a burnout? Or is it creative stagnation? Are we able to shape new products and take into account changing requirements?
Was there anything at the workshop that particularly surprised you?
For me design is a key discipline when it comes to imagine and visualize bold ideas and narratives. A participant of the Masterclass 2018 put it in a nutshell with his phrase "Design is so much more". Therefore I am more than happy to see a growing number of design students who reflect their profession in a comprehensive and holistic way. The issues are around work processes and the way we think design. Sustainability has to be on the list in the moment when we start thinking about new product designs. Which materials do we select? Can I use this fabric or that zipper with a clear conscience? Does my selection meet the CSR guidelines of the brand I am working for? How to shape the life cycle of a product? Questions like these require a fundamental change in the product development workflow. And it is amazing to see a majority of aspiring designers already tackling these questions in a creative and constructive way. And for them it goes without saying that the "Education of the Consumer" is a task of both brand and designer, too. Today design goes far beyond sketching out a garment, backpack or ski boot. It is all about new design thinking and the next generation is already living up to it.
9 international schools & 20 participants
Participating Schools 2022:
Beijing Institute of Fashion & Technology (China)

Niederrhein University of Applied Sciences (Germany)

HTL Dornbirn (Austria)

IFA Paris (France)

London College of Fashion (Great Britain)

Lycée Argouges (France)

Royal College of Art (Great Britain)

Swedish School of Textiles (Sweden)

University of Lapland (Finland)
Connecting through clothes
Team: Elina Puro, Maria Rossi, Ida Mitiska
Old to gold. That is the motto of this concept. A well-known hurdle of the activewear industry is excessive consumption and production. But this problem cannot be solved by only one person. This idea therefore envisages joining forces and working together for this purpose. By means of a platform where clothes can be shared, a community is created and people and clothes are brought together.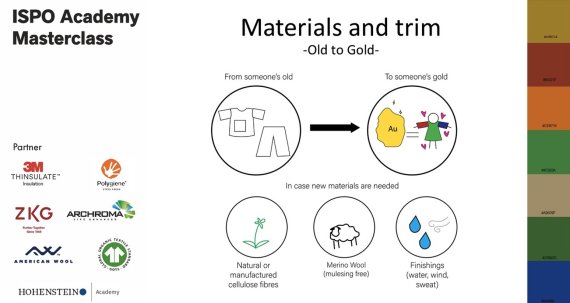 Back to the future
Team: Hannah KaspariBrian Dennerlein, Emma Peer
Many clothes often remain in the closet almost unworn or are thrown away. This concept aims to uplift the value of clothing and give garments a second life. This is made possible by transformable clothing that gives the garment more than just a use. What does that look like? A jacket that transforms into a shopping bag or a coat that can also be used as a hammock show what the future could look like. Particular attention is also paid to a regenerative life cycle: Garments are collected, the design is created with additional functions, design and collected garments are combined and the new product is brought to life. At the end of its life, the material is to be reused.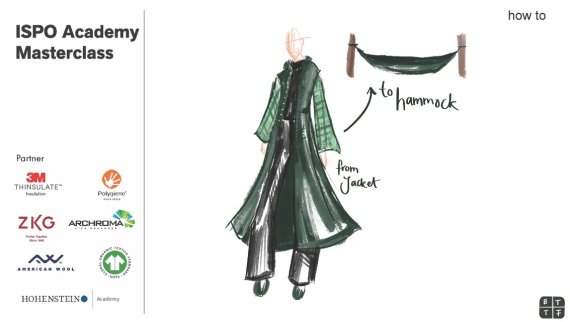 Balance brings you comfort
Team: Trashi Puntso KatagiriWen Hui
In a chaotic world, this team wants to create balance. To do this, they are developing a design bodysuit that transforms into a comfortable suit by morphing and using elastic parts. Burton's Living Lining® technology is used for this. This reacts to body heat and adapts to it. The material accelerates moisture transport when it is hot and retains heat when it is cold. Thus, the suit ensures pleasant comfort throughout the day. A special function: solar panels provide the wearer with energy, for example, to charge the cell phone.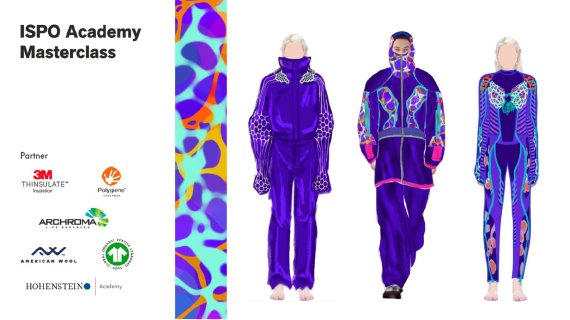 Outdoor Living Room
Team: Soh Huey Rhu, Tan Yadan
A trip to the great outdoors can be beautiful, but too much gear can ruin that. With this concept, that's a thing of the past: this design features clothing so adaptable that it can even be turned into a sofa. Folded flat, an inflatable sofa can be found in the back of the jacket. Again, a feature on top that is a joy to behold: the USB charger. This design is meant to bring back the value and appreciation for clothing.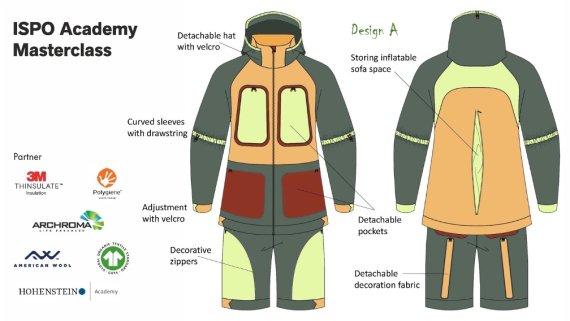 The future of bespoke
Team: Alice HebrardHannah Cooper, Susanna Suojanen
This concept shows: The future is inclusive. A system for maximum inclusion and customization. Especially for Paralympic athletes, there is a high need for customization due to the variety of different disabilities. The basis of the design process is an individual body scan. The product is then designed together with the athletes to create a garment that meets their needs. 3D knitting allows for waste-free, seamless, and time- and cost-efficient production.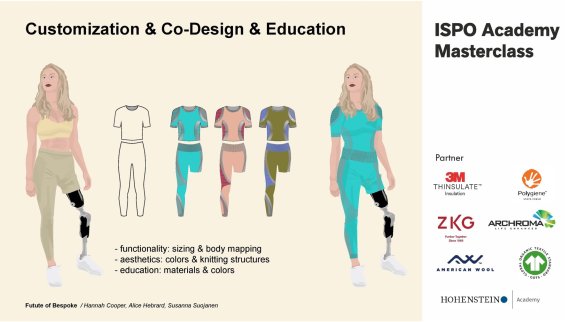 Heat Dystopia
Team: Chalin Hills, Axel Eveque, Katharina Ehe
Looking into the future can be scary, especially in terms of climate change. And the effects are becoming more intense. Heat dystopia, forest fires and drought are forcing people to flee extreme heat. Clothing needs to be modified for this purpose. The solution: a bodysuit and jacket with smoke/dust protection as well as thermoregulating properties. It uses 100% wool as well as discarded tents and parachutes to ensure sustainability. The jacket also features a thermochromatic layer that reacts to heat and thus warns the wearer when temperatures rise. The color scheme is inspired by nature.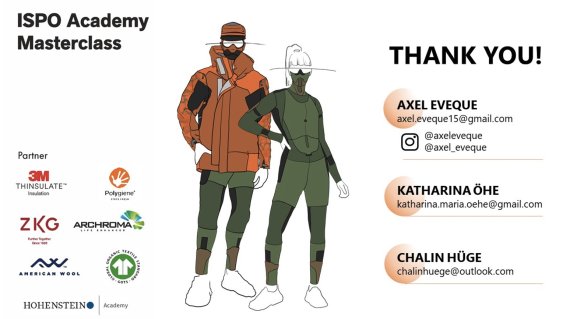 Inflatable Suit
Team: Stella Burbidge, Gaia BrogiottiManon Garcia, Eva Kühn
Even the last concept can save lives. Future scenarios show steady climate change and catastrophic water conditions, such as flooding, which destroy landscapes, homes and lives. Especially in areas with low water tables, people live in extreme conditions. Inflatable Suits are designed to protect against this. To do this, an anatomical study was conducted to identify the parts of the body that need the most protection. In these areas, the clothing inflates when released, protecting the wearer. The clothing also has security features such as tracking and personal data. The clothing is made from material extracted from plastic in the ocean. This is recycled and can be returned after use and reused.