The list of measures to achieve this is longer than that of the Ortovox product range: a repair service and second-life online store to extend the lifespan of mountain sports equipment; involvement in organizations such as the Fair Wear Foundation to improve conditions at production sites together with other outdoor brands; a chef who feeds his employees at the Taufkirchen site with regional organic food; a digital info platform that educates people about responsible mountain sports. Ortovox has even made a documentary film about the Alps.
The company is doing very well as a result. Since Schneidermeier joined, the workforce has grown from 20 to 150 people, and Ortovox is a household name among mountaineers. How has Schneidermeier managed this? In our series "Challenges of a CEO," he talks about his vision of a better society and how his entrepreneurial actions are having an impact.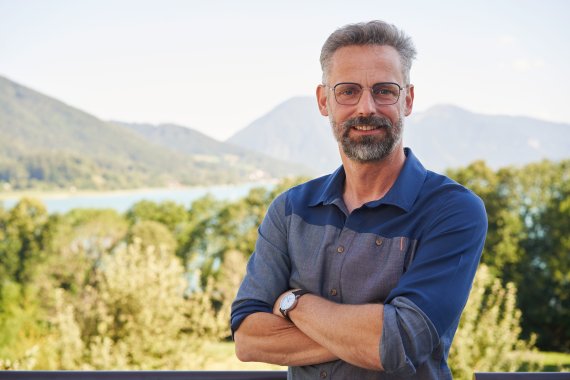 My name is Christian Schneidermeier and I have been with Ortovox for 22 years, the last eleven of which as CEO. We are a mountain sports brand based in Taufkirchen, south of Munich. The company was founded in 1980 - with the invention of the "F2", the first avalanche transceiver (LVS device) with dual frequency. Since then, we have stood for innovative emergency equipment, backpacks and technical clothing with wool for demanding mountain athletes.
I grew up at the Tegernsee and was allowed to experience from an early age how good it feels to be in the mountains. Not in search of the next adrenaline kick, but to feel yourself in harmony with nature and to spend a good time together with friends. That's why I want our brand to help protect what we love. And that's why we are equally committed to the protection of mountaineers and the mountains. Of course, we are aware that we are part of the problem - at the same time, we see this as an opportunity to be part of the solution.
I'm happy every time I meet someone in the mountains with an Ortovox product - and there are more and more of them, because we have also benefited from the developments of recent years. But for us as a company, conservation is an ambivalent topic. The question we have to ask ourselves is: How can we reconcile responsible mountain sports with the fact that more and more people are going to the mountains? We made a documentary film on this issue. We wanted to show that you can derive a personal benefit from nature without destroying it in the process.
As the number of people in the mountains grows, so does the number of those who lack the necessary knowledge. We therefore want to raise awareness of what it takes to travel in a nature-friendly way. To this end, we provide, for example, in our knowledge platform ProtAct Academy knowledge platform. We want to use it to raise people's awareness and inform them about the rules that need to be observed in the mountains.
In addition to the right behavior in and with nature, the topic of consumption plays a decisive role. Anything that takes place in excess is not sustainable. The word sustainability is now used inflationary and often misused - also to achieve even more consumption. As consumers and citizens of this society, we should ask ourselves what we really need and not allow ourselves to be seduced by artificially created needs that only contribute to even more resource consumption. Instead, we need to develop options for sustainable consumption. To this end, we also point out in our digital ProtAct Lab with numerous tips.
Sustainability is deeply anchored in Ortovox's DNA. To make this even more visible, in 2017 we started working on our sustainability strategy ProtAct 2024 to work on. Based on our corporate values, we have developed six central goals. An important role for us is played by the topic of Second Life. After all, the longer something is used, the fewer resources are consumed.
To extend the life cycle of our products, we not only attach importance to the best quality and functional product design, but also offer a repair service. So if a product breaks, we can usually repair it very well in our in-house workshop. We have also launched the Ortovox 2nd Life Shop, which has been very well received. Here we give Ortovox items and B-ware a second life by repairing them.
I have the feeling that more and more people and also companies are realizing that we cannot go on as before. We are social beings and have only developed so far because we have the ability to cooperate. In our current economic system, this has been pushed too far into the background. Among other things, this results in problems such as climate crisis, species extinction, water scarcity, and so on. It is imperative to overcome these. This can only be done in the community.
Our industry is already further ahead than others. I see this, for example, in the Fair Wear Foundationof which Ortovox is a member. Together with other outdoor brands, we can improve the situation at the production sites and thus contribute to the further development of the entire industry.
The big challenge for us is to drive the issue of sustainability despite current crises such as the Corona pandemic, the Ukraine war and inflation. It is true that we have to make economic decisions so that we can pursue our goals. But we must constantly question how we can help shape the challenges arising from climate change and social change.
For this reason, we realigned our organization in January 2022. Since then, I have shared responsibility with two colleagues: As Chief Supply Chain Officer, Stefanie Rieder-Haas looks after the areas of Sustainability and Qualityand Michael Sieber, as Chief Customer Officer, is responsible for the Customer and Brand. I am responsible for Culture & Product responsible. By dividing the team into three parts, we can show more appreciation for the entire team and concentrate better on the important issues.
At Ortovox, we are convinced that we as a society need to get back to the essentials, i.e. less higher, faster, further, and more genuine, intensive experience of nature instead. We believe that the mountains have the potential to convey exactly that.
That's why it remains my vision to move people into nature. Anyone who travels in the mountains will recognize their value by themselves and understand why it is worth protecting them by all means. Let's work together to preserve nature instead of consuming it!