Massimo Zorzi, FDI & Location Management Project Manager at Trentino Sviluppo S.p.A. stands in front of a big screen - and does gymnastics. The ISPO Brandnew Judge stretches himself, jumps, jumps aside in wide steps or bends over. It looks like a mixture of shadow boxing and aerobics. Massimo carries sensors on his arms and legs that transfer his moves to the big screen. There his digital image races through animated urban landscapes, controlled by Massimo on the hunt for virtual rewards. The cleaner and faster he executes a movement, the more points he gets. What at first glance looks like an ordinary video game quickly turns out to be a sweaty affair.
It's a cool October day in Munich. It's drizzling outside. Inside, on the first floor of Hall C6 at Messe München, 13 jurors will examine the future of sport business. The judges stand with deeply bent backs over eight long rows of tables, immerse themselves in ideas and concepts. Before them lie and stand the products of the individual applicants - smart bags, surfboards, games, apps, sports nutrition, fitness equipment, shoes, tents, outdoor grills, cameras and more - everything that makes the athlete's heart beat faster.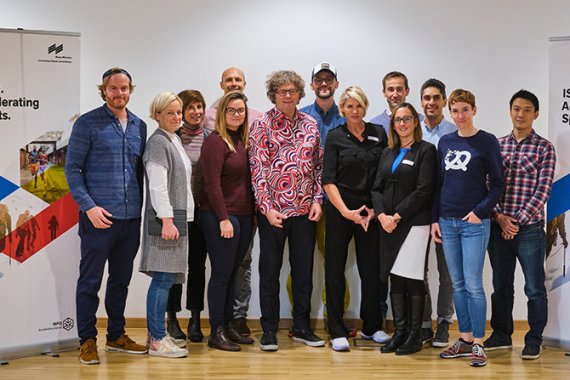 The categories at ISPO Brandnew are customer-oriented. "We want to make start-up competition even more relevant. That's why we've thought about and redefined the individual areas even more from the market's point of view," says David Badalec, Head of ISPO Business Solutions.
There are a total of eight categories:
"Offshore" stands for the sporting innovations on and in the water.
"Outdoor Adventure" 

is presenting the next level of outdoor experiences.

Connected Sports" features apps and digital tools that motivate, connect and activate people.
In the category "Body & Mind" you will find products for indoor training, fitness and health.
The column "Matchtime", bundles t

echnologies to raise the performance bar on the pitch and in the game.

"Urban Outdoor" is b

lending urban fashion with the desire for function & outdoor lifestyle.

"Future Mobility" bundles new ideas to get from A to B actively
"Parks & Slopes" shows everything about classic winter sports - and how to train for them in summer.
The jury consisted of entrepreneurs, journalists, manufacturers, dealers and three finalists from the previous year, who have virtually changed sides this year. "I find the mix within the jury sensational," says Tina Umbach, who brings together start-ups and investors with the Prime Crowd network. "This interdisciplinary approach is super important. You need the different perspectives - because nothing else will advance a start-up or an organization." And this is the only way to objectively evaluate start-up products.
One of those who were still among the applicants last year is Vinzenz Bichler. At ISPO Brandnew 2019 he was a finalist with his intelligent joint protector Betterguards, and today he is getting close to the jury's work: "It's great to be here," says the Bavarian, who now lives in Berlin. "I find it exciting to see how seriously the jury works, how objectively and critically it is judged. Everyone gets a chance, time is taken for the individual products, that's cool."
This year there were about 400 candidates at the beginning of the application. For the judges this means watching videos for almost 10 hours, checking information, touching the products and discussing them. And often enough: Doing sports. Be it in front of digital cityscapes, be it while golfing or being clamped with the feet in a new training device with which the athlete turns on the ground like a break dancer.
But even the applicants who made it to the jury meeting are by no means on the safe side. Only 50 of them make it to ISPO Munich from 26 to 29 January 2020.
A boardshort, for example, advertises with a waterproof bag. The judges take a close look at the zippers, check, bend, twist and want to know exactly whether this is possible and can actually work. Or a running shirt made of a new material that advertises to dry particularly quickly: a little water is tipped over the fabric and later checked to see how the material has behaved.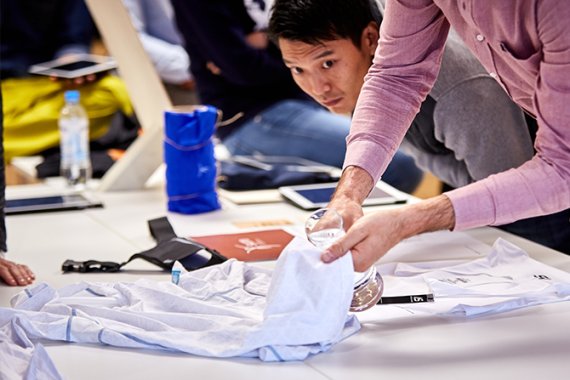 The term "sustainability", in particular, is a constant source of lively discussion. Andreas Sczekalla of YKK says that this is just such a buzzword. Often enough, however, it is not even clear what this should mean. "For example, anyone advertising the use of renewable resources must be able to prove where they come from. Or with products made from recycled bottles - I want to know that the bottles were not produced specifically for this purpose and have never been used. If as a manufacturer you haven't done the necessary background work, you lose."
Jury Chairman Reinhard Pascher calls the work with his twelve colleagues from a wide variety of fields "refreshing". "Firstly, they complement each other very well and contribute their expertise. On the other hand, there are some heated discussions - that brings us forward." After all, ISPO Brandnew does not want to be just any start-up competition. It's all about the innovative strength of the entire industry. "Brandnew is helping to ensure that the established brands also have to make greater efforts. Many newcomers come up with really fascinating ideas," says Pascher.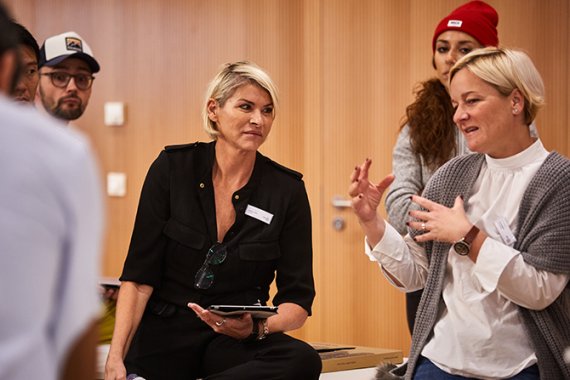 In any case, ISPO Brandnew is not just about the next hype. "We have a problem for society as a whole that far too many people move far too little," says David Badalec. And that is not just a problem for the sports industry, but "for us as people. Because we are built for movement. Our entire DNA, our physique, how our brain and mind function, is dependent on movement." So solutions have to be found to get more people enthusiastic about sport again.
Especially the product selection for the next ISPO Brandnew gives hope. "I see a trend towards integrating more people," says Barbara Klein, who had already taken off with her Flexi-Bar at ISPO in 2005. "For one thing, there's more playing again, I think that's nice. On the other hand, fitness training and physiotherapy continue to grow together. In this way, we bring new target groups to sport that we neglected in the past - older people and overweight people, for example".
The ideas range from a kind of board game with wooden dice and training cards on cardboard to fully networked apps and sophisticated sensor technology. The technical possibilities are absolutely fascinating, says Barbara Klein. What motivates people nowadays is often digital - like the big screen that made parts of the jury jump around in the morning. "But fortunately, people still have to get up and do sports themselves."