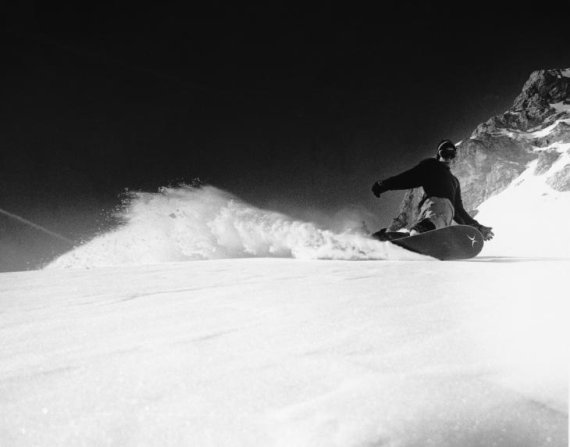 The typical characteristics of so-called "indigo children" include a quick grasp of things, strong self-confidence, pronounced intuition, the rejection of nonsensical things and a familiarity with complex technology.
Gregor Baer and Thorsten Schwabe, the two founders of Indigo, share these character traits. At the end of the 80s, they are considered lateral thinkers and refuse to let anything stand between them and their dream of high-tech snowboards. In the winter of 2000, their idealism brings the two engineers to ISPO Brandnew, where they are named as finalists and use the trade fair as a springboard to extraordinary success.
In 1988, Gregor Baer and Thorsten Schwabe, both from Freiburg, watch a film about snowboarders, which fascinates them. They immediately begin to experiment with different materials. "We wanted to go our own way. The idea of making the perfect equipment was an adventurous endeavor," the founders recall. The results are encouraging, and alongside school, they carry on inventing and test their first creations — albeit with rather mixed success: "At times, our boards lasted for only one descent."
In spite of several setbacks, they keep their eyes on the goal: "State-of-the-art technology wrapped in a high-quality package." While at school and studying for their degrees, they start getting more and more orders from friends; the first customers provide a small income. "Over time, we built up a lot of know-how regarding how to build boards so that they're really good," says Schwabe. This knowledge was later adapted to skis.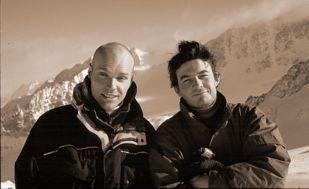 As snowboarders were not allowed to use the ski lifts at that time, the two made a virtue of necessity. The students trudged up the mountain time and time again, and as they did, they took in the scenery and developed their brand name. "Indigo children have special abilities, don't accept any artificial authorities, and are considered lateral thinkers. That's how we felt," explains Schwabe.
Their logo is also created at this point. The arcs symbolize two almost tangent sweeps in the snow and represent dynamism and precision. The typical snakeskin pattern also has an important meaning: "The snake represents agility, speed and mysticism; it is a symbol of nature."
A snowboard made from a revolutionary bamboo material is finally unveiled in 2000 at ISPO Brandnew and, as a finalist, receives a lot of attention from the market. Two years later, the designer Willy Bogner approaches the Indigo duo and commissions the development of special Bogner skis. "The breakthrough really came from working with Bogner," says Baer.
But despite significant interest, Indigo chooses not to expand and instead adheres to the motto "quality over quantity."
Besides skis and snowboards, the product range today includes equipment such as helmets, goggles and bags. "To make sure the quality of our products remains at the highest level in the long run, we only produce a limited number of the items in our collection per season," says Schwabe. Around Christmas, he adds, they can no longer make deliveries, and the stockroom is always completely empty in January. That means it's time to develop and design something new.
These Black Forest natives particularly enjoy doing that. Their dedication is just as great as 28 years ago. "The dynamism and the spirit of this idea remain the same today and make up the driving force behind what we do. Every day we strive to bring our products closer and closer to perfection — with the same passion as on the first day." Baer and Schwabe advise start-ups to supply these same ingredients of enthusiasm, untiring work and idealism.
"Nothing is impossible. Little strokes felle great oaks, and idealism moves mountains," Schwabe declares in 2016 as a judge at ISPO Brandnew. He is a firm believer in the start-up competition. "For me, ISPO Brandnew means recognizing good ideas and approaches and subsequently supporting them. It's the opportunity to get the ball rolling."
The most important thing, however, is to believe in what you're doing and not be afraid to act contrary to societal expectations — just like indigo children.