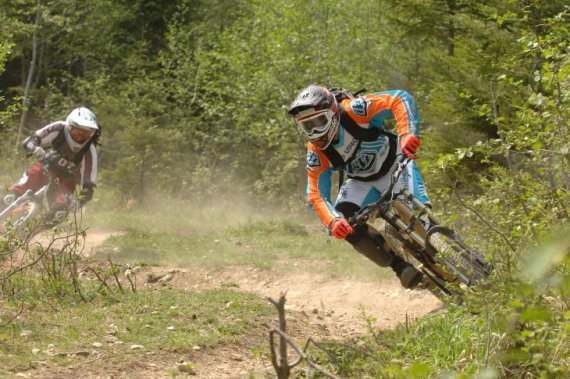 The story of EVOC begins with an accident, takes an exciting turn, and an end is still nowhere near in sight. "We didn't want to form a company at all, but the demand was just so great," explains Holger Feist.
The now 47-year-old was a snowboarder and pro freerider in the 90s, until shortly before the turn of the millennium when he was caught in an avalanche while filming in a gully in the Austrian Flexen Pass. He wasn't buried, but unfortunately fell on his backpack, resulting in an injury to his back.
He could only pursue his job as product manager for snowboards to a limited degree, and began to rail against the situation. "It just can't be true, that an avalanche shovel in my backpack got me injured," said Feist, and he had a plan: He invented a backpack that protects not just against hits from outside, but also from items within.
The Allgäu native began with a sleeping mat. He cut, crafted, optimized, and tested the first draft on a three-week biking expedition through Tibet – ultimately, back protection isn't just important in winter sports.
But the ergonomics of the then-bike backpack still left much to be desired. "When you ride along the curve, you get the feeling that the backpack is overtaking you. Like a soccer ball on your back," was Holger Feist's conclusion in 2000. He tried again, adapted the details, in 2003 celebrated the first functional prototype.
But then, still in the delirium of joy, the next problem appeared on a journey to Bolivia. His bike arrived on the baggage carousel in individual parts instead of one box. At that moment came the idea for the next innovation: a bike travel bag that could easily stow a bike and its accessories. This plan is also put into practice, and fulfills its purpose on numerous journeys.
When Bernd Stucke, long-time friend and travel companion, brought his bike to the legendary "Flying Ball" bike shop in Hong Kong in 2008, the shop owner and bike expert Mr. Lee was excited immediately. He ordered 50 travel bags, and two weeks later he ordered another 100.
"When such a small shop wants 100 bags, maybe there would be even bigger stores that would want something like it," Feist thought. The demand was great, and so Stucke and Feist founded the company EVOC in 2008.
EVOC, standing for Evolution Concept, reflected their idea of product and design expertise. "We will always keep things as simple, functional, and reliable as possible. And yet we also offer something that goes deeper – the passion for what we do," explains Feist. "As a result, EVOC products are much more than just equipment items."
The tinkering fiends proved this right away at ISPO Brandnew shortly after the official founding. In 2009, they made a stir as finalists in the Accessories category, drawing all eyes with their practical bike travel bag.
Their passion can especially be seen in the love for the details. All products are tested for functionality under extreme conditions. This is why EVOC employees take work trips to Scotland, Kamchatka, and Bali, where they test their own products.
One true endurance test came in 2015 for marketing manager Jan Sallawitz who, together with Paralympian Tino Käßner, participated in the Cape Epic in South Africa. "In this ultra-hard stage race, we want to achieve the goal of testing our new racing backpack under real conditions and, above all, show what's possible with the right attitude," announced Sallawitz before the hardest mountain bike race in the world.
The two had met at the Festival in Riva in 2009, when the war veteran inquired about a sponsorship. "We'd never thought about it before, but we thought Tino was nice and outfitted him as the first rider with our products ever," says Sallawitz, looking back. "But we wouldn't be EVOC if we just did sponsorships." The idea was born.
More and more professionals trust in the innovations by EVOC. This includes the world's best bike trail rider and YouTube star, Danny MacAskill. "I am quite disorganized when I travel," explains the Scotsman. "So I needed something that will help me at least try and stay neat and tidy while I'm away from home. It was important for me that my luggage set up has easy access but also keeps them safe from knocks and scratches."
He found this combination with EVOC, and was so excited that he paired up with the Bavarians to design his own collection. The "Danny MacAskill Signature Series" is characterized by a straightforward yet classic look, and is convincing with its low weight. "The cooperation with EVOC was great. They supported my ideas and in the end three products came out just how I wanted them to be. I am particularly happy with the backpack which is comfortable, functional, lightweight and looks pretty fresh."
Today, in addition to backpacks, bags, and the Travel Bag, the product range also includes accessories for men, women, and children, as well as products for the outdoor and fun sports sectors.
Always focused on protection and safety. That latest innovations are bags for professional photographers, as Feist has determined that there's "nothing for outdoor photographers who go to extreme places to shoot spectacular photos." He adds, "If I'd known how much work it would be, I wouldn't have done it. 35 prototypes!"
With the EVOC PHOTOP, Feist and his team are once again causing excitement at ISPO Munich. This year, the trained mechanical engineer is switching sides and will be rating new start-ups as an ISPO Brandnew jury member. He can give some good advice for a great career.