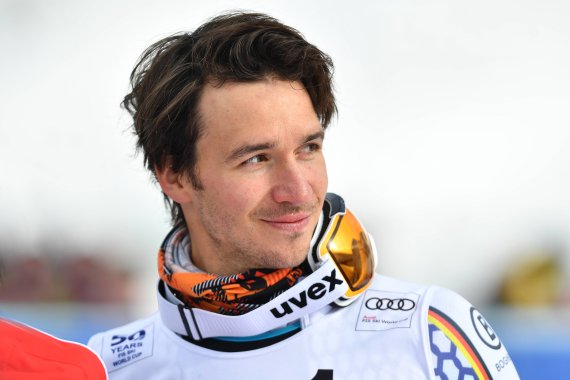 Felix Neureuther wants to know it again. Scarcely one year after a cruciate ligament rupture during training cost him the Olympic season, Germany's best skier has fought his way back and is once again going for the Slalom World Cup.
Neureuther is as popular with sponsors as ever, even after his long injury lay-off: At the start of the 2018/19 season, Neureuther and Sony Music announced their collaboration on his project "Beweg dich Schlau" (Move Smart). As early as the start of the year, Neureuther became a shareholder in the avalanche backpack manufacturer ABS Protection.
In an interview, Neureuther talked about his social media secret, World Cup dominator Marcel Hirscher, and a businessman Neureuther.
ISPO.com: Mr. Neureuther, you made use of your injury-related time off to dip your toes in the business world. You've been a shareholder in the avalanche backpack manufacturer ABS since January 2018. They said you wanted to be more than just an advertising face. What are your interim conclusions after the first ten good months?
Felix Neureuther: Together, we've developed a more lightweight backpack. But so far I've been very busy with my sport, even after my injury. We have a crazy good team at ABS who are doing a phenomenal job. CEO Stefan Mohr always keeps me up to date. I am, of course, still a very critical product tester first and foremost. I think that, through my experience, I know what an avalanche backpack is all about.
Will we be hearing more from businessman Felix Neureuther in the future?
That sounds awful! But there will be, of course. The positive thing about the injury was that I was able to toy with what life could look like without the sport. I have to say that life is very beautiful even without competitive sports, if not very different. In sports a lot was taken off of my shoulders, especially by my father. Now I take care of a lot more on my own. So that will certainly become a part of my career. Otherwise, I'll write children's books.
By getting involved in ABS, you've also invested in your passion for freeriding. How important is an avalanche backpack to you yourself?
It's just responsible. We can't manipulate nature; something could always happen. I'm involved in ABS because I'm convinced by the product, and because it's saved several people's lives and can save more in the future. Besides that, it's a cool backpack. When it can help you too, it's a perfect fit.
Have you always been so responsibility-minded?
When I would be out and about in the countryside as a boy, I felt like Superman. 'Nothing can happen to me, anyway, and if a snow slab comes up I'll just ride up and over it.' I was that dumb.
You were also the last person in the Ski World Cup to ride without a helmet...
Back then I would say, 'Everybody with helmets are just sissies!' It was a feeling of freedom for me. Then came mandatory helmets. I went to a children's training course without a helmet once. All around me were loud kids with helmets asking me, 'Hey Felix, why don't you have a helmet on?' And then I thought to myself, 'Shit, you guys are totally right, I'm such an idiot.' From then on, I've always skied with a helmet. But it's not just about helmets, it's about things like back protectors or even avalanche backpacks, too. Just as I had to learn that the helmet is very important on the slopes, for me, the same is true of the avalanche backpack in the countryside. That's why it's become part my of normal equipment.
With over 600,000 Facebook fans and 355,000 Instagram followers, you are Germany's biggest winter sports figure online by far. What's your secret recipe for a successful social media presence?
There is no secret. I am who I am. There's no point posting something just to post it. The cool thing about social media is that you can make people laugh, smile, or think about things. The nicest thing for me is when I can make people laugh. I try to do that from time to time. But it's more a result of the situation. I don't put any special thought into it.
You're now going into your 17th World Cup season. Are you still able to get motivated – especially after your serious injury and the birth of your daughter?
I see an end coming, of course. I needed the goal for myself to come back after that kind of injury. I do believe that I still have some more left in me. I love challenges, and this is a big one for me. But the bigger the challenge, the better it is for me. I am already having a really hard time leaving home, though, and it's not going to get any easier. But as long as it still makes sense, I'm still going to try to go.
…to maybe lift the slalom crystal globe after all?
I unfortunately have the bad luck that there's someone else, Marcel Hirscher, who just has an entire country behind them. He's the absolute Ferrari. An entire country, a ski company, and a ski association are just doing everything for him. It's difficult to keep up with that. The Austrian Skiing Association is putting a ton of cash into making sure he has a material advantage over the others. And he himself has the body of a machine and the mind of a madman.
I've actually had him in my pocket twice, but he fought back mercilessly. I would have had to win the Slalom World Cup twice, but didn't get the job done while he was down, as if it were nothing. He's just an axe. He's the best I've ever seen in my active career.
Felix Neureuther will now continue his professional career away from the ski slopes. On the 16th of March 2019, he thanked his fans with a moving video on Facebook and Instagram for the great support and announced the end of his sports career: "In the last few months, my heart and especially my body have made it clear to me that it is time to end the chapter 'ski racing'". He left open which paths he wanted to take in the future. But it is certain that he will remain attached to the sport: "Skiing was my life and will remain so in the future. That's why I don't say 'servus', but see you soon."