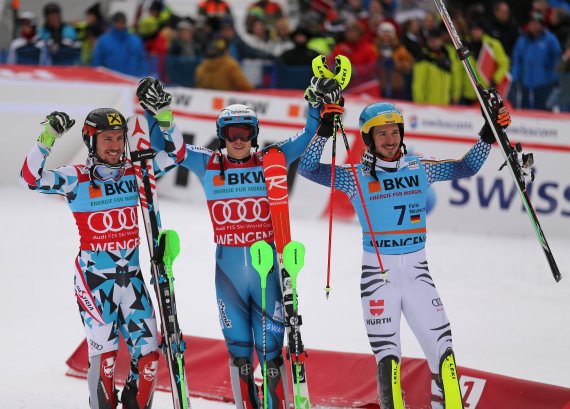 Austria's Marcel Hirscher is going for seven overall World Cup wins in a row, as the absolute top favorite for the new alpine season.
At the start of the season in Sölden, Austria, ISPO.com takes a close look at the top five earners of the Men's World Cup in terms of their prize money, as well as the two most famous German skiers, and sheds some light on their sponsors, fans, and successes.
2017/18 prize money: €588,015.59
Instagram fans: 479,900
Sponsors: Raiffeisen, Audi, Komperdell, Energiapura, Picker, Ski Austria, Salzburger Land, Under Armour, TechnoGym, Red Bull
Outfitter: Atomic
The Austrian athlete has won the overall World Cup every year since the 2011/2012 season. It's no wonder he also collected the biggest prize money amount last season by far – at least among the men. The women's champion Mikaela Shiffrin topped even the Dominator in FIS dividends.
As a serial champion, Hirscher is an appealing partner for sponsors: Head sponsor Raiffeisen extended its contract with the 29-year-old by two years in September – although Hirscher himself still doesn't know whether he will continue his career after 2018/19. According to the newspaper "Österreich," the family man rakes in one million euros per year. Well-invested money: The Focus Institute estimated Hirscher's advertising value for his sponsors at a hefty seven million euros. No other Austrian citizen is as valuable as the face of a brand.
Outfitter Atomic also extended its contract with Hirscher by another two years in 2018.
2017/18 prize money: €302,990.72
Instagram fans: 153,000
Sponsors: Telenor, Red Bull, DHL, Energiapura, Komperdell, Dunderverk, Husqvarna, SPM Sport Equipment
Outfitters: Rossignol, Oakley, Sweet Protection, Reusch
Last winter, Norway's Henrik Kristoffersen was Marcel Hirscher's biggest competition for the great crystal globe. This year, the 24-year-old wants to crack the Austrian. But at the start of the season, there's trouble yet again among the Norwegian alpine team – the blame lies with good old money: He's demanding no less than 1.6 million euros from the Norwegian Ski Federation.
The background: In contrast to recent years, Kristoffersen and teammate Aksel Lund Svindal no longer get an exception with the head sponsor: While their personal sponsor Red Bull used to advertise on both men's helmets in the past, the Norwegian association is now insisting on team sponsor Telenor. The topic has made for some bad blood in the team in just the past few years. Kristoffersen even went on strike in 2016.
Now he's demanding 1.6 million euros in damages with the help of a lawyer. It's not being received well in Norway: "Henrik is torpedoing the core values of our achievement system, creating bad blood in the team," wrote the Norwegian newspaper "Dagbladet," for instance.
2017/18 prize money: €229,062.15
Instagram fans: 73,500
Sponsors: Raiffeisen, BKW, Die Bauhelden, Emmental, Swisscom, Helvetia, Audi, Lillydoo Babycare
Outfitters: Head, Leki, Peak Performance
2018 is a single success story for Beat Feuz: silver and bronze at the Olympic Games, World Cup champion in downhill. And in summer, the Swiss athlete also became a father. With all his success, Feuz takes a calmer approach to marketing. Nevertheless, the trained brick mason has put together a considerable collection of sponsors. And on Instagram, you can combine family life and marketing - see below.
Feuz has taken to the slopes on Head skis since 2012. He was previously outfitted by Salomon.
2017/18 prize money: €211,610.84
Instagram fans: 451,000
Sponsors: Red Bull, Longines, Telenor
Outfitters: Head, Oakley, Sweet Protextion, Swix
Like Henrik Kristoffersen, teammate Aksel Lund Svindal will have to do without the logo of his sponsor Red Bull on his helmet this season, because of the Norwegian association's contract with Telenor. In contrast to Kristoffersen, Svindal is entering what might be his last World Cup season with relatively no resistance. "Thank God Red Bull is showing a lot of understanding. And the people in the association know that I don't deliberately do shit," said Svindal on the topic.
The watchmaker Longines has been a Svindal sponsor since 2007.
2017/18 prize money: €184,610.70
Instagram fans: 203,000
Sponsors: Telenor, Viking, Gudbrandsdal Energi, Tine, Hublot
Outfitters: Head, Level, Swix
Norway's Kjetil Jansrud, who's already won the World Cup in downhill and super-G, relies on continuity among his partners: He's already been skiing in Head equipment since 2011. He's worn Level gloves for 17 years already – and Gudbrandsdal Energi was a regional energy supporter of Jansrud when he was twelve years old, back when he was skiing for his local ski club in Vinstra.
Jansrud remained loyal to the company: In 2014, he signed a private cooperation agreement with Gudbrandsdal Energi. As a non-Red Bull athlete, Jansrud has also been spared the squabbling with the Norwegian Ski Association.
2017/18 prize money: €148,215.39
Instagram fans: 33,400
Sponsors: Sölden, Red Bull, Bogner
Outfitters: Rossignol, Uvex, Ziener
Almost out of nowhere, Thomas Dreßen won the legendary downhill on the Streif in Kitzbühel last season. The Garmisch-Partenkirchen native has been riding on Rossignol skis his since childhood. After his breakthrough in the World Cup, he is now also part a Rossignol marketing flagship: The Band of Heroes.
As head sponsor, Sölden (the location of the World Cup kick-off) advertises on Dreßen's helmet and cap. Dreßen deliberately chose the Austrian ski resort where his father died in a cable car accident.
"It was important to me that a sponsor not support me out of compassion, but because of my athletic potential," Dreßen himself says.
2017/18 prize money: €39,512.40
Instagram fans: 355,000
Sponsors: Xenofit, Verla, Bogner, Asics, Beweg dich schlau, Snowtrex, Xion Webdesign, Speedo, OMV, Sony Music
Outfitters: Nordica, Ziener, Leki, Uvex
Even though a cruciate ligament rupture ended last season early for Felix Neureuther, the 33-year-old remains Germany's biggest alpine star. The two-time overall World Cup runner-up has been omnipresent in commercials for his sponsors on German television screens for years. However, he will no longer be seen on TV for Weihenstephan: After two years, the dairy product manufacturer let its contract with Neureuther expire in the summer of 2018.
Neureuther himself has been a busy bee: At the beginning of the year, he announced his partnership with the avalanche backpack manufacturer ABS. Neureuther also published a children's book in September and, in cooperation with Sony Music, a single on his child development project "Beweg dich schlau!" (Move Smart!) at the start of the season. A whole album will even be released in February 2019.