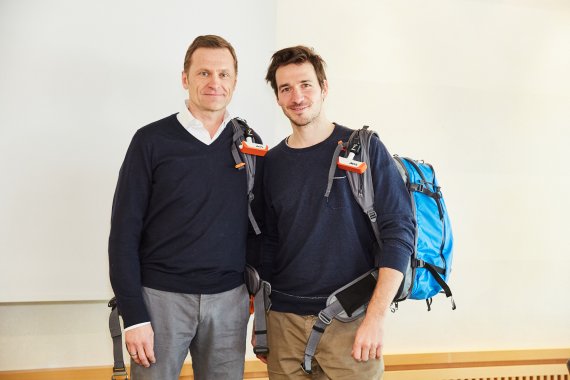 Felix Neureuther is getting cracking. "Fair enough," many people will say, "but what else is new? He's never been the type to mope around!" That's true, of course, but when we say 'getting cracking,' we mean it literally.
After all, Germany's best skier will probably be standing on stages more often in the coming years, carrying a backpack, and then things will really pop off – when he or someone else triggers the avalanche airbag by ABS Protection GmbH for demonstration purposes. Neureuther recently acquired a stake in this company. He says: "I do have to think about my professional future, after all."
Will the eternal rogue Felix Neureuther, at almost 34 years of age, now grow up and even become sensible? It almost looks like it. On that subject: It almost goes without saying that the presentation of the new "s.Light compact" model in Hall A3 won't be all that serious.
When all the functions of the technical marvel have been explained and the fans are asking for a demonstration in a more fun way, there's suddenly a violent bang, and about ten men stand with the inflated red air cushions in a cross amongst the surprised visitors.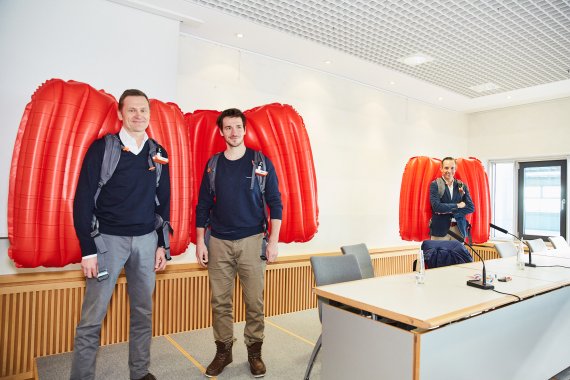 The magic word is 'remote release'. Because many skiers who get caught in an avalanche can no longer trigger the airbag due to panic, ABS Protection has developed a system that allows several airbags to be linked together electronically, so that even those affected by the avalanche can trigger the victim's airbag even at a distance of up to 300 meters.
So now Neureuther is a businessman, too. It has been agreed not to disclose the extent of his participation in the company. "It wasn't enough for the price," the Garmisch local jokes, briefly jostling the CEO next to him. This man is Stefan Mohr, and he's more or less a part of the family. His uncle Heinz is Neureuther's godfather, while Mohr was a coach for the German national skiing team, led the Federal Alpine Training Center in Garmisch-Partenkirchen for more than 20 years, and was a race organizer at the 2011 skiing world championship in Garmisch. His wife, in turn, is the daughter of former handball player Jochen Feldhoff, who won the European Cup four times in the 60s and 70s with Gummersbach, and still today with Joachim Deckarm and Heiner Brand.
Back to ABS Protection, Neureuther's new corporate mainstay: "I do have to think about my professional future, after all," he says, adding with a wink: "Privately, the future has already been built." The partnership with ABS Protection goes beyond any obligation as a spokesperson, Neureuther says: "The new owners convinced me of the company's perspectives and gave me the opportunity to also get personally involved. I think it's very important that freeriding is made safer with avalanche airbags, as I myself am passionate about hitting the trail in the deep snow. As inventor and technology leaders in avalanche airbags, ABS Protection has the best product for me."
After his first four months in office, CEO Stefan Mohr believes that the company has already made great bounds and that all signs continue to point towards growth: "With the claim 'Protection in Adventure,' and with Felix's help, ABS is to become a brand that's synonymous with protection no matter the adventure, in the winter and (for the first time) in the summer. We have a lot of ideas and are working on positioning ourselves much more broadly than before and moving away from the seasonal business."
Neureuther meanwhile tells us that his grandfather Gottfried, who worked as a doctor for the mountain rescue service in Garmisch-Partenkirchen more than 30 years ago, was already involved in the development of the first avalanche airbag: "The subject of safety is very close to my heart. I want to expand the existing product portfolio and actively contribute to the product development. After all, for me as a shareholder, it's about the economic success of the company now, too."
As a welcome bonus, starting February 1 there will be a special offer to purchase the current models of the p. RIDE Original and p. RIDE Compact series at a special price of 699 euros (without carbon cartridge and zip-on). In addition, there will be a chance to win a ski day with Felix Neureuther under the slogan "p. RIDE with me": freeriding on the Arlberg. On that he only has this to say: "I hope that the winner will be able to ski well, because I don't like skiing around on the slopes." Or, as freeriders say: 'No friends on powder days!'
Als Willkommensbonus wird es ab 1. Februar eine Aktion geben, die aktuellen Modelle der Serien p.RIDE Original und p.RIDE Compact zum Spezialpreis von 699 Euro (ohne Carbon-Kartusche inkl. Zip-On) zu erwerben. Außerdem gibt es unter dem Motto "p.RIDE with me" einen Skitag mit Felix Neureuther zu gewinnen: Freeriden am Arlberg. Der sagt dazu nur: "Ich hoffe schon, dass der Gewinner dann auch gescheit skifahren kann, weil auf der Piste mag ich dann nicht rumfahren." Oder wie die Freerider sagen: No friends on powderdays!