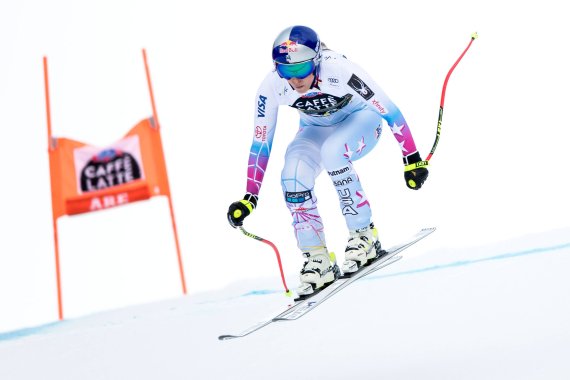 In tennis, soccer, and many other sports, female athletes have been struggling for years to receive the same prize money and rewards as men. In the FIS Alpine Ski World Cup, it's become reality – at least as far as the official prize money is concerned. That's how Overall World Cup winner Mikaela Shiffrin earned more in win bonuses last winter than her counterpart Marcel Hirscher.
At the start of the season in Sölden, Austria, ISPO.com takes a close look at the top five earners of the Women's World Cup in terms of their prize money and sheds some light on their sponsors, fans, and successes.
2017/18 prize money: €618,150.24
Instagram fans: 610,000
Sponsors: Oakley, Bose, Barilla, Longines, The Westin Riverfront
Outfitters: Atomic, Reusch, Leki
At just 23 years of age, Mikaela Shiffrin has collected two Olympic gold medals, three World Championship titles, two Overall World Cup victories, and a total of 43 World Cup wins. Her FIS prize money from last season far surpassed even that of the men's serial winner, Marcel Hirscher.
According to Forbes, Shiffrin has the potential to remain the focus of the sports scene and industry for another full decade, and thus earn anywhere from 30 to 50 million dollars.
Tiger Shaw, CEO of the U.S. Ski & Snowboard Association, had this to say about Shiffrin in 2017: "She's by far the most interesting personality that's begun winning that young."
And despite partnerships with major brands like Oakley and Bose, Shiffrin has by no means reached her financial potential yet. "Shiffrin is still relatively anonymous in the U.S. and can be presented as a fresh face," commented 'SportsBusinessDaily' on her potential.
And Shiffrin herself? She knows her value: "Lindsey (Vonn) made skiing famous in the U.S. I see it as having been passed the baton from her in some way."
2017/18 prize money: €240,825.10
Instagram fans: 117,700
Sponsors: Electrolux (main sponsor), Carl F. Bucherer, Hoch-Ybrig, Mibag, Krebsliga Zürich, Pixel-Points.ch, Emmi Caffe Latte, BKW
Outfitters: Head, Leki
Wendy Holdener has long since been a star in Switzerland, and on the slopes very few people can hold a candle to the world and Olympic champion. But she has yet to make her big breakthrough as an international superstar: No global brands can be found among her sponsors. But that makes her Swedish head sponsor Electrolux all the more loyal: they've supported the now 25-year-old since 2008.
"The then 15-year-old girl radiated determination, professionalism, but also warmth. It was clear to me that we wanted to support Wendy Holdener on her way to the top," raves Peter Barandun, CEO of Electrolux Switzerland: "Wendy's positive, cordial charisma has a positive influence on our image. She's a fit for us and our customers, she's super likeable, and is part of the Electrolux family. Even the group management in Sweden is excited about her."
Curious: When she was named Swiss Female Athlete of the Year in 2017, the transmitting broadcaster SFR removed Holdener's main sponsor, Electrolux, from a picture of the athlete. Electrolux was less than thrilled. "We are astonished that, as head sponsor, we were not visibly present at Wendy's important event," said Roland Bienz, the company's Cluster Marketing Director.
2017/18 prize money: €232,588.66
Instagram fans: 1.6 million
Sponsors: Red Bull, Beats by Dre, Rolex, Oakley, Hershey, Proctor & Gamble, GoPro, Under Armour
Outfitters: Head, Leki, Briko
On the social media, Lindsey Vonn is miles away from her comrades-in-arms. Everybody in the U.S. knows her face – not least because of the public display of her private ups and downs. And her list of sponsors is also a collection of economic heavyweights. Vonn even has her own model line at Under Armour. In addition to that, she has her own fitness guide (Strong Is the New Beautiful), two huge estates in California and Colorado, and her own foundation that issues scholarships to promote education and sports among young girls.
But Vonn also wants to climb the highest summit in sports: the record for most World Cup wins, currently held by Norway's Ingemar Stenmark at 86 triumphs. Vonn comes in at 82.
2017/18 prize money: €230,834.77 
Instagram fans: 53,400
Sponsors: Helvetia, Red Bull
Outfitters: Stöckli, Leki, Uvex, Bogner
Since the end of Maria Höfl-Riesch's career, Viktoria Rebensburg has been the undisputed German number one in the alpine skiing circus. She won Olympic gold in 2010. She was the overall World Cup winner in giant slalom in 2011, 2012, and 2018. Only during her two years as Milka Ski-Girl was the Tegernsee native denied a major title.
Now Rebensburg turned her back on the dairy product manufacturer and returned to the Swiss insurance company Helvetia, whose name is once again emblazoned on her helmet and cap. While Rebensburg often pulls away from the competition in giant slalom, she still has some catching up to do on social media.
2017/18 prize money: €229,921.76
Instagram fans: 192,400
Sponsors: Falconeri, Red Bull
Outfitters: Atomic, Leki, Dainese
Whatever Sofia Goggia does, she does with irrepressible energy. The same is true for her blog, where she's already compiled a 20-page career report, but also for her merrymaking: She celebrated one World Cup win with a jump into a whirlpool – in full gear. And, of course, it also applies to her wild skiing style. Her uncompromising descents are spectacular to watch, but the Italian has also suffered three serious knee injuries. 
Her style is well received by fans and has earned her almost 200,000 Instagram followers. But Goggia has a hard time with potential sponsors outside Italy. The fact that she will remain absent until at least January, just before the start of the season, after an ankle fracture isn't making it any easier for her.  
And things went so well athletically last winter: In addition to the small crystal globe in downhill, Goggia was the first Italian ever to win Olympic alpine gold, and this season she was also regarded as the biggest downhill and super-G competitor for Lindsey Vonn, with whom she is nevertheless a good friend.
Two social media giants didn't make it into this list of top athletes. But the two in this gallery are together with the other most successful Instagram stars of the alpine scene: