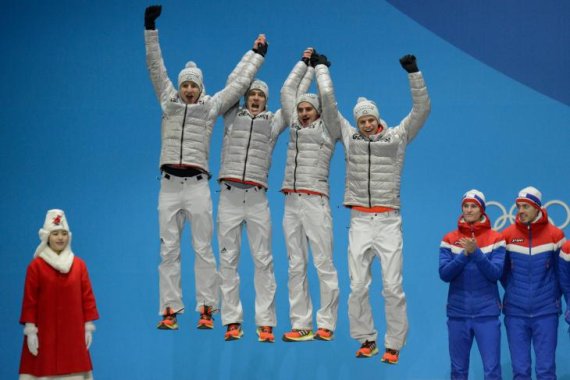 The low growth of his social followers was probably the least of injured ski star Felix Neureuther's concerns (cruciate ligament rupture) during the Olympic Games. With more than 637,000 followers, he is the absolute Facebook star, among German winter sports enthusiasts and around the world. By way of comparison, Austria's Olympic champion Marcel Hirscher now has nearly 582,000 Facebook fans (from roughly 560,000 before the beginning of the Games).
German biathlete Laura Dahlmeier is far off from these kinds of numbers, but she's not just coming home with two gold medals and one bronze. She's also bringing a growing follower base. In just mid-November she had 64,000 followers on Instagram, now it's 123,000. That's nearly double the number of fans. The jump wasn't quite as big on Facebook: The fan community grew by 15,000 from the 167,000 in mid-November to 182,200.
And the fans get something out of it, too. Dahlmeier posted photos or even videos every day during the Games. All of them were highly varied and finished off with some personal lines. Even when things didn't go their way and the German biathlon team missed the podium in the relay, there was a post.
And for the national ice hockey team, Dahlmeier set herself up on the South Korean beach and recorded a motivational video before the Olympic finals.
Ski jumper Andreas Wellinger also returned from Pyeongchang with three medals (one gold, two silver). And that hasn't gone unnoticed by the fans either. The Bavarian athlete only had 63,000 fans on Facebook back in mid-December, while after the Olympics it was nearly twice that amount: 126,000. On Instagram, his followership rose from 107,000 in mid-December to 150,000 shortly after the Winter Games.
Unlike Dahlmeier, Wellinger remains entirely focused on ski jumping in his posts. He explains how he concentrates on the competitions and, naturally, celebrates his successes. Wellinger's post frequency is lower, but always personal.
Wellinger's Polish rival Kamil Stoch shows just how unbelievably successful a ski jumper can be on social media. He has over 983,000 fans on Facebook (it was 930,000 in mid-December). The Polish Olympic champion really kicked off on Instagram during the Winter Games. He only had 70,000 followers in December, but after the Games it was 230,000. Nevertheless: Stoch is probably benefitting from his enormous popularity in his homeland, as his posts are likeable but don't go beyond ski jumping, and don't offer any extraordinary features.
Probably the biggest global social media star among the winter athletes might well be Shaun White. The snowboarding Olympic champion comes to 2.4 million fans on Facebook – putting him at nearly twice the count of his American teammate Lindsey Vonn (1.3 million Facebook fans).
White also made a considerable jump in his followership on Instagram during the Olympics – from 507,000 followers in late December to over 1.2 million.
These are dimensions of which luger Felix Loch can only dream. But it's become apparent that the fans also have a heart for tragic heroes. At the Olympic luging competition Loch, who was in first place, botched his last run and destroyed his hopes of winning a medal. Even so, he won in followers: The fan count on Facebook rose from 29,000 (mid-January) to 35,700, and from 5,000 to 12,300 on Instagram.
One way or another: The sponsors were thus able to rejoice not just over their athletes' successes, but also over the increased reach on social media channels. This shows that Instagram is particularly good at achieving the right jumps in reach.