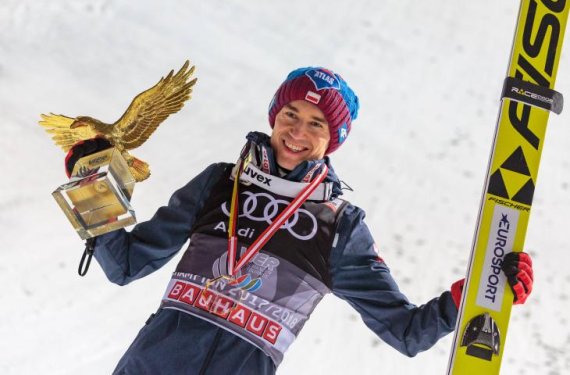 Sven Hannawald was the first congratulator. After Kamil Stoch secured his fourth victory in the fourth jump of the Four Hills Tournament with his last jump in Bischofshofen, Hannawald rushed to his successor. After all, Stoch was the first Hannawald's feat of the 2002 tour to win all the show jumping competitions.
With his second consecutive tour victory Stoch is the top favourite for Olympia 2018 in Pyeongchang. While he was still struggling with material problems at the beginning of the Olympic winter, he was fully back at the start of the Four Hills Tournament.
A large part of Stoch's comeback to the world elite is due to former German co-trainer Stefan Horngacher, who signed on with the Polish association as a team coach. 
"Now we have a very good team spirit. Every athlete believes in themselves. Stefan Horngacher also changed some things for me in my approach position and my training – but above all it's psychological things that he does differently," Stoch says, revealing his secret to success. That is why Stoch isn't just the 2018 Olympics favorite for Severin Freund "because he knows how to win."
Achievements:
Kamil Stoch won both Olympic individual gold medals at the 2014 games in Sochi. Already a two-time world champion (2013 in Val die Fiemme and 2017 in Lahti), after the Overall World Cup (2014) he also won the Four Hills Tournament last winter.
In total, Stoch has won 22 individual World Cup jumps. He also holds the current ski jump record in Planica at 251.5 meters.
Social:
Instagram: Nearly 70,500 followers
Facebook: Over 930,000 fans
Stoch, born in Polish ski jumping mecca Zakopane, is considered a ski jumper with the perfect combination of jumping power and flight feeling. "He has the best basic technique of all ski jumpers," lauds Austria's head coach Heinz Kuttin. In Poland, he's long since reached the status of ski jumping folk hero Adam Malysz. The first Polish tournament winner was as famous in his time as the now late Pope John Paul II.
Thousands of fans from Poland travel to all of Stoch's important jumps – fans whom Stoch then courteously thanks. Almost always by Stoch's side: his lovely wife Ewa. She frequently accompanies him to competitions and takes care of financial matters. No wonder she also makes repeat appearances on Stoch's social media channels.
Outfitters/Sponsors:
Stoch's key sponsors are Atlas (helmet) and Eurosport (skis). His biggest outfitters are the ski brand Fischer and safety specialist Uvex.
Income:
Stoch is a big earner in the scene. In the last winter's World Cup alone, he earned 187,400 Swiss francs. With sponsors and outfitters, Stoch's yearly income could come close to one million euros.
Fun fact:
Kamil Stoch has his own clothing line: Kamiland. The popular flier makes even more money from sales, for example, on his website https://kamiland.pl.