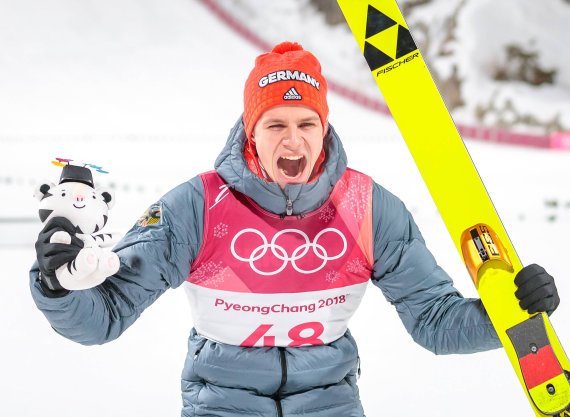 At the Four Hills Tournament in 2018, Wellinger was second behind tour winner Kamil Stoch and lived up to expectations. But one year later he is striving for more. Even if he knows: "A success at the Four Hills Tournament can come about if you are in good shape and then have the famous bit of luck at the opening jump in Oberstdorf. That gives you an aha-experience and the feeling that you don't have to think about your jumps at all anymore", he says in an interview with ISPO.com.
Andreas Wellinger has already achieved what even the super generation around Martin Schmitt and Sven Hannawald were denied: He is the first German individual Olympic champion in ski jumping since Jens Weißflog in 1994. At the Winter Games in Pyeongchang in South Korea he won gold in the normal hill. Wellinger jumped 104.5 and 113.5 meters and scored 259.3 points. Silver went to Johann André Forfang from Norway (250.9), ahead of his teammate Robert Johansson (249.7).
"I've always dreamed of this," said Wellinger, who cried unrestrained as his triumph was established. And then the man from Ruhpolding in Upper Bavaria said: "Now I need my wheat beer!"
A few days later Wellinger is already fully focused again and finishes second behind top favourite Kamil Stoch. Robert Johansson wins his second bronze medal.
With 6.36 million viewers on ZDF, Wellinger's Goldjagd von der Großschanze is one of the most successful competitions on German television in terms of ratings.
A look back: Shortly after the injury of the previous German model pilot Severin friend Last winter, the Bavarian made the breakthrough to the top of the world rankings. At the World Cup, the lanky teen swarm won gold with the German mixed team and two individual silver medals behind Austria eagle Stefan Kraft.
"The two silver medals in the individual World Championships jumps have spurred Andreas on even more. Of course, he now wants to be on the top podium," says national coach Werner Schuster. Athletically, his predecessor - who had suffered a terrible crash in Finland three years ago - had once again "significantly improved".
"This winter you can make yourself immortal as a ski jumper," says Schuster. Team Olympic champion Schützling Wellinger has been since Sochi 2014 already, single gold is still missing him.
Among the (especially female) fans, the youngster has long been one of the worldwide favourites in the ski jumping circus. On the social media channels, he provides his admirers with the appropriate food - bilingually in English and German.
He's obviously had a girlfriend for a while. "That doesn't belong in public," Wellinger told the Bild newspaper. The ski-jump Sunnyboy raves about his favorite club. FC Bayern Munich (as well as his archrival Stefan Kraft).
Successes:
Biggest success: Gold at the Olympic Games 2018 from Nirmalschanze
Fourth place in the overall World Cup 2016/2017 was by far the best result for Andreas Wellinger. The Bavarian won a total of three individual World Cup jumps.
At the 2017 World Championships in Lahti, Wellinger won gold with the mixed team and two silver medals in the individual jumps from the normal and large hills.
At the 2014 Winter Games in Sochi, Wellinger won Olympic gold with the German team.
Social:
Instagram: over 101,000 subscribers - he cracked the 100k mark at the Four Hills Tournament 2017/18
Facebook: over 115,000 fans
Suppliers/Sponsors:
Of course Wellinger is also a hot number with sponsors. As successor to Martin Schmitt as an advertising medium for his head sponsor Milka, he is the man with the purple helmet in the ski jumper circus. On the ski he advertises Avis - another world company.The company Fischer is his outfitter, from Audi he got like all top athletes of the German Siverband (DSV) a fast car, in addition there are more outfitters and smaller donors.
Income:
Last winter, Wellinger collected 144,600 Swiss francs in prize money. His total annual income is estimated at over 500,000 euros - making him one of the big earners of the scene.
Asked on the net:
Andreas Wellinger began his career as a Nordic combiner. In addition to ski jumping, he always tormented himself through the cross-country ski runs in training and competition. In 2011 he finished the stress program - and concentrated on flying. Thank God!